We're just days away from BigCommerce's virtual Make it Big event, and I've got my calendar cleared to get the most out of the experience!
With a pandemic, two little boys, and a career on my plate, it's sometimes hard to stay on top of the latest developments in business and branding. That's why I'm excited to hear directly from experts like Mark Cuban and Neil Patel. It's like a free crash course!
I'm so ready to get caught up on the most current strategies and insights…and level up my own business with everything I've learned. It's time to get out of business survival mode and start standing out!
Here's why you should join in:
What is Make it Big?
Make it Big is a FREE virtual conference by BigCommerce, coming up September 14–15. It will feature exclusive video sessions with thought leaders and ecommerce experts. From scaling a business to topics like personal growth and building a solid brand, this is where to find all the cutting-edge info for 2021.
If you haven't heard of BigCommerce, it's a top-level platform that offers SEO services, marketing, and online store creation for businesses of nearly every size. It's a big, big name in ecommerce—they've partnered with brands like Ben and Jerry's, Skullcandy, and QVC! (Speaking of big names, the event has some really impressive sponsors like Google, Walmart, and TikTok.)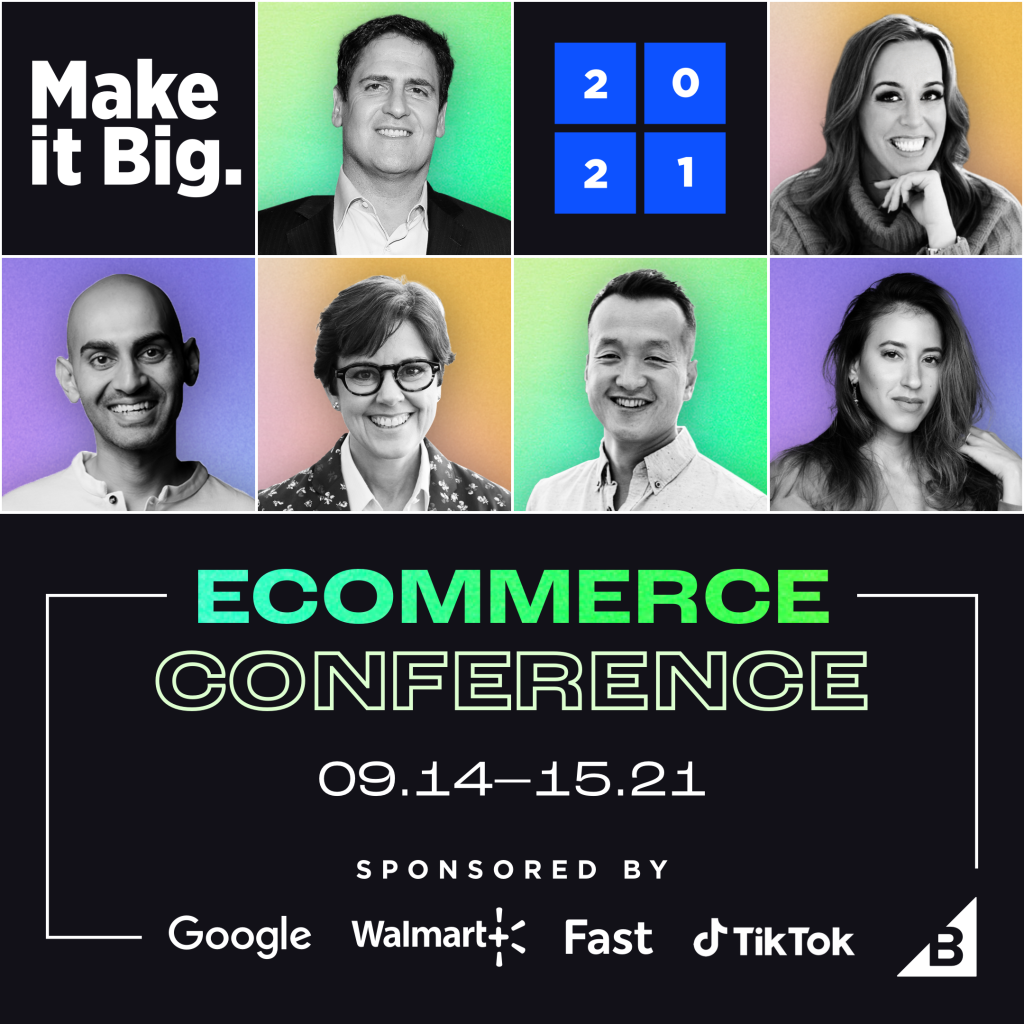 Who will we see there?
I definitely will not miss Lorry Destainville's segment, The TikTok Appeal: Viral Marketing for Any Business. Even though I've been on TikTok for a couple of years now, I always feel like there's more I should know about using it as a marketing tool.
Anne Handley of MarketingProfs will also be talking about creating content that tells a story and builds a community—I love that idea! And of course, Neil Patel always has my attention.
But these are just a few of the thought leaders and top minds that will be presenting. It really is two fully packed days of knowledge bombs! I'm honestly surprised there's no fee to enter.
How do I get in?!
Register here for Make it Big to save your seat. (See the full lineup for both days of this year's virtual ecommerce conference on the same page.) Once you're registered, just be ready at 9:00am Eastern on September 14 to kick things off with Mark Cuban's keynote! I'll be standing by with an extra-large coffee and my favorite work from home setup.
Are you ready to get back on the cutting edge of business, marketing, and more? I know I am! Let's do this together…register today and leave a comment to let me know which video session you're looking forward to the most.