Thank you to Rodan + Fields for sponsoring my post. All thoughts and opinions are my own.
Hey guys! A few weeks back I gave you guys an overview of Rodan + Fields' Multi-Med Therapy approach to skincare. Seriously, it's a game-changer. Through diligent research and testing, they managed to find the right combination of products and ingredients – all used in the right order! – to create some really effective and powerful skincare products.
I was so excited and grateful to work with Rodan + Fields over the past few weeks. After learning so much about their innovative and revolutionary skincare routines, I started wondering if their products could be helpful for my skin and goals. That's why I picked up the newly updated REDEFINE Regimen to try out a full range of the brand's products for myself. After a few weeks, I'm really impressed with the results!
The Before: Targeting Concerns
As you guys know, I just had my second baby a few weeks ago! And believe me, if there's one thing I'm really feeling this time around, it's the late nights and early mornings these days. And when I feel tired, I know my skin feels tired. So, when I first decided to work with Rodan + Fields on finding the right skincare routine for me, I knew I wanted to start with addressing the surface and texture of my skin.
Rodan + Fields' entire approach to skincare involves what they call Multi-Med Therapy. Basically, they have formulated and clinically tested all of their products to not only get the most out of the ingredients, but to work more powerfully together as a skincare routine. That means you can expect stronger and more noticeable results in a faster turnaround.
After some research, I settled on the products in the Rodan + Fields REDEFINE Regimen to try out. This set promises to help create a smooth and even-looking skin texture by working to visibly minimize pores and fine lines and lift any sagging areas with lots of hydration.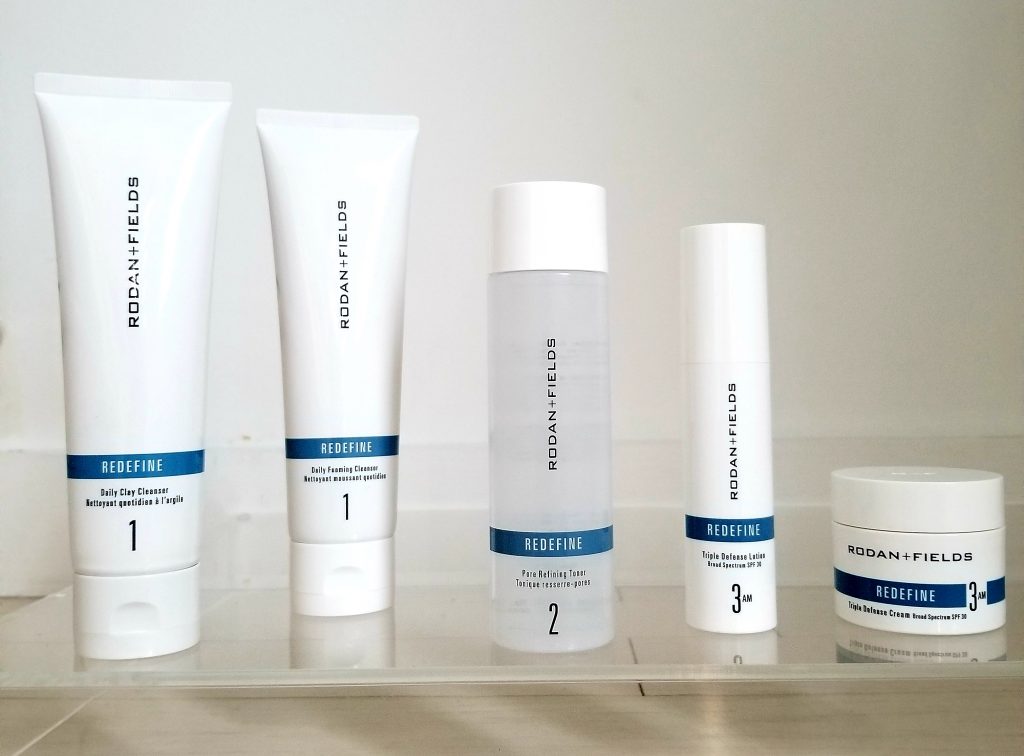 The Regimen Breakdown
There are seven different products that make up the full REDEFINE Regimen and you choose which cleanser, daytime moisturizer and nighttime moisturizer that works best for you! I really appreciate how clearly everything is labeled and numbered, so I can easily up my skincare game and adjust for day or night despite my newborn mama brain fog.
Step 1: Cleanse
First up is the Daily Clay Clay Cleanser or Daily Foaming Cleanser. The new and improved Daily Clay Cleanser is a 2-in-1 cleanser + mask with Kaolin Clay that gently exfoliates, purifies and smooths the skin as it removes dirt, oil, makeup and impurities daily. I love the option for a quick cleanse or a mask when I have the time. I definitely noticed improved texture and tone! It is suitable for all skin types and is the best choice if you have combo-oily skin like mine.
The other cleansing option is the Daily Foaming Cleanser. The creamy foaming cleanser with AHAs gently exfoliates and removes dirt, oil, makeup + impurities daily. It leaves the skin feeling really soft and supple, is suitable for all skin types, and is the best choice for normal-dry skin. I'm a big fan of the double cleanse and love how these 2 cleansers work together, too!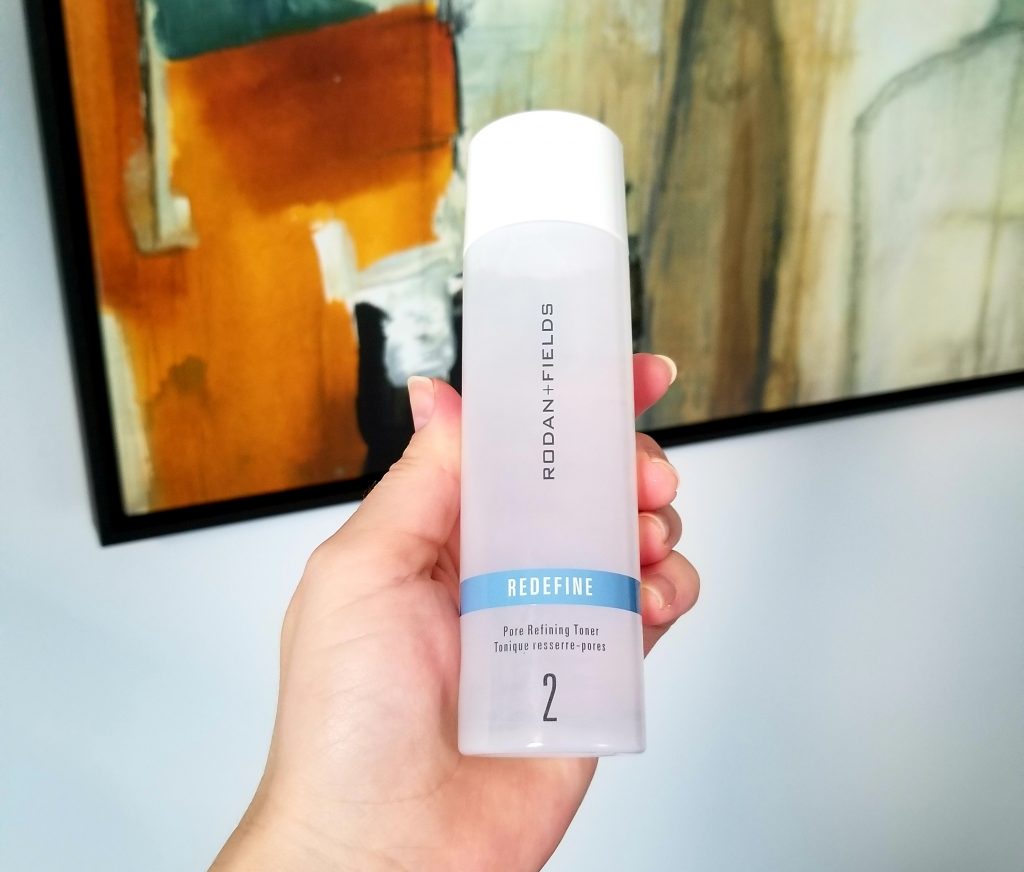 Step 2: Tone
Next up is the Pore Minimizing Toner. It's meant to be used twice per day to help further cleanse and visibly shrink pores while prepping your skin for moisturizer and makeup. The key ingredients here are Polyhydroxy Acids to exfoliate and clarify, and Oligosaccharides that are really powerful and visibly tighten pores. I really enjoy how refreshing this toner is and have noticed a definite improvement in my pores!
Step 3: Moisturize
In the morning, I moisturize with SPF before putting on makeup or if I'm going makeup-free for the day. There are 2 options to choose from, the Triple Defense Cream with SPF 30 and the Triple Defense Lotion with SPF 30. The SPF30 capabilities thanks to Rodan + Fields SHIELD Technology are great for sun protection. The sun is one of the biggest causes of fine lines and wrinkles, so prevention is really key! It's also packed with lots of skin-strengthening Peptides that help to visibly firm up any fine lines. The cream works great when I want a more intense hydration and the lotion is a bit lighter. Neither one clogs pores, so if you have drier skin, I suggest the cream.
At night, the Overnight Restorative Cream or Overnight Reparative Lotion is the last part of my routine before bed. They are both so luxurious to put on, so it's a really nice cap at the end of a long day. They both moisturize to improve the appearance of fine lines and wrinkles and define facial contours while you sleep for younger-looking skin, which let's be real WE ALL WANT! I use the cream when I need a more intense moisturization and the lotion when I feel oilier of have a breakout. Either way, it's nice to know you can restore your skin overnight too!
The Results: What to Expect
It's been a few weeks since I started up with the Rodan + Fields REDEFINE Regimen and I'm definitely starting to see some results. One thing to always keep in mind when you're switching up your skincare routine is that it can take a good four to six weeks to notice a difference in the overall appearance of your skin. Seriously, if you're feeling discouraged from a new product at first, you have to give it a few weeks to start working its magic!
My goal when I set out to switch up my skincare routine was to help improve my skin's texture and tone, along with a little bit of lift too! And I have to say, I am really noticing a difference. My pores look so much smaller and tighter, courtesy of the Daily Cleansing Mask and Pore Minimizing Toner. I've also noticed that my skin feels a lot smoother, which is definitely thanks to the Overnight Restorative Cream.
I love that the entire Regimen was all planned out for me. The set came with a full instruction guide, so I knew exactly what to use and when. The cleanser and toner were gentle enough for me to use twice per day, so I appreciated having it as part of my morning and evening beauty routine. I found that the Triple Defense Treatment was super lightweight and non-greasy. I was able to put in my regular primer and foundation right over it without any hesitation. But the overnight cream was seriously one of my favorites. It was just so luxurious and rich, making it a really nice way to end the day.
Overall, I'm so impressed by the power of the REDEFINE Regimen! I can't believe I noticed such a difference in my skin so quickly and I'm happy that I have an entire curated skincare routine down pat.
Will you be trying out one of Rodan + Field's Multi-Med TherapyRegimens? Let me know in the comments below!