Asher is One!!! It's hard to believe baby (or not-so-baby-anymore) Asher just turned one! I've learned so much over the past year. From breastfeeding to balancing work and motherhood to celebrating my favorite holidays in brand new ways, there's no denying that this little boy has completely changed my world. And I wouldn't have it any other way! One thing I love about this new stage he's entering is how he interacts with the world. Asher loves to play with toys now and it's amazing to see how quickly he picks up new things. I've put together a list of my favorite baby products and gifts for one-year-olds that the little one in your life is sure to love. Do you see a favorite of your own here? Let me know in the comments!
Now that Asher is so curious and on the move, I'm always looking for fun things for us to do and ways to entertain and inspire him. KiwiCo's Panda Crate was developed specially for infants and toddlers and is grounded in the science of early childhood. Each delivery includes age-and stage-specific products designed by experts and backed by researchers at Seattle Children's Hospital to help babies learn by doing what they do best – play & explore their world! Made by @kiwico_inc, it also includes a magazine and activity cards to provide parents with the most effective strategies and helpful tips to promote healthy childhood development.
You can try Panda Crate for just $15.50 per month ($31 per crate), with free shipping in the U.S use code BRAZELL!!
View this post on Instagram
You know how much I love products that last through different stages! This one is by one of my favorite brands, and it's perfect for the newborn stage all the way up to the toddler days. COVE aire puts safety first, which is super important to me. The entire unit is built with breathability in mind, and an above-ground base keeps drafts away from baby. Meanwhile, it comes with features like a zip-off, machine washable mattress cover and zigzag legs that you can collapse with one hand if needed.
It starts as an adjustable napper which turns into a bassinet. The bassinet zips off, which I love, or it can fold with the frame. And of course, when you're past the bassinet stage it becomes a super convenient play yard, which is what we're using it for with Asher now. I love the versatility of the COVE aire and how compact it is…and also how stylish it looks in my home!

This is my go-to for city strolls, and Asher loves enjoying his snack on the go with the snack tray accessory. This is the most flexible design I've seen in a stroller. It has different stages of recline and you can set it to face forward or backward with one quick adjustment. For families with multiple children, you can add onto the frame to accommodate siblings. It's also a really smooth ride all around…the 4-wheel suspension handles bumpy cobblestones like a dream and I really like how easily the bumper bar rotates away when I need to get to Asher. And he'll stay in this one for long, leisurely walks without fussing because it's genuinely comfortable. There's a lot of room in the seating area for him to stretch out under the extended canopy. The cargo basket has extra room, too. I can bring all the supplies I need for an adventure on the town!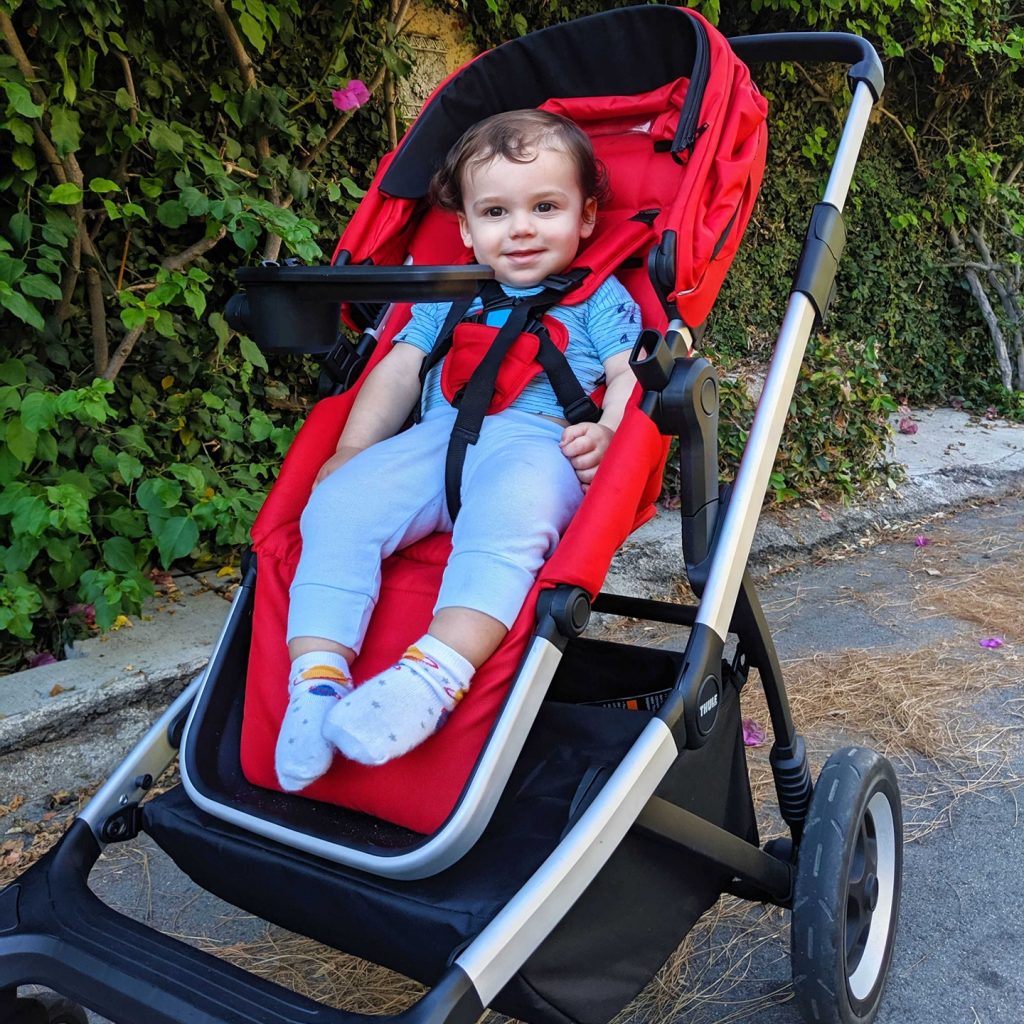 You know how traditional walker toys tend to roll faster than those little feet can go, or how they'll sometimes tip over while a baby pulls up to a standing position? I'm in love with this solution! Little Balance Box has patented gliding feet that compress for stability while baby is pulling up. I originally thought the feet would work best on carpet, but I was pleasantly surprised that they glide on hard surfaces like wood, too. It's a great developmental tool for balance and coordination, and I can feel good about using it since it's made from eco-friendly bamboo!
A very wise mama gave me this when Asher was just three-months-old to help keep him happy during diaper changes. There is a reason this is a best-selling and award-winning toy worldwide with thousands of 5-star reviews. The Music On the Go keeps baby entertained and the dancing lights are visually stimulating and move to the rhythm of the music teaching cause and effect.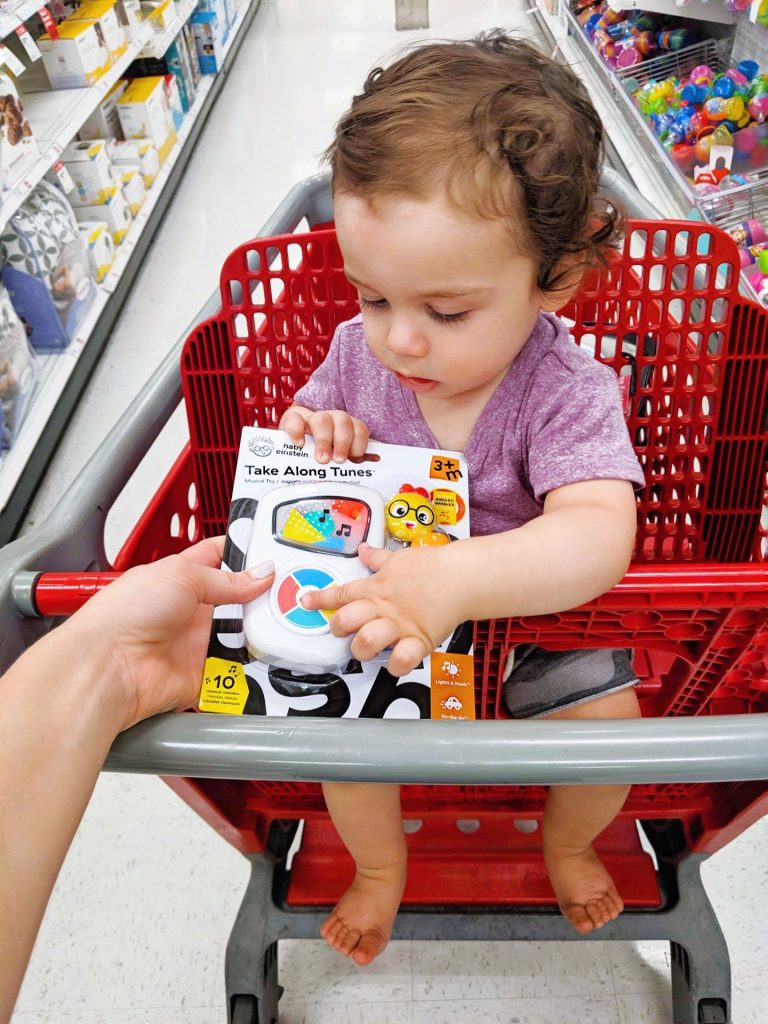 Get ready to make some noise! Asher is a big fan of musical toys, and he loves getting to make the music himself. He really gets a kick out of pounding a brightly colored ball down onto the xylophone and listening to it fall down the keys. He has no idea that he's actually developing motor skills and learning about cause and effect, he just knows he's having a great time. If he just wants to play with the xylophone, it slides right out with a handle that's just the right size for his little grip! What I really like is how all the different parts store in the frame together, so when playtime is over we don't have little bits and pieces scattered all over.

This is a fun option for ages 9 months and up. The non-slip bottom keeps Asher from sliding around while he plays, and he loves pushing balls through the holes in the side to see where they go. He likes all the different textures and the sounds this toy makes (the squeak always makes him laugh)! But the real plus is that you can zip everything into one compact package so that the balls don't end up all over the nursery floor at bedtime. When the turtle is zipped, it's a great climb-on toy too!
View this post on Instagram
Books!
You can never have too many books at this age. Asher's favorite right now is Peek-A-Who? by Nina Laden. He loves looking through the little windows to see which animal is coming up next! We also recently discovered Whose Feet? from Melissa and Doug. This one is a fun, soft book with little animal feet dangling from the bottom. (Can you tell he's all about animals these days?) I carry this one around in the diaper bag because if crumbs or anything else get on it, I can just throw the whole book in the washing machine!
View this post on Instagram
Since Asher is super into the animal scene right now, we've been spending a lot of time playing with Horse Bluey. This toy is just the perfect size for a little bit of rowdy indoor playtime. Asher can pull the wheeled board along behind him and he also likes to let his other animal toys ride around on the horse's back! The horse is a great, soft stuffy on its own, with lots of fun textures and bright colors. But the most fun is standing it up on the wheeled board to take him on a ride around the house!

Those little hands are always busy these days! This activity center gives Asher the engaged playtime he loves and keeps his hands OFF all the other odds and ends he used to always reach for around the house. The solid wood feels a lot sturdier than some of the plastic versions we looked at, and it looks more sophisticated, too. There are so many beads, flaps, and runners for him to tinker around with. I love watching him discover something new every time he plays with it.
We are ready to rock year two with Asher's favorite toys and activities! I hope you've enjoyed my favorite baby products and gifts for one-year-olds and found some great ideas here for the one-year-wonder in your family. What are some toys that you couldn't do without at this stage?
Also read my guide to wonderful personalized baby gifts!
XOXO, Stuart