By now you've surely heard of BB Cream and you are probably even familiar with CC Cream! Now it's time to meet BB Oil, my new beauty obsession!
A couple of weeks ago I started using BB Oil by UltraLuxe and instantly fell in love! This first-ever facial bb oil delivers a new level of cellular healing and deep repair by speeding up the skin's healing process with its potent ingredients, six unique oils, antioxidant properties and aromatherapy to address multiple skin concerns. I'm a huge fan of products that can treat multiple symptoms, so this obviously met my beauty approval! I love to even mix this with my foundation for a more sheer, natural look!
Here are some of the reasons this is my new go to beauty product:
Helps smooth and firm fine lines and wrinkles
Visibly reduces dark spots and even out the skin tone
It's a Booster; helps other products penetrate deeper into skin
Provides immediate hydration and moisturize skin
Restores skin's luminosity
Reduces irritation and inflammation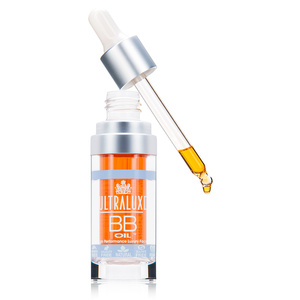 You can use this AM & PM: After treatment and before moisturizing, apply 2 or more drops onto face and neck.
Get ready to glow! XOXO