This post is sponsored by Pacira BioSciences, Inc. and BlogHer.
Is discussing pain management with your doctor…well…kind of a pain? It shouldn't be! When you're planning something as mentally and physically taxing as surgery, making plans with your doctor should be the easiest part of the whole thing.
Last month, I attended BlogHer Health and an incredible panel called Winning for Women: A Modern Approach to Tackling Your Health. It changed my entire perspective on post-op pain management. I was able to hear real doctors talk about the way C-section pain is currently handled (including what needs to be changed about it). I also learned about a way to recover from surgical procedures that doesn't rely heavily on opioids and narcotics. There's now an effective alternative called EXPAREL that's going to be key going forward, empowering women to take charge of their own pain management.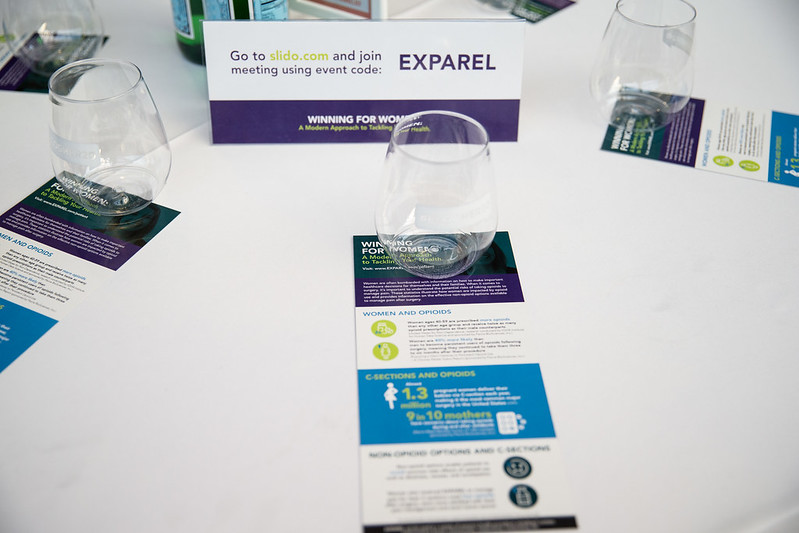 Here's what you should know about EXPAREL
I learned so much from the incredible panel of women which included Dr. Alicia Warlick, The Class instructor Sophie Kos and addiction counselor Jennifer Wysong. EXPAREL is a specially formulated numbing medicine, similar to what your dentist would use. It's injected during surgery, directly where the pain will be coming from. That's a little different from the pain management most of us are familiar with in a surgical setting. The part that hooked me? The medicine is slowly released into your body over a longer period of time. You've got enough going on after surgery without having to remember when to take your next pain pill!
EXPAREL is NOT an opioid or a narcotic
The opioid epidemic has put a spotlight on pain management and all the potential dangers that come with it. As a woman, I know I'm at a higher risk for dependence on (or worse, addiction to) opioids. And yet, opioids are still what a lot of women are being given for post-op pain management. Check this out:
Over half of C-section patients

are prescribed an opioid during recovery, even though there are effective alternatives waiting in the wings.

Women are 40% more likely than men to use opioids 3 to 6 months after they are prescribed for surgery-related pain.

Opioids can actually slow down or interfere with your recovery and they often have unpleasant side effects.
Um, no thank you. Fortunately, EXPAREL can minimize (if not eliminate) the need for opioids during recovery, reducing the risk of complications after surgery and in some cases, even shortening the hospital stay.
Managing post-op pain is serious business
Women tend to be the decision-makers in a household when it comes to medical care. We also face a lot of surgeries that men just don't have to worry about, like C-sections, hysterectomies, mastectomies, and even cosmetic breast surgeries. That means we have a responsibility to get informed about what's safe when it comes to pain management. It's time to stop being afraid to ask questions or even to switch doctors, if necessary. We deserve a voice in our own care!
Create a pain plan with your doctor
Pain is closely associated with anxiety, which makes us vulnerable. If you wait to think about pain management until you're actually hurting, you'll probably just go along with whatever is suggested to you. That's why a pain plan is non-negotiable when you're preparing for surgery.
First, open a dialogue with your doctor about pain management options. Don't be afraid to ask if certain medicines are addictive! This is your body we're talking about, so speak candidly to a doctor (the EXPAREL Surgeon Selector can help with this). Talk about what you want in an ideal situation and discuss the steps you are comfortable taking if the procedure doesn't go as planned. Write it all down!
One of the ways I personally deal with anxiety is by exercising. At the beginning of this panel, we experienced 20 minutes of The Class. It really set the tone for this important topic and bonded all of the women in the room.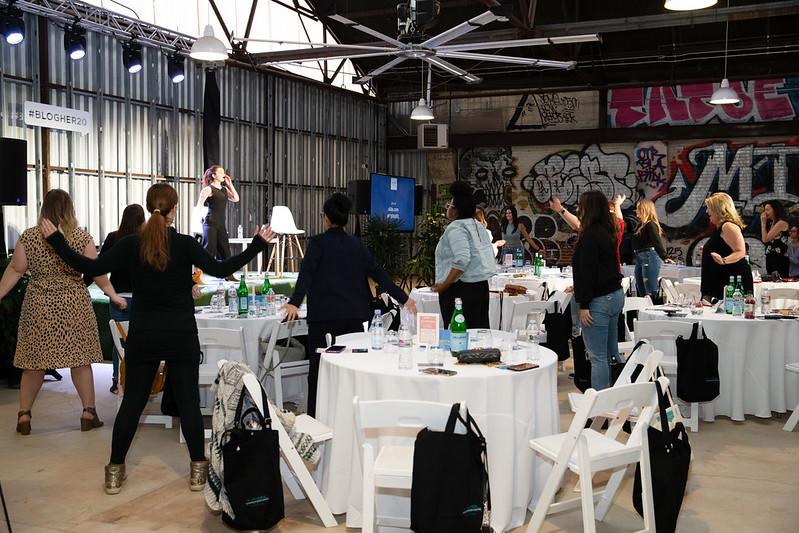 You deserve a say in your own pain management!
After attending this panel, I feel more empowered than ever to discuss pain management with my healthcare providers. It's incredible to see the medical advancements that are (finally) bringing real awareness to opioid alternatives. The next time I prepare for a surgery — which I hope is a very long time from now! — I will be a lot more comfortable asking questions and seeking responsible care during recovery.
Learn more about EXPAREL on the official website. It's important to discuss EXPAREL with your prescribing doctor, since there may be side effects and age guidelines that apply to you. You can find that information here.
Photos courtesy of BlogHer.
Click HERE to read EXPAREL safety information.
Important Safety Information: EXPAREL should not be used in obstetrical paracervical block anesthesia. In studies where EXPAREL was injected into the wound, the most common side effects were nausea, constipation, and vomiting. In studies where EXPAREL was injected near a nerve, the most common side effects were nausea, fever, and constipation. EXPAREL is not recommended to be used in patients younger than 18 years old or in pregnant women. Tell your health care provider if you have liver disease, since this may affect how the active ingredient (bupivacaine) in EXPAREL is eliminated from your body. EXPAREL should not be injected into the spine, joints, or veins. The active ingredient in EXPAREL: Can affect your nervous system and your cardiovascular system, May cause an allergic reaction, May cause damage if injected into your joints, Can cause a rare blood disorder.