Happy National Pumpkin Day! I love that pumpkin is a a healthy carb and is just a little bit sweet! From pumpkin soup to pumpkin pie, I don't discriminate. But to celebrate pumpkin's special day, I'm sharing two delicious pumpkin desserts. Enjoy these pumpkin cake in a jar and pumpkin creme brûlée recipes:
Pumpkin Cake from Doma Kitchen
1/2 Cup of Oil
4 Eggs
1 Cup Pumpkin Puree
2 Cups Gluten Free Flour Mix
2 Cup Brown Sugar
1 Teaspoon Baking Soda
1 Teaspoon Baking Powder
1/2 Teaspoon Salt
2 Teaspoon Cinnamon
1/2 Teaspoon Nutmeg
1/4 Teaspoon Cloves
1/4 Teaspoon Ginger
1 Teaspoon Xanthan gum
Directions
1. Preheat oven to 350 degrees and coat 9×13″ pan with cooking spray (or oil).
2. Combine oil, eggs and pumpkin puree in a mixing bowl (or mixer) and beat well. In a separate bowl, mix flour, sugar and all dry ingredients. Slowly add the dry ingredients into the wet ingredients. Mix well until combined.
3. Pour mix into pan and bake for 30 minutes.
4. Remove from oven and let cool before serving.
Applesauce Cake Topping
2 Fresh Pink Lady apples (not peeled, diced into 1/2″ squares)
1 Tablespoon Fresh Lemon Juice
1 Tablespoon Brown Sugar
2 Tablespoon Organic Butter
Directions
1. Heat a small pan on medium heat, melt butter and add all ingredients and apples
2. Caramelize the apples until light brown on medium heat, let bubble for 2 minutes and stir continuously with wooden spoon.
3. Spoon over Pumpkin Cake and enjoy!
Homemade Whipping Cream
1 Cup Heavy Whipping Cream
1 Cup Marshmallow Cream
Directions
1. Whip the Heavy Whipping Cream and Marshmallow cream together until the cream is firm.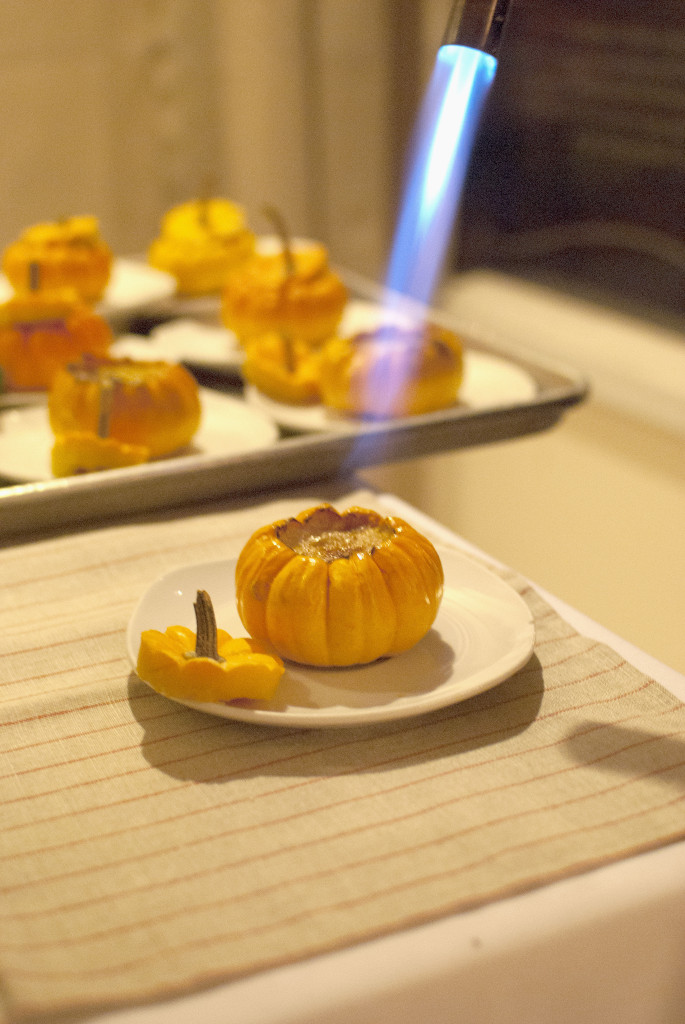 Ayara's Pumpkin Creme Brûlée by Chef Vanda Asapahu
9 small pumpkins
3 cup heavy whipping cream
3 egg yolks
2 eggs
1/2 cup sugar
1/2 cup of canned pumpkin
1 teaspoon ground lemongrass
1 teaspoon ground cinnamon
1 teaspoon ground ginger
1/4 teaspoon salt
1/4 teaspoon ground cloves
1/2 cup of sugar
9 kaffir lime leaves
Directions
1. Preheat the oven for 350 degrees F
2. In a saucepan, heat the heavy whipping cream over low-medium heat until it bubbles. Be patient, do not over heat or burn it
3. In a pot or kettle, boil water. Use enough water to cover pumpkins halfway
4. Wash each pumpkin. Cut the top of each pumpkin, and spoon out the seeds. Do not discard the top.
5. Using a electric mixer, on medium spin, combine egg yolk (tip: pinch the yolk), eggs, sugar, pumpkin, lemongrass, cinnamon, ginger, salt, and cloves.
6. While the mixer is continuing to spin, slowly add the warm whipping cream to the mixture one ladle at a time.
7. Place pumpkin into a roasting pan, and fill each to top with mixture. Fill boiling water into the roasting pan to the height of middle side of the pumpkins. Do not bake the tops
8. Bake in oven for 30-40 minutes. It is generally done when the custard is set mostly everywhere but still jiggles in the center.
9. Take each pumpkin out of the water bath and place it on a wire rack for cooling. Once completely cool, cover individually with plastic wrap and place in the fridge overnight
10. Before serving, let custard stand in room temperature for 30 minutes.
11. Sprinkle sugar evenly over custard, and use a torch to caramelize the sugar. Let harden.
12. Place atop a kaffir lime leave and top of pumpkin
And if you don't feel like getting in the kitchen, but you want to try these delicious desserts stop by
Doma Kitchen
in Manhattan Beach and
Ayara Thai Cuisine
in Westchester – your tastebuds will thanks you 🙂