My favorite season for fashion is just around the corner! Fall is all about layers for me, and I love playing around with textures, patterns, and colors to get a unique look that really makes a statement. I always look forward to finding an amazing fall coat! Cabi Clothing just launched their fall collection and I can't wait to rock the new pieces I've ordered from their line. (Spoiler alert: one of them is this year's amazing fall coat!) Keep reading for standouts from this collection that I am loving. I can't wait for cooler weather to move in so I can show off the newest additions to my Cabi wardrobe!
Cabi Fall 2019 Collection Favorites
$239.00
This will definitely be my go-to coat all fall and winter! Versatility wins the day again with those removable rib knit cuffs, and I'm a big fan of the oversized buttons. The relaxed fit is perfect for giving everyone a glance at a show-stopping outfit without sacrificing on warmth. And that leopard print! I'm so excited to wear this one.
$89.00
Snakeskin is still going strong, and this blouse sneaks a trendy splash of python into a feminine, floral print that pairs with just about anything. That neckline is perfect for showing off an eye-catching necklace, but I'm also planning to try it unbuttoned with a splash of color underneath! Love the shape detail on the forearms, it really takes this eye-catching piece to another level.
$89.00
If you want to stand out this fall, don't miss this one! Something about the right pencil skirt just gives me an instant boost of confidence, and I love that this one has subtle details that can stand on their own as a statement piece or complement a fun, flamboyant top. Check out those textures!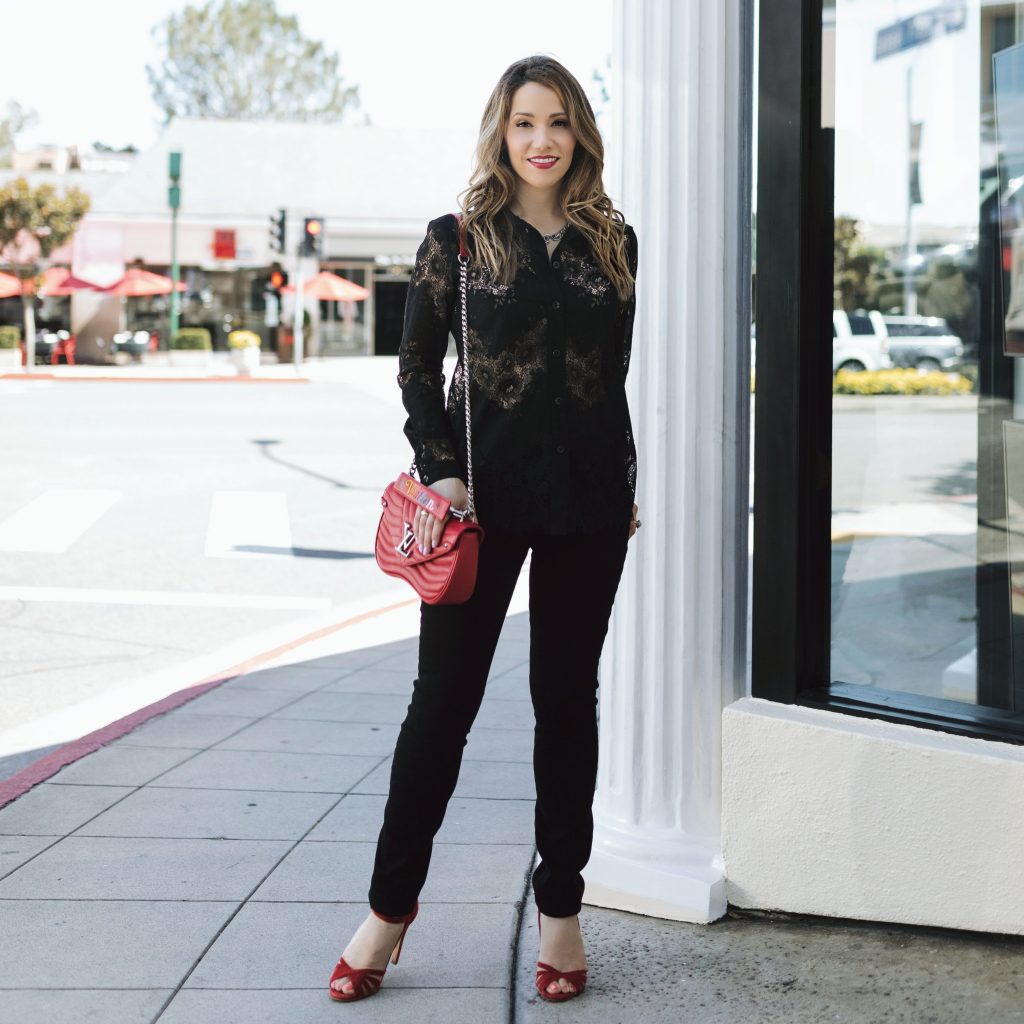 $119.00
Lace is right up there with animal prints right now, and this blouse has it in spades. I love the scalloped hemline. It could really take any ensemble right over the top–in the best way! I'm a sucker for a good button-up blouse that allows me to use one piece multiple ways: tucked, untucked, buttoned, unbuttoned…I'll be playing around with this one all season!
$119.00
Who needs a little black dress this fall when you've got these little black jeans? I mean, I definitely will have both, but still! These jeans go with everything and they fit like a dream. I love the wide waistband here. It's so much more comfortable and completely eliminates the "digging in" problem that I sometimes experience with skinny jeans from other brands.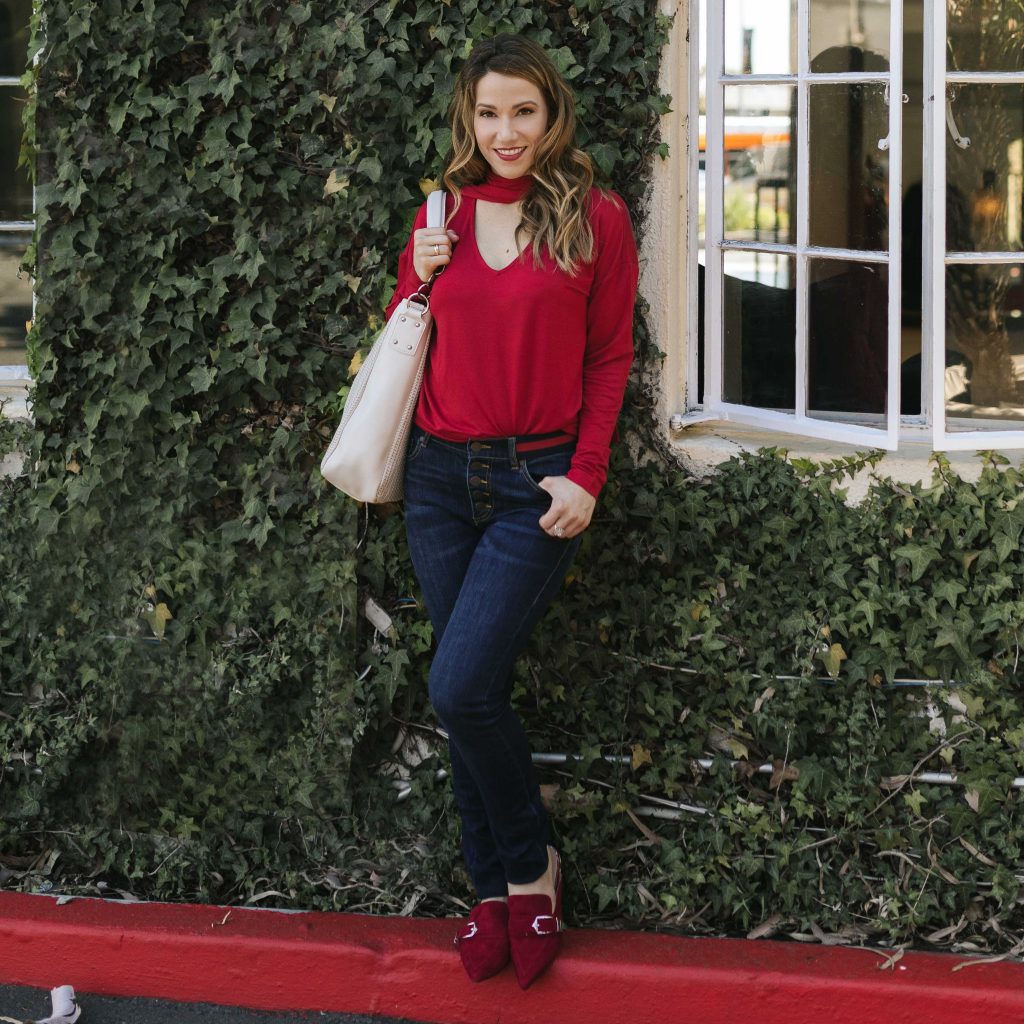 $89.00
Comfort meets sexy meets just a little taste of preppy in this unique top. I could easily dress this up with heels and my Josephine Coat or wear it around town with the perfect pair of jeans (I'll show you some options for those in just a minute!) and my favorite boots. When I put the Tess Tee on, the word "comfy" immediately came to mind, but that tie at the neckline makes it clear this is not just a sweatshirt. As a mom who is always carrying a baby and all of his things around, I am all about any piece that can feel this good while still making me look put together.
$129.00
This little number has been all over Instagram so of course, I had to have it. The sporty elastic trim paired with that high rise (my fav right now) draws everyone's eye to the smallest part of my waistline. Love that. The dark wash can work with a dressy blouse, but it's got just enough distressing to work as an all-around-the-town jean, and those buttons in front really take it up a notch.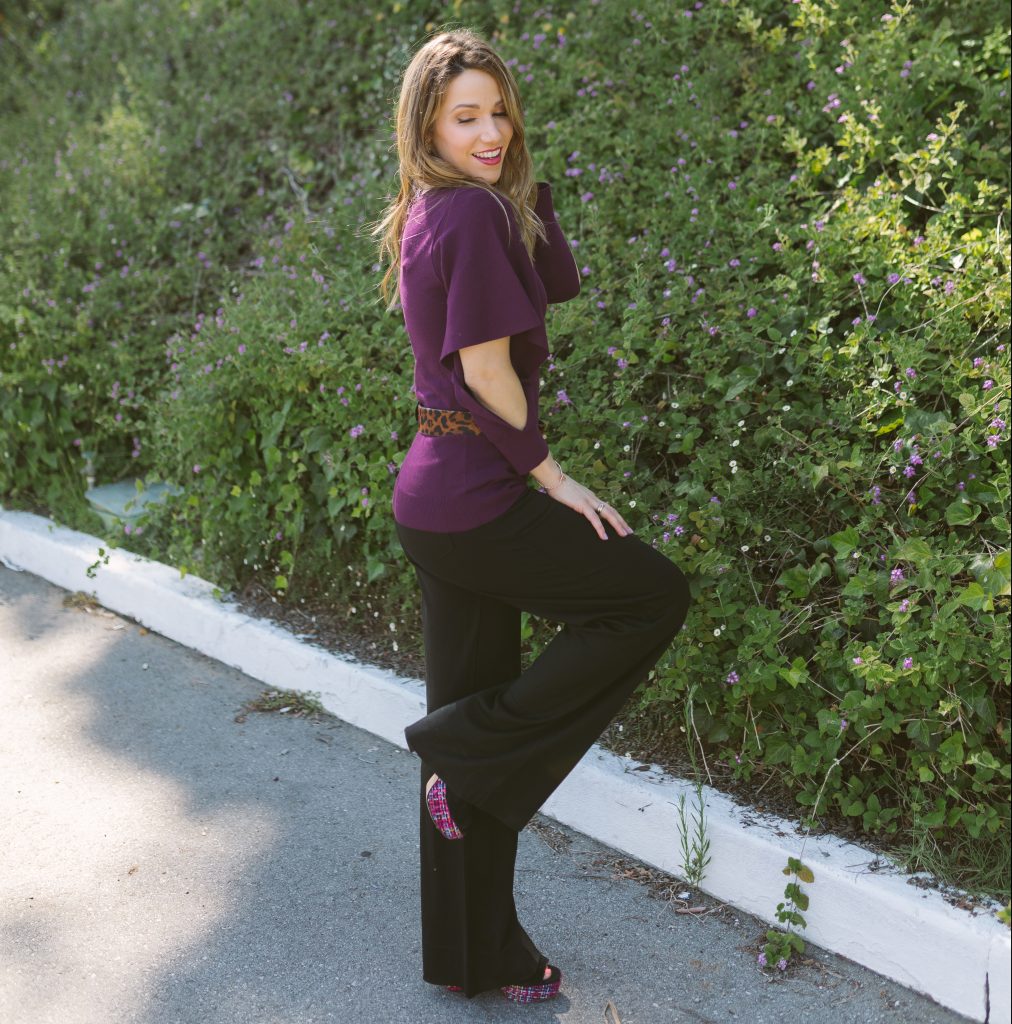 $99.00
Something I love to do with my fall outfits is to show off a little unexpected skin before it gets too cold! The flounce sleeves in this top open up to give you just a peek (Hence the name!) of arm right around the elbow. They've included some delicate detailing around the neckline that I just love. This is another one that feels like my favorite sweatshirt and looks like a million bucks! Can it just be fall already?
$119.00
Remember the Snake Charmer Blouse? It looks unbelievably good paired with these super-comfy slacks. I just couldn't resist another high-waisted option! The fit allows me to move around as much as I need to while still looking like I'm on my way to a corporate meeting (and a big bonus is that these pants also make me look extra tall!). Pair it with the Tess Tee to get a complete ensemble that would look equally at home lounging on your couch or spending a day at the office.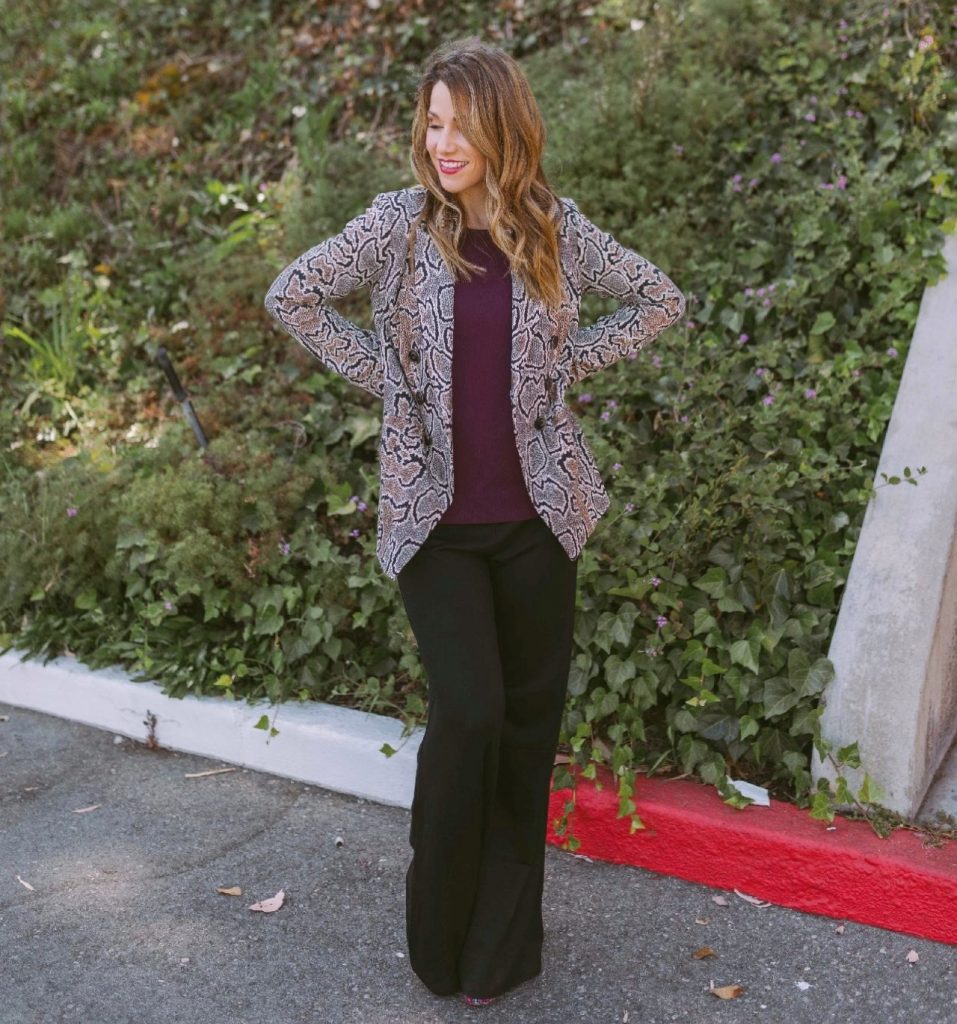 $189.00
I don't know about you, but when I'm wearing a killer blazer I feel like I can take on the world! This is a super-trendy answer to business attire that embraces the fashion world's current obsession with animal prints, and I am here for it. I can't wait to rock this with a pair of sky-high heels.
You know those Cinch Skinny jeans are begging for a chunky belt! I love accessorizing with Cabi (The Tudor Necklace is a big hit on Instagram right now!) to bring together a fabulous, effortless look that has every eye looking my way when I enter a room. Cabi has all the accessories I need for this season, from this animal print belt to the perfect scarf. I can't stop playing around with different options!
I'm so excited to face the world this fall with my new Cabi wardrobe! I love that Cabi is all about showcasing every woman's individuality while promoting a community of women who lift each other up. When I put on a piece by Cabi, I can see the quality that goes into creating each garment, and I feel an immediate boost in confidence when I find just the right combination. Go to their website to see all my favorite pieces and more from Cabi's fall 2019 collection and follow @cabiclothing on Instagram to stay posted on what's next for Cabi!
XOXO – Stuart