This summer we took Asher on a family vacation to Loews Coronado Bay Resort in San Diego! I'll admit, I was a little nervous. There's a lot of planning that goes into traveling with a baby, and I wanted to be sure we went somewhere that he would actually enjoy now that he's old enough to really interact with his environment.
Fortunately for me, Loews had us covered. We were absolutely blown away by the level of service while we were there and the sheer amount of things to do and enjoy as a family. All three of us had a blast and can't wait to stay at Loews Coronado Bay again!
That Beach Life
You really can't beat a five-minute walk to the beach, although the shuttle was a great help when we needed to carry Asher and all his things back to the hotel after a long day. A lot of people were enjoying some excellent surfing conditions and we saw a beach club that we'll definitely spend time at on our next visit.
The highlight of our trip though was sailing. We booked a sailboat for an hour and enjoyed a spectacular morning out on the bay! The boat came with our very own skipper, who showed us some of the best sights. It was Asher's first time out on the water and he loved it! And of course, we made sure to enjoy the champagne, cheese, crackers, and fresh fruit. It really was a magical experience.
View this post on Instagram
View this post on Instagram
Loews Loves Families
We heard and saw this phrase everywhere on our trip, and it's completely true. We felt so taken care of during our stay and I was able to relax and enjoy my time with Asher, minus the usual stress of thinking up ways to keep him entertained and happy. The staff went above and beyond to accommodate our family.
We took advantage of their Family Road Trip package which came with some great perks: free breakfast for Asher, free nightly parking, and a $30 food credit. This deal doesn't end until September 30th, so if you're looking for a late-summer vacation spot I highly recommend looking into it!
There were a lot of fun activities for the kids throughout the weekend. We saw families fishing and getting serious about a hula hoop contest, and we enjoyed some delicious cupcake making and a swim-in movie screening. They made it easy for us to plan our stay with a downloadable family activity guide. They also had board games, DVD players with movies, and a scavenger hunt activity sheet on hand for older kids. We were big fans of the baby bath amenity kit. Most hotels don't think of that!
Oh and by the way, if your family includes fur babies, Loews loves them too! Loews Coronado Bay is completely pet-friendly. They were even featured in National Geographic for it!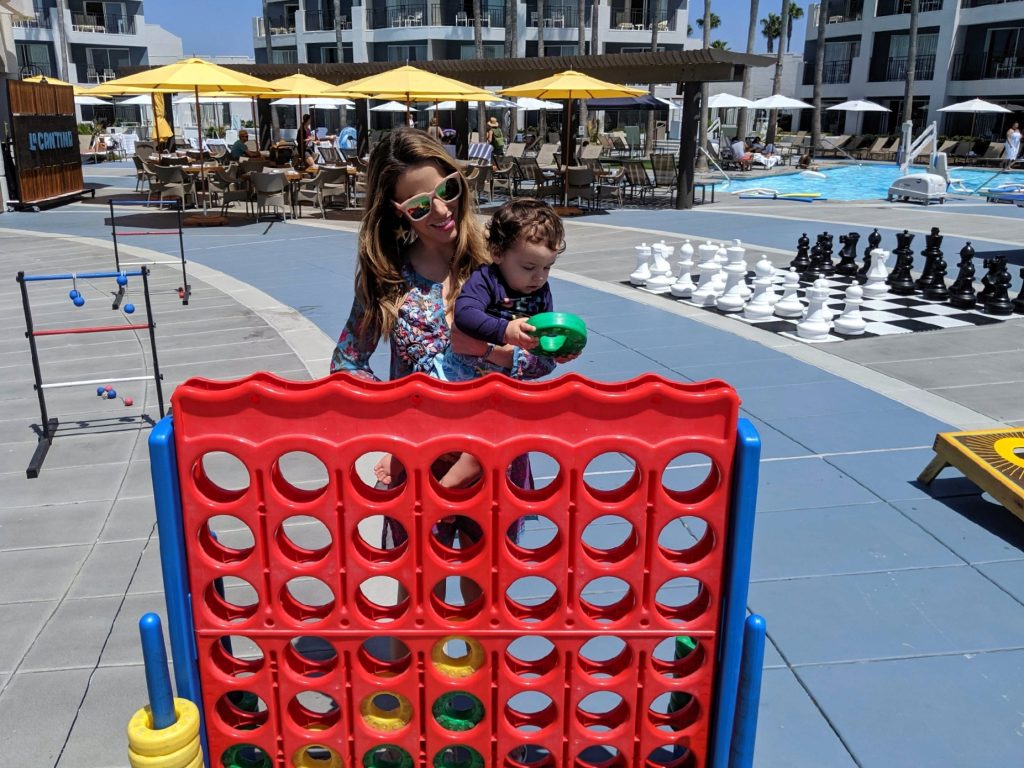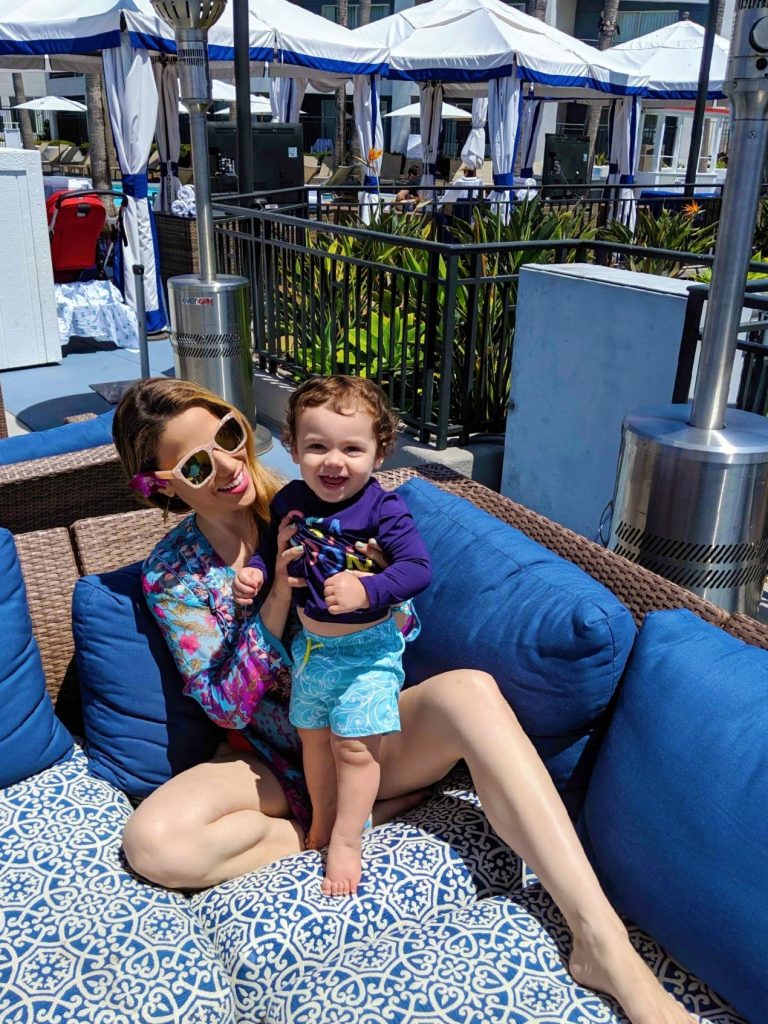 Grown-Up Fun, Too!
Loews will arrange for a licensed babysitter so that you can spend some time at the adults-only pool, have a drink at the bar, or go enjoy some nightlife. As amazing as a family vacation is, sometimes the grown-ups want to let their hair down, too!
One of the adult-geared amenities we really liked was their state-of-the-art fitness center. This isn't your typical hotel gym. They have lockers for your personal items, so you don't have to go all the way back to your room if you're trying to squeeze in a workout between activities. There's a relaxation lounge, a steam room, and a sauna, along with towel and water service. I don't usually feel pampered when I'm exercising but I definitely did at Loews! (If you have a chance to take the bayside spin class, definitely don't miss that. It's the most relaxed I've ever been while working up a sweat.)
Of course, you know I had to indulge in my ultimate weakness: a world-class spa. Sea Spa's indoor/outdoor treatment rooms were calling me and I answered! They offer everything from beautification to relaxation (and even personal training). You can have cuisine brought to the patio Jacuzzi there!
Watch a tour of our room and see our entire experience here:

Incredible Resort Experience
Loews Coronado Bay really just has it all. The place is gorgeous and packed with amenities. The concierge service is the best I've ever experienced. They can help you find food, car rentals, and just generally plan an amazing trip. I've already told you about the fitness center, spa, and accommodations for families. It's all-around a great place to go if you want top-notch service.
At the very center of it all are their three pools. Yes, three! There's an extra-shallow children's pool, a family pool and hot tub, and a separate pool and hot tub reserved only for adults. Kids can splash and play without bothering anyone and adults who want a calmer swim can lounge around in their own pool. It's the perfect setup.
We rented a cabana for a day by the pool and loved it! There was a wonderful shaded area just for us to lounge, a table for us to snack at, and a fridge stocked with cool drinks. I love that Loews Coronado Bay Resort features locally sourced brands and treats. We also had a little safe so that we could swim without having to keep an eye on our area the whole time. And did I mention there's a pool concierge? Because there's definitely a pool concierge. We were pampered with little chilled treats throughout the day and took advantage of the occasional mist of suntan lotion. Their cool hand towels kept Asher (and his mommy!) from overheating. Honestly, I would visit again just for the pools!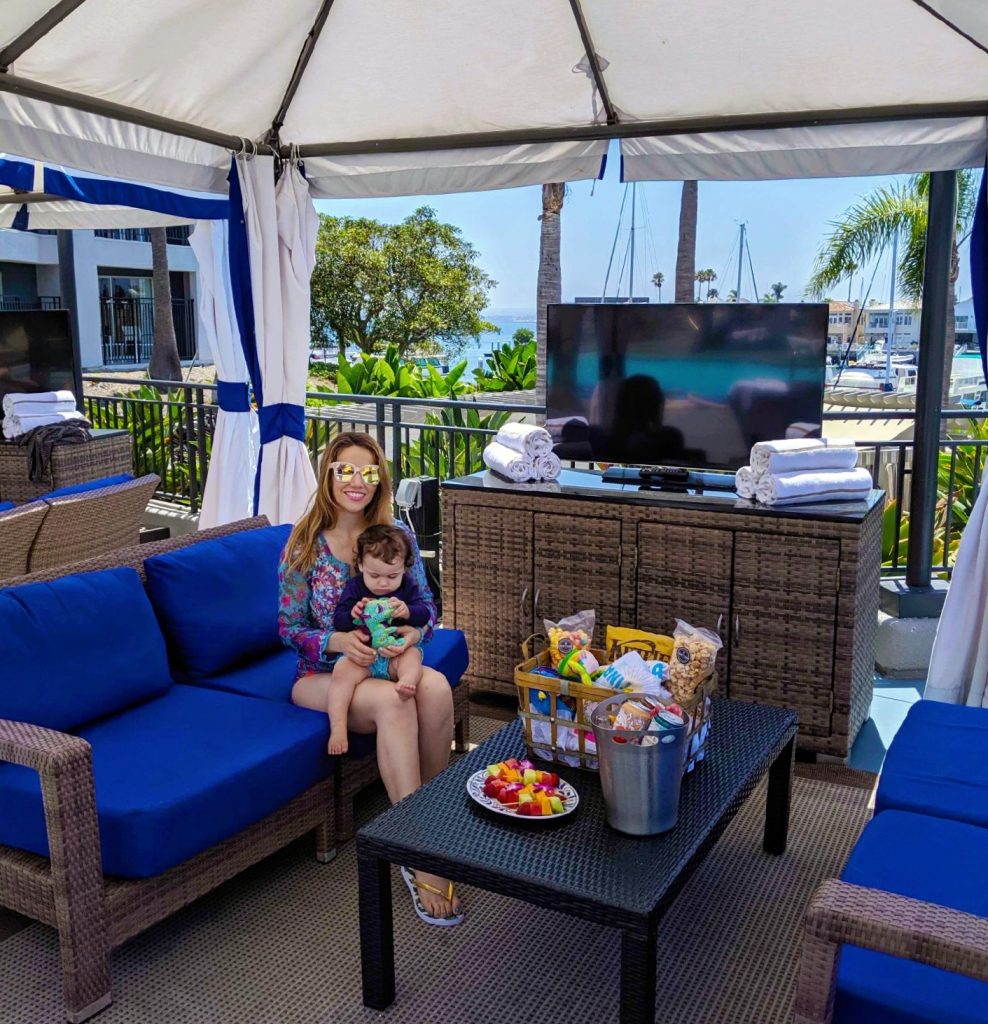 View this post on Instagram
Unbelievable Drinks and Cuisine
I always head straight for the dining options when I look into a new place to stay, and it was no different at Loews Coronado Bay. We ate at the restaurant Crown Landing and had an amazing experience from the moment we strolled in with Asher to the moment we left with very full bellies. We tried as much as we could and everything was so tasty! We went for the Dungeness crab cake, spicy calamari, shrimp, and scallops for a taste of seafood, but couldn't resist a New York strip steak (SO good) and Spaghetti al Pomodoro. The pasta was incredible — they make it all in-house! Don't leave without trying the Brussels sprouts…people come just for them because they're so good! Kudos to Chef Aleczander Herrera
Their cocktail menu is super creative. I enjoyed the special: raspberry, lemon, and orange-infused dark rum milk punch. They make all clear ice in-house and the craft bartender, Rourke, absolutely rocks!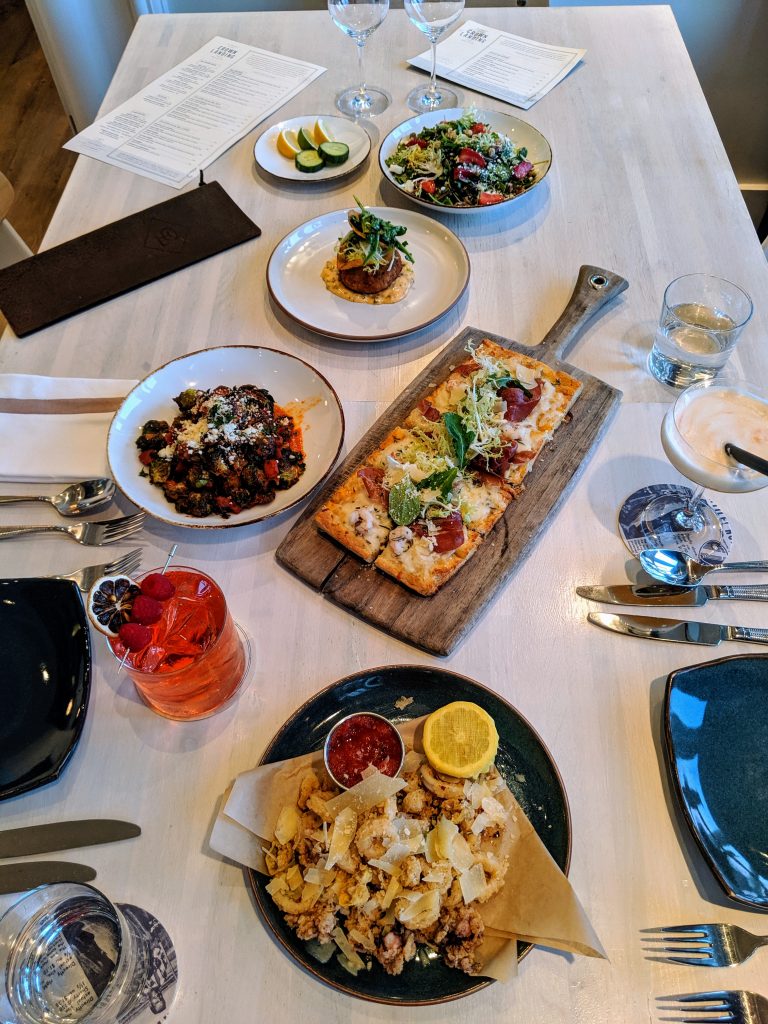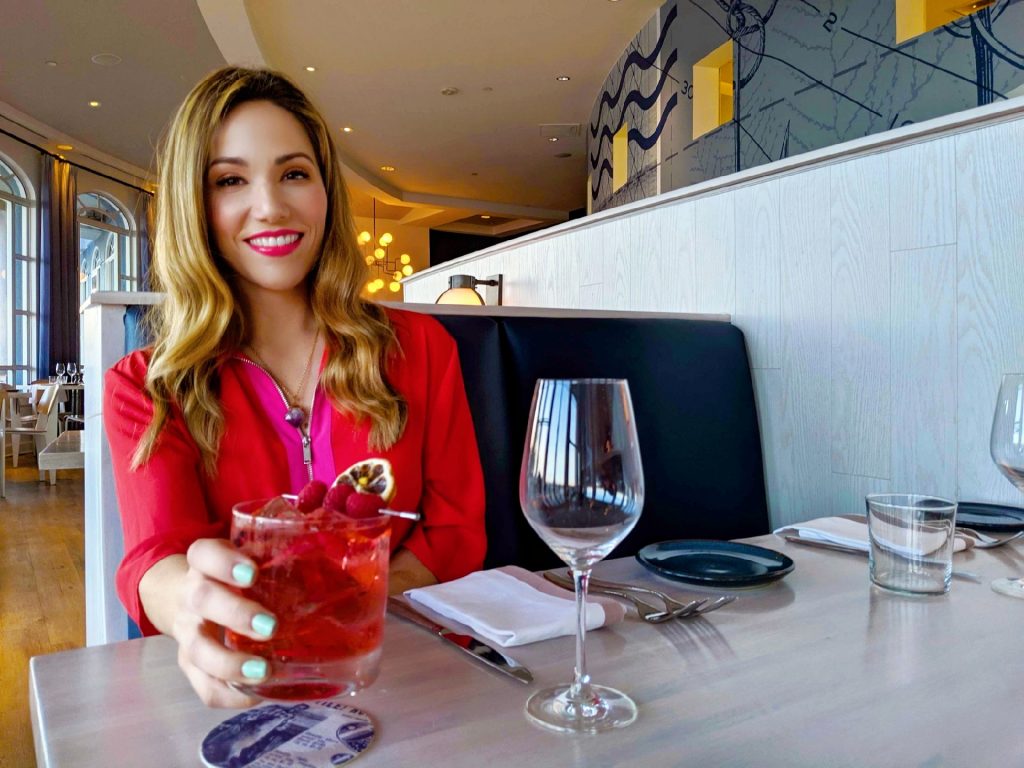 Our family vacation at Loews Coronado Bay Resort was such a unique, fun, and relaxing experience. I loved seeing the joy in Asher's face when we sailed into the bay and spending an entire day poolside with him. We made some really great memories and can't wait to go back and make some more! If you want to take the family on a road trip before summer officially ends, go check out the Family Road Trip Package! Our family loved Loews and yours will, too.
You may also enjoy my Paso Robles Travel Guide!
XOXO – Stuart