I recently had the absolute pleasure of spending a glorious weekend away at the Hyatt Regency Indian Wells and I simply cannot rave about my experience enough! I've lived in Los Angeles for over a decade, but I'd never been to stunning Indian Wells, CA. Now I can't wait to get back! Let's break down this dream weekend getaway.
Why Indian Wells is Your Next Weekend Getaway:
For my fellow friends who also live in Southern California, we are honestly spoiled with the options of potential road trips and escapes and now you must add the beautiful desert sanctuary Indian Wells to that list! Every view is so picturesque and the Hyatt Regency Indian Wells provides the perfect environment whether you are in the mood to relax, play or indulge.
Yoga and Wine
When I arrived Friday afternoon, I kicked my weekend off with a group Vino and Vinyasa class … and yes it is exactly what it sounds like. This hybrid class of yoga and wine tasting set the tone for the weekend and let me know I was in for a unique and memorable experience.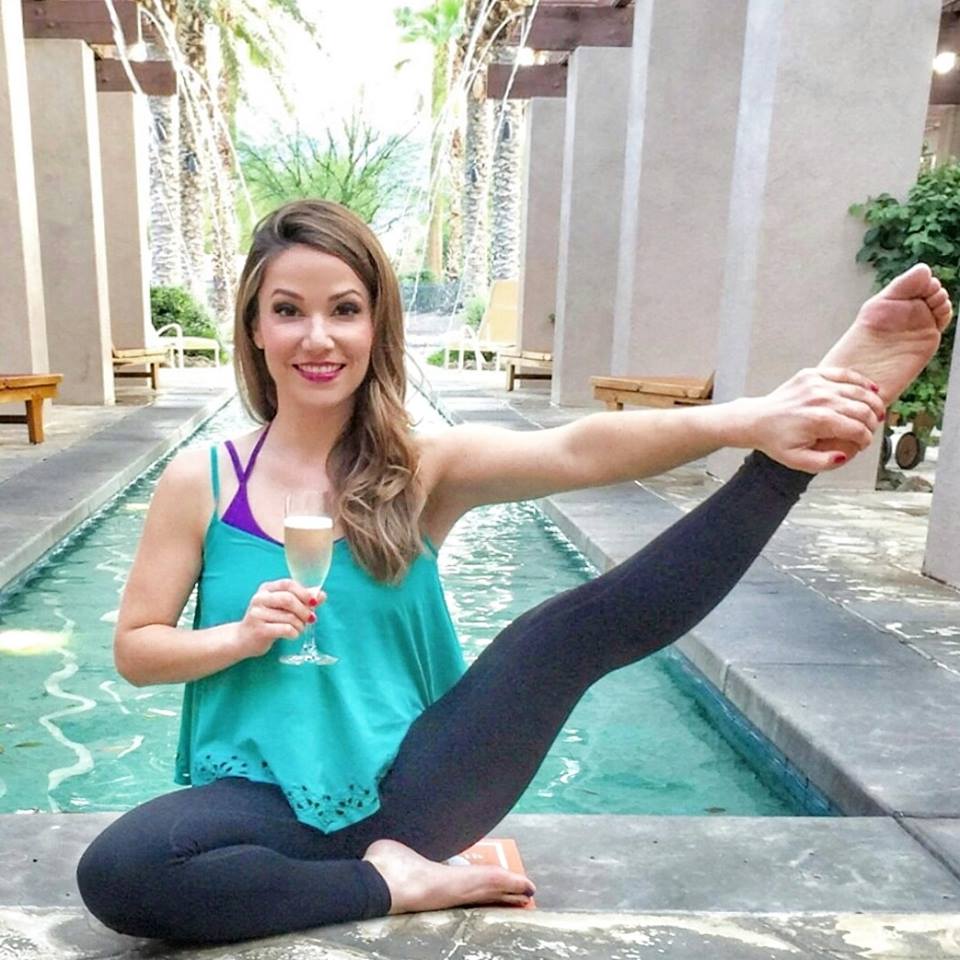 Do I look blissed out or what? The yoga portion and use of breath, movement, balance and flexibility opens up your palate to a whole new journey of the senses during the wine tasting. This class is provided for groups of 2 to 10 people and it is not to be missed!
Delicious Food and Views
After yoga, I freshened up for a luxurious 3-course dinner with my hubby and my fellow journalists and met the fantastic chef's team and warm and welcoming executive staff. With a full belly, it was time for a night of blissful sleep in my gorgeous Deluxe Pool View Suite. Seriously, can we talk about this view??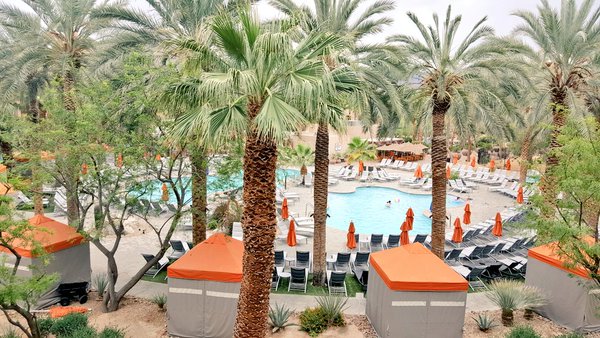 World Class Spa and Pool
When I awoke the next morning the pool was calling my name, but after some relaxing room service and an impressive tour of the property, I headed to the blissful Agua Serena Spa for an 80 minute massage that was honestly one of the best massages I've ever had … and you all know I love my massages! I walked out of my treatment floating on water and took some time to relax, steam and savor the moment.
You can easily spend the whole day at the spa between their cute boutique, fitness center, salon and even order your meals there, but I decided to catch some rays at the Oasis Adult Pool and check out the famous DesertPipe! Open from 11am-5pm daily, it is the shortest water slide at 10ft tall and the longest water slide – going .17 miles & 45 rotations per minute! Solo riders can try to run, slide or even try surfing on their feet or they can slip and slide – frontwards, backwards, or sideways. Total fun!!! Take a look at the DesertPipe in action and take an entire tour of the Hyatt Regency Indian Wells with me by watching this video:
Luxury Villas
Talk about a venue for a dream wedding! And next time I visit I'm definitely booking one of the Luxury Villas for my own home away from home perfect for romance or family. And right now the Hyatt Regency just launched their Sunshine on Sale special where you can enjoy your summer days and nights at this 45 acre lush property with rates from $100 with your 3rd night free and breakfast for two! Not that I ever needed to leave, but Saturday night after being treated to a sumptuous tasting on the Verbena Terrace and a meet and greet with Mindi Abair as in Mindi Abair and The Boneshakers, we all headed to the take a tour of the impressive Indian Well Tennis Garden and attend the Desert Jazz Festival.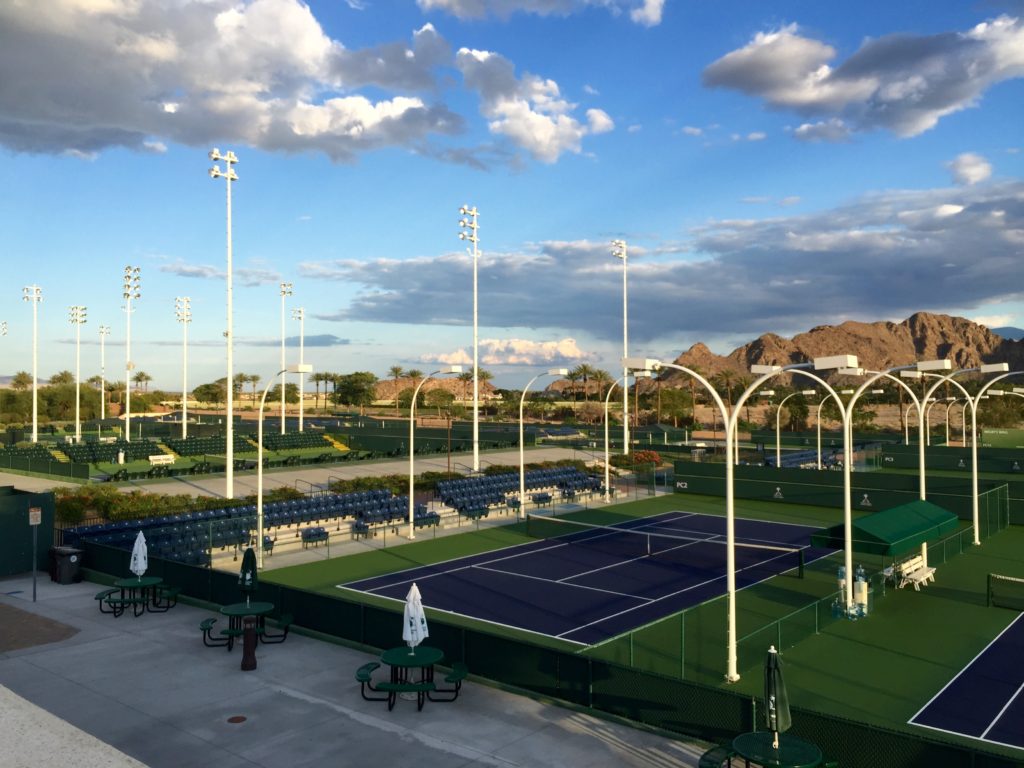 Indian Wells Tennis Garden
This view though! The Indian Wells Tennis Garden is home to the BNP Paribas Open and is totally instagrammable! Those desert sunsets are like nothing else! I'll definitely have to return next spring for the tennis action! After an in-depth tour (ps there's a Nobu where you can dine and watch the tennis matches) we headed to the Jazz festival! What a fun night!! Mindi Abair and Brian Culbertson totally rocked or should I say jazzed the house! After a fun night of dancing, we headed back to home base for a tequila nightcap fittingly at Agave Sunset. After witnessing even more impressive dancing by the locals, my hubby and I headed back to our room for a night of luxurious sleep. The next morning I slept in, ordered more room service and relished in my last few moments of luxury before it was time to check out.
Palm Springs
Not ready to head home? Another great option is to drive to the other side of the desert into downtown Palm Springs and check into the Hyatt Palm Springs! I stayed there last summer during Palm Springs Restaurant Week and had the BEST time!! There's an endless array of restaurants, fabulous shops, another great pool scene at the resort and so much to do in walking distance. Hey #treatyoself you deserve it! With these 2 dynamic properties, you get the best of both worlds! Watch my tour and experience at the Hyatt Palm Springs here:
You might also enjoy my Havana, Cuba three-day-guide.
XOXO – Stuart