This is a sponsored conversation written by me on behalf of Always at Sam's Club. The opinions and text are all mine.
A couple of years ago, I was shocked to learn that 60% of women wear the wrong sized pad during their time of the month. I was a tampon user for most of my period years and didn't even realize what a huge difference the right pad could make! After I discovered Always My Fit, a unique system to help women find the right pad for their personal needs, I gave them a try and I'm still going strong with Always maxi pads, years after that day. Here's why:
My Body Goes Through Change, and So Do My Periods
From professional ballerina to breastfeeding mother, I've put my body through a lot! And you know what? I wouldn't change a thing. But my period needs are not the same now as they were when I danced for hours out of every day. For one thing, my body shape has changed a little bit since I was…oh…FOURTEEN. For another thing, fluctuations in weight, physical activity, age, and hormone levels can all impact the length and flow of your period. If your fit changes, Always My Fit has your back. There's definitely a size and shape Always maxi pad for you no matter what stage of life you're in.
I Don't Have Time for Leaks
Another thing I learned: 80% of women experience leaks every month. Leaks are messy, stressful, and sometimes embarrassing. I don't need that in my life. When I relied only on tampons, I found myself making extra trips to the bathroom, even when I knew I was probably still good to go. It interfered with social events and often led to those horrible, just-in-case dry tampon removals. Ouch.
Now that I'm toting Asher around with me, I can't always just stop what I'm doing for a quick check. I feel a lot more confident going long stretches with a pad, or using a pad as a backup. I sleep a lot more soundly, too!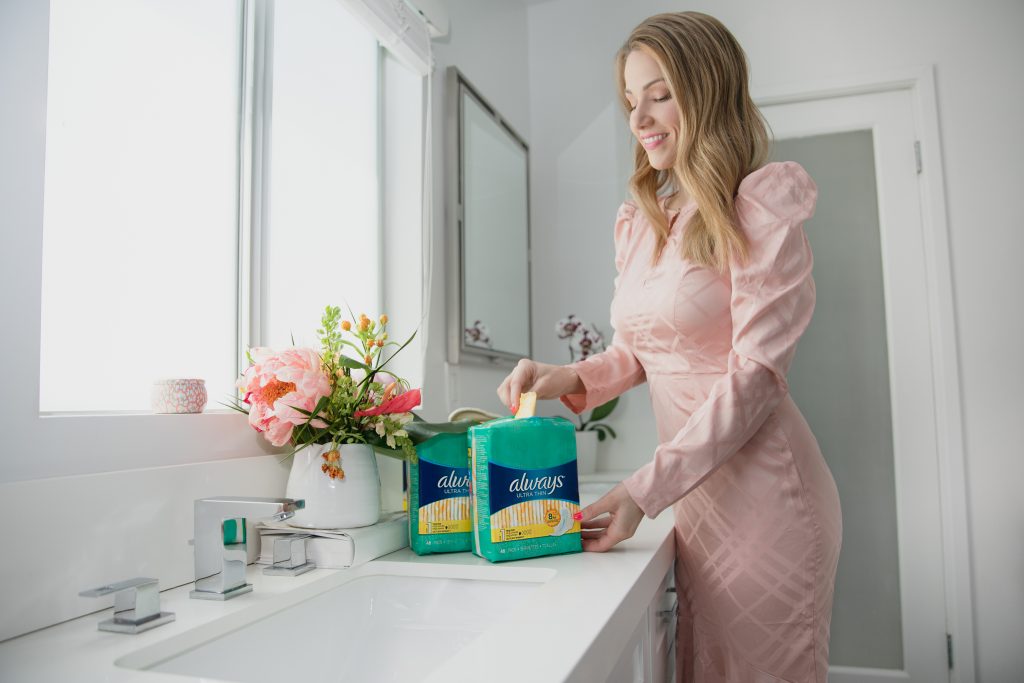 Comfort is Not Negotiable for This Mama
I may not be a ballerina right now, but I still do a lot of moving around! It's no fun to be uncomfortable when you're trying to play with a little one or lifting a stroller into your trunk. Using the right fit is the key to comfort, and now that I know my Always fit, I sometimes forget my pad is even there. I also need my sleep more than ever! You never know when teething or a sneaky cold will pop up and sleeping through the night goes out the window. When I'm using an Always maxi pad that fits correctly and controls my flow, I can make the most of my sleeping hours (whatever they turn out to be!)
Anywhere I Go, I Know I Can Find Always
I practically live at Sam's Club these days. I love that I can stay stocked up on my favorite Always products, right where I already do a lot of my shopping. I'll definitely be stopping by for a fresh supply since you can get $2 in Instant Savings until July 14! If you like to be a little more discreet, shop at SamsClub.com to see the full product line. I have felt so much more in control of my periods since I added Always feminine care products to my monthly toolkit. Now that I'm dealing with periods again after Asher's birth and breastfeeding months, I'm super excited to get my Instant Savings at Sam's Club! Do you know your fit? Take the Always My Fit quiz to find out, and visit your local Sam's Club or SamsClub.com to take advantage of this deal.