Breastfeeding has been an unexpected journey. I love the closeness with Asher and knowing that I'm giving him the best nutrition I can, but there are definitely challenges! For example, I absolutely love to travel, but travel isn't just a hobby for me. Sometimes it's also part of my work. When I began nursing Asher, I worried about keeping up with my professional commitments. I was concerned about pumping on the go and wasting precious milk. It seemed like a lot! After a few months, I've figured out the perfect system that makes leaving him just a little easier, since I know that I can pump wherever I need to and the milk will be transported back safely. With the help of some really innovative products and services I now breastfeed and travel worry-free! Keep reading to find out how to travel without your baby when you're a breastfeeding mama!
Stay on Your Schedule
It may be tempting to let your rigid baby schedule slide, but your body will know the difference. To get the most out of pumping, do it when your baby usually feeds. A good rule of thumb is every three hours. This means you'll be getting up at night too depending on your baby's current feeding schedule, so pack some late night reading material! Remember that a pump will not always yield the same amount of milk as an actual breastfeeding session. You may need to do smaller, more frequent sessions or express some by hand to get the amount of milk your baby is used to. An app like Pump Log™ will help you keep track. It will remind you when it's time to pump and it will even show you personalized stats!
Use a Pumping Bag
Stay super organized and make sure you have everything you need easily accessible in a fabulous pumping bag. I'm obsessed with my JuJuBe Be Pumped – The Cleopatra! The print is super chic and this large bag fits your pump and all your other daily essentials, so I put all my personal items when traveling in here as well. The Be Pumped includes an insulated cooler bag, wet bag and a lightweight changing pad. Plus there are plenty of interior pockets help you keep everything organized, and light-colored lining makes it easy to see everything, even at the bottom of the bag. Isn't it the worst when your bag feels like a dark hole! Agion treatment on the inside protects against bacteria and mold, keeping your milk as safe as possible. I will transition this to a regular day bag when I've finished my pumping journey. You can take a look at more cute JuJuBe pumping bag prints here.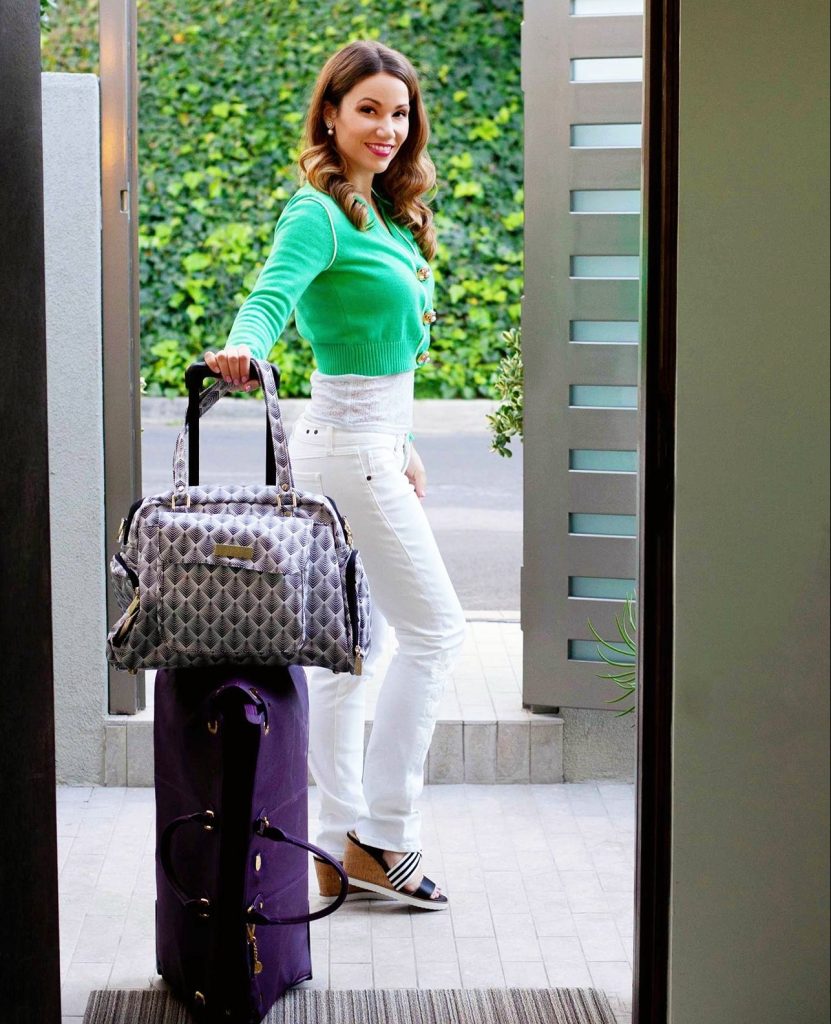 Have a Game Plan (and Backup Plans)
Nursing pods and family restrooms are readily available in most major airports now. If you know you will want privacy while you pump, make sure to scout these out beforehand. Travel doesn't always go according to plan, so leave more time than you think you will need! There may only be one nursing area available at a time or your flight could be delayed. Even if you don't usually have problems with leaking, bring along breast pads in case you aren't able to pump right when you need to. If you have a pump that needs to plug in, bring a power inverter for your rental car or cab. Being stuck in traffic is annoying but you don't have to be uncomfortable, too! Speaking of comfort, be sure to bring your favorite nipple cream or a travel container of coconut oil. Pumping is a different kind of suction and it can be tough on your most sensitive areas.
Find a Discreet, Compact Pump
Two words: Battery. Operated. There is no frustration like that of a mother who needs to pump on a plane without convenient access to an electrical outlet. In fact the more tubes, cords, and other bits you can nix the better. Willow Pump has an incredible solution: a breast pump that you wear in your bra cup! It's whisper quiet and you pump straight into the storage bag. No clunky bottles or awkward sucking sound! You can fly coach and still pump with some dignity and privacy, without having to closet yourself into a tiny airplane bathroom. If you're in love with your traditional pump, a pumping bra could simplify the process a little and help you stay as comfortable as possible. If you only pump when traveling, a pumping bra kit can transform an ordinary nursing bra!
View this post on Instagram
Know the Regulations
You absolutely CAN bring your breast pump on your flight! Some airlines will even consider it a medical device, which you can bring to your seat in addition to your carry-on. Unfortunatel,y not all TSA officers will understand right away, so be prepared with print outs of TSA policy from their website. If you are transporting breast milk, you can bring more than the 3.4 ounce liquid limit. A TSA officer may need to test it though. Let them know up front that you are carrying breast milk and make sure your freezer packs are frozen if they're coming on the plane with you or you may be asked to leave them behind.
Sanitize on the Go
Whether you are traveling or at home, always keep your breast pump clean and sanitized! Medela makes this super easy. Their Quick Clean™ Sanitizer Spray gives you a clean surface to work on, even when you're forced to pump in less than ideal conditions. Their Quick Clean™ Breast Pump and Accessory Wipes are a simple way to clean everything when you're pumping on the go. If your hotel room has a microwave, these Quick Clean™ Micro-Steam™ Bags will thoroughly disinfect your equipment and can each be used up to 20 times!
Use a Service Like Milk Stork to Send Your Milk Back Home
The biggest worry I had the first time I traveled without Asher was storing my milk safely until I could get it to him. Luckily I found out about Milk Stork and I haven't had to worry since. Milk Stork ships a cooler straight to your hotel. Mail it back to your home straight from the lobby or bring it back on the plane (again, check the TSA website and your airline for regulations.) You will receive a notification when your liquid gold reaches its destination. Fun fact: your company may consider your Milk Stork delivery to be a professional travel expense. Use their sample letter to request reimbursement. It never hurts to ask!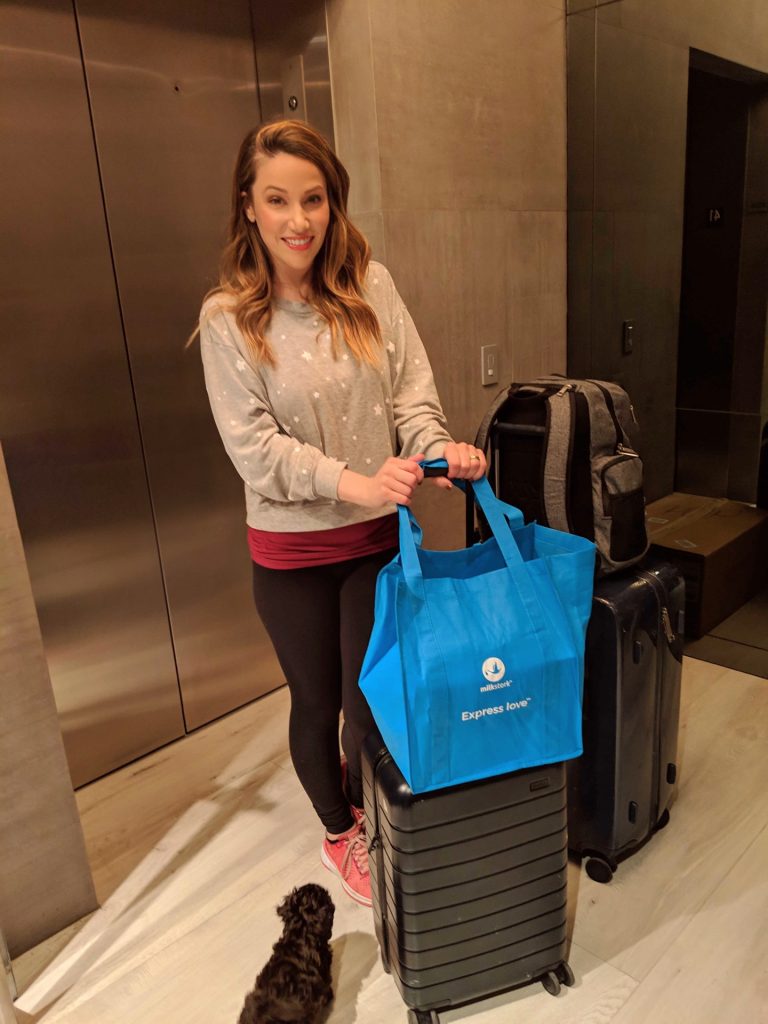 No mother should have to choose between breastfeeding and her career goals. Now it's easier than ever to climb that ladder while giving your baby the nutrition he or she needs! With a little extra planning and some help from my favorite travel pumping products, a breastfeeding mother can go just about anywhere with no baby and no worries at all. Where have you traveled while breastfeeding and what products were your lifesavers? Leave a comment below and let me know!
You might also enjoy my favorite, stylish breastfeeding clothes!
XOXO – Stuart