The holidays are officially upon us, so it is time to start thinking about how to treat the special people in your life! Whether you are in need of a gift for Secret Santa, your significant other, a family member or your children's teacher, I've got a great idea for you! Pasta is always a big hit with everyone, so I've created a delicious holiday gift basket featuring the incredible new Signature RESERVE™ products I picked up at my local Albertson's.
How to Create the Perfect Holiday Gift Basket for Your Favorite Pasta Lover Featuring Signature RESERVE Products
Start with the Pasta Sauce
Here's the deal, Signature RESERVE offers ultra-premium products that are unique and authentic. Products earn the Signature RESERVE label only after a rigorous selection process. All products are scrutinized by culinary professionals and expert merchants for top quality craftsmanship, so their pasta sauces are sure to please! I selected the Tomato & Parmigiano Reggiano Cheese, Tomato & Basil and the Tomato, Porcini & Black Truffle pasta sauces. On the side of the container, you can read about the Italian family recipes and their style of cooking. I also like how the tasting notes are listed as well as the origin region.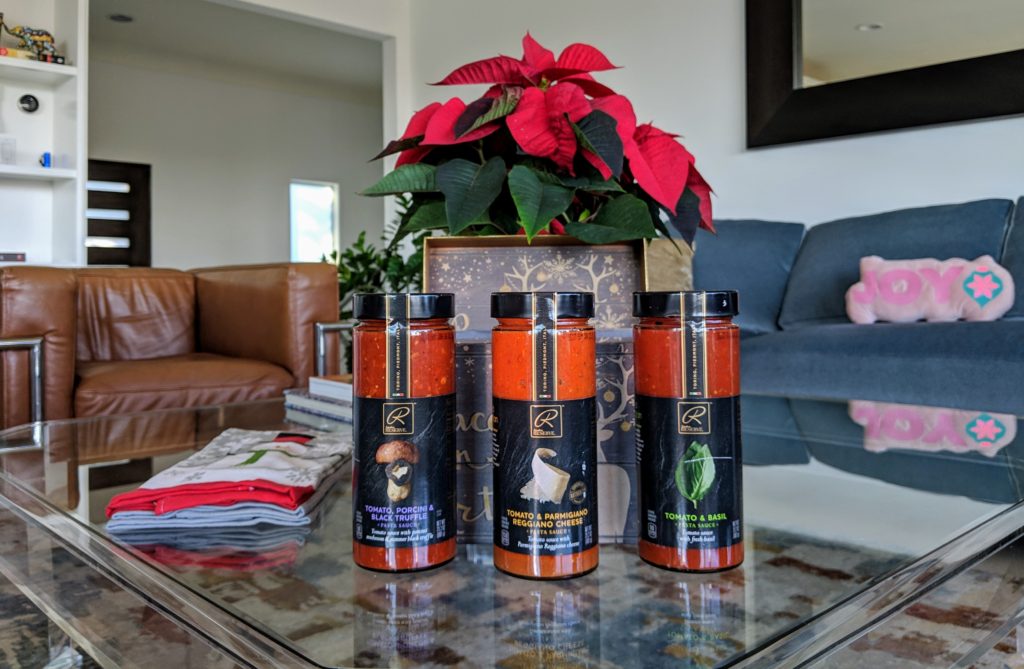 For example, the Tomato, Porcini & Black Truffle pasta sauce is made with black truffles harvested in summer in the Piedmont region, which is fittingly also known as the truffle region. The sauce is simmered to perfection using Pochettino family recipes which involves layering ingredients and traditional slow-stirring to bring out a luscious texture and complex flavors. Getting hungry yet?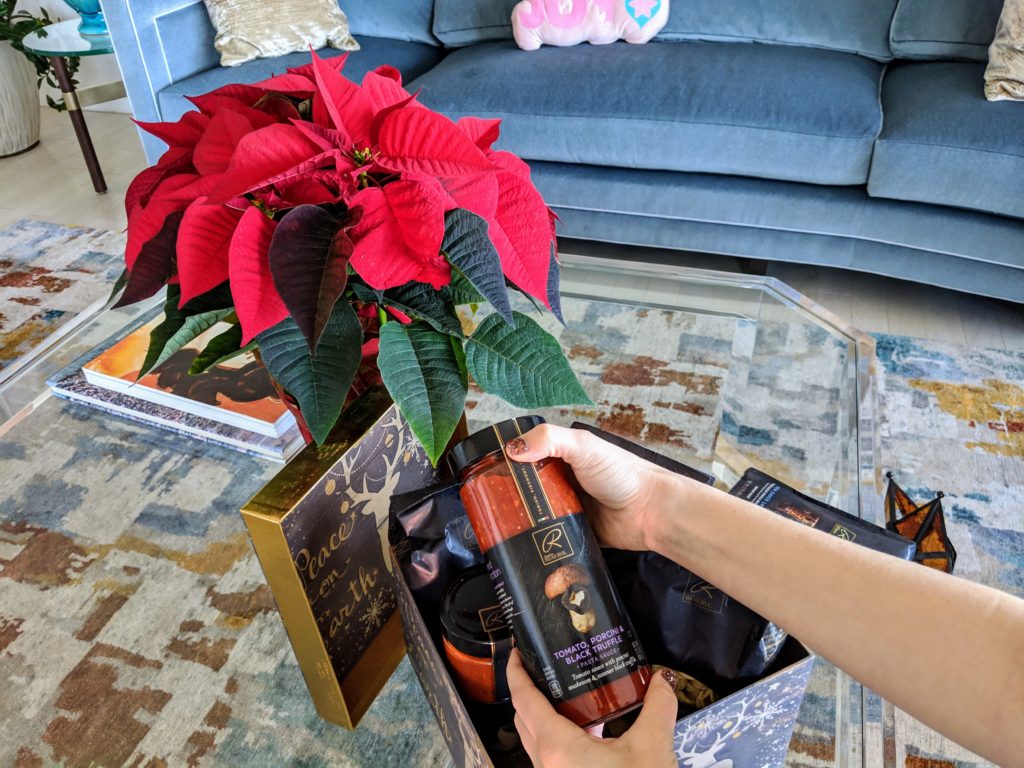 Pair with Pasta
Next, of course, you need pasta. The Orecchiette Baresina Cut Pasta, Fusilli Bronze Cut Pasta and Penne Rigate Bronze Cut Pasta are sure to impress! The pasta packages also feature an in-depth description, exciting facts and preparation instructions.
For example, the Fusilli is a macaroni product that is slow dried and made with durum wheat semolina. Fusilli is found in the Campania region of Italy and was originally made by wrapping pasta dough around a spindle-shaped fuso. It is best with rich sauces like ragu or a pasta salad, but it is, of course, the gift recipient who can make that decision!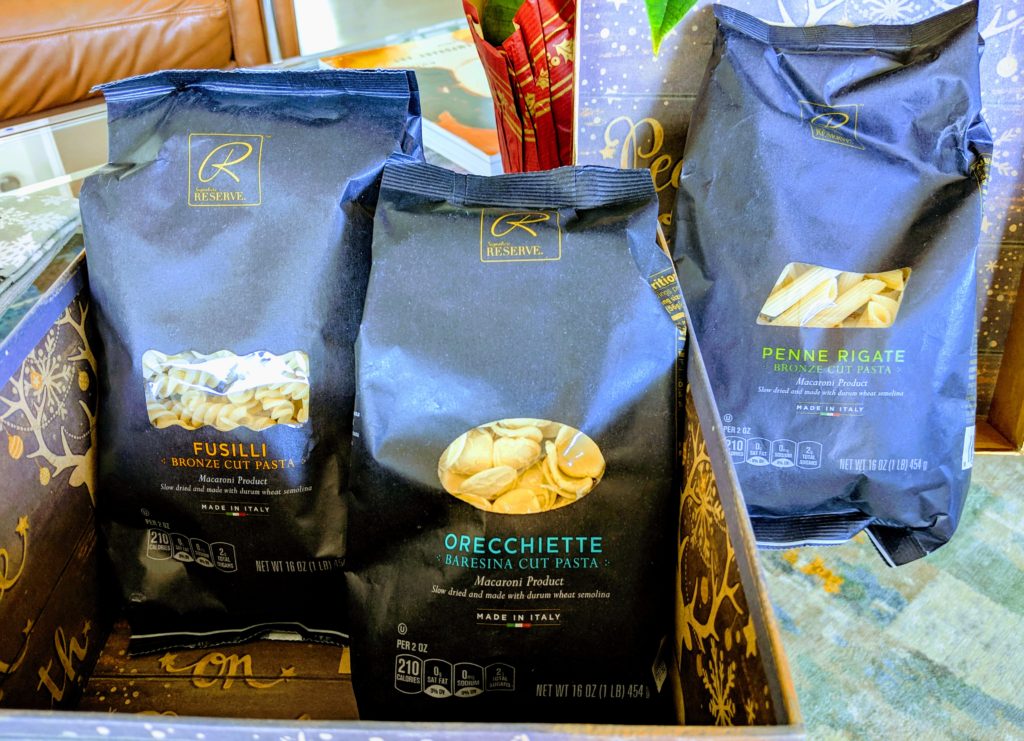 After Dinner Treat
I always suggest adding a little something extra to your themed gift basket. In this case, I decided on the new Signature RESERVE Don Chicos Lanzas Nicaraguan Whole Bean Coffee from the dense forests of the Central Highlands. I believe a great Italian meal deserves an incredible cup of coffee to end the night. That way you can keep discussing how delicious the meal was!
And this coffee with notes of caramel and cocoa is for sure going to be a crowd pleaser! I also appreciate the packaging including the story of the Nicaraguan Machos Mask which is featured on the front. It gives the host some enticing information to share with their guests!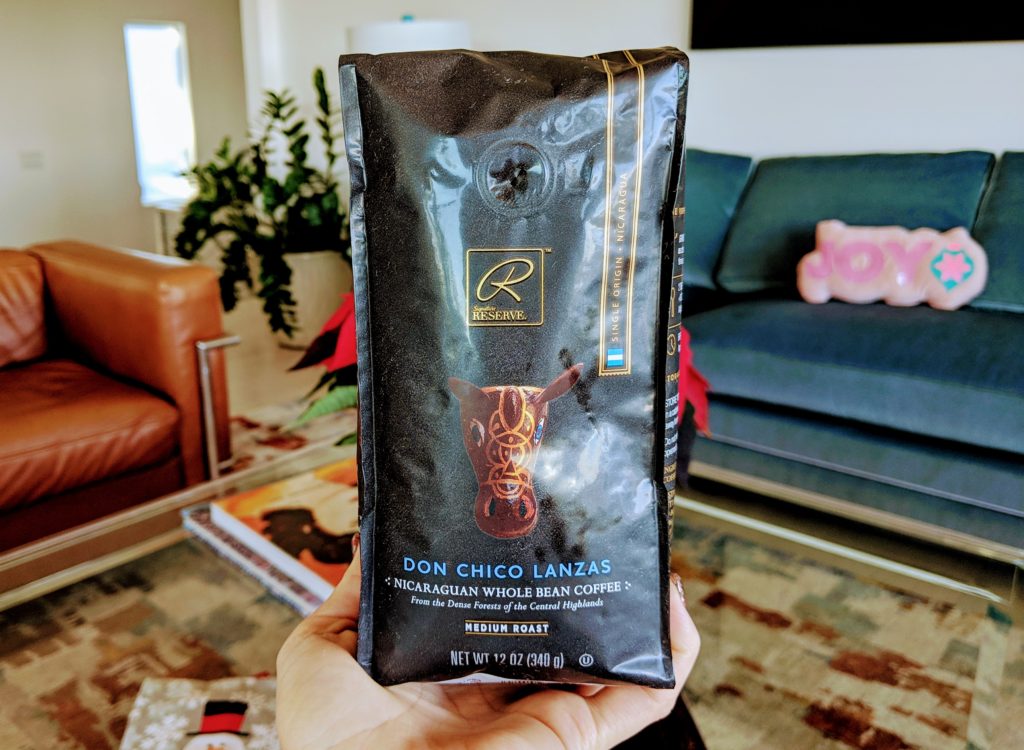 All About the Presentation
When creating your perfect holiday gift basket for your favorite pasta lover featuring Signature RESERVE products, you must also think about the presentation. I selected a pretty holiday box and two cute holiday-themed dish towels to include. These are both fun items that can be used in future years and add an element of fun to the gift!
I hope you enjoyed my holiday gift suggestion expertly curated for everyone on your list. And I hope you too will get creative with the ultra-premium exclusive Signature RESERVE products you find at exclusively at your local Albertsons, Pavilions, and Vons stores. I decided to treat hubby early since he has been such an amazing father and husband this year! And it is absolutely okay to treat yourself too!
Make your holiday gift basket special with ultra-premium Signature RESERVE products – available exclusively in my area exclusively at Albertsons, Pavilions, and Vons stores and online. I buy my Signature RESERVE ™ products at my local Albertsons, Pavilions, and Vons. You can also find them exclusively at all the Albertsons Companies family of stores, including Safeway, ACME Markets, Jewel-Osco, Randalls, Tom Thumb, Shaw's, Star Market, and Carrs/Safeway. Visit Albertsons.com to find a store near you.
This is a sponsored conversation written by me on behalf of Albertsons, Pavilions, and Vons. The opinions and text are all mine.
Happy holidays and happy gifting!
XOXO – Stuart