With Christmas just one week away, it is time to make sure you are stocking stuffer ready! No matter who you are shopping for I've got you covered with this list of 5 wonderful last minute stocking stuffer ideas!
eos Lip Balm
I've been a fan of eos lip balm for years. They have a fun holiday collection and their brand new Crystal, the first wax-free, vegan lip balm rich with pure botanically-sourced nourishing oils is amazing! Everyone loves and needs lip balm and these are such perfect sizes for stockings. Amazon has a great selection of eos lip balm
and crystal
and they will deliver in time for Christmas!
Sound Oasis White Noise Machine
The Sound Oasis White Noise Machine is the perfect gift for your travel addict! Thanks to the World's Smallest White Noise Machine™ by Sound Oasis, you can sleep better even on the road. The machine fits in the palm of your hand and can be used anywhere – on planes or cars, in hotels, even at home. I just used it on my two week trip around Taiwan and it was a total game changer!
L'OCCITANE Almond Collection by Castelbajac Paris
It just doesn't get better than this dreamy gift set from L'OCCITANE! The secret to their Almond collection's is the almonds harvested from the Valensole plateau in Haute-Provence. L'OCCITANE has planted 15,000 almond trees to reintroduce this iconic tree in Provence. This holiday collection is made with almonds sourced from the South of France, comes in this gift ready box from French fashion house Castelbajac.
Still Standing Spray
I discovered Still Standing Spray at New York Fashion Week and it is a total game-changer! I can honestly rock my stilettos for hours now and come home with happy feet. You spray your feet a few minutes before you put on the heels and enjoy that minty, tingling feeling the rest of the day or night! I have both sizes and travel with the smaller size and sometimes even keep it in my purse.
Soothe Serum
With winter looming, you know what that means!? Colder weather, holiday parties, ski vacations and slips on icy sidewalks. These all have the potential to bring achy joints, sore feet, burning muscles and bruised hips. Soothe Serum is the miracle cream that naturally alleviates muscle aches and soreness, inflammation, arthritis, nerve pain, back pain – without the side effects of NSAID's and prescription pain pills. I also like to put some on my lower back before a long flight and I've really noticed a difference in my comfort level. It also smells amazing with hints of peppermint, rosemary and lavender, not that distinctive, bad odor we are all trying to avoid.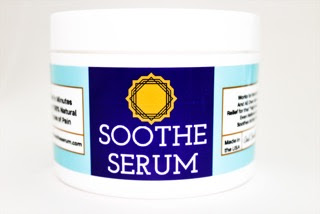 I can't wait to hear your thoughts on my stocking stuffer ideas! Leave me a comment below and I wish you all a very Merry Christmas and best wishes for the New Year!
You might also enjoy my suggestions for 5 winter coats under $50!
XOXO – Stuart