Are you ready for Black Friday in July??? Here are my picks for the 5 Amazon Prime Day Innovative Home Products you should buy!
VTech VM4261 4.3" Digital Video Baby Monitor
As I continue to wait for my baby boy's arrival, I'm keeping my mind at ease by setting up and learning how to use our new VTech VM4261 4.3" Digital Video Baby Monitor with Pan & Tilt Camera, Wide-Angle Lens and Standard Lens. I'm blown away by how easy it is to use and how much I am able to see!
You guys know I work in the entertainment industry in production, so I know quality cameras. The VM4261 moves in and out from close-ups to wide, 170-degree panoramic views and features an automatic infrared night vision and a temperature sensor, allowing for coverage at all times of the day.
I will also be able to let Asher know I'm on the way with the VM4261's two-way, talk back intercom. How amazing is that!! Oh, and did I mention I can play soothing sounds and lullabies to help comfort him before I even get there. As a first-time parent, this will definitely help me keep my stress and worry at ease. This is a great gift for future and current parents!
FlexiSpot All-In-One Desk Bike
If you are looking for something truly innovative that was an absolute star at CES 2018, then you've got to get the FlexiSpot All-In-One Desk Bike! Why stand at your desk when you can cycle??
It's the world's first product that is part exercise bike and part standing desk, which of course makes for a super unique design.
It lets people go from sitting to cycling to standing with one space-saving solution in the office or at home. This is so helpful to balance work and workouts. Think you don't have enough time to work out?? Now you do!
I can't wait to use mine while I'm multitasking and working and working off the baby weight!
Enjoy 30% off and free shipping during Amazon Prime Day!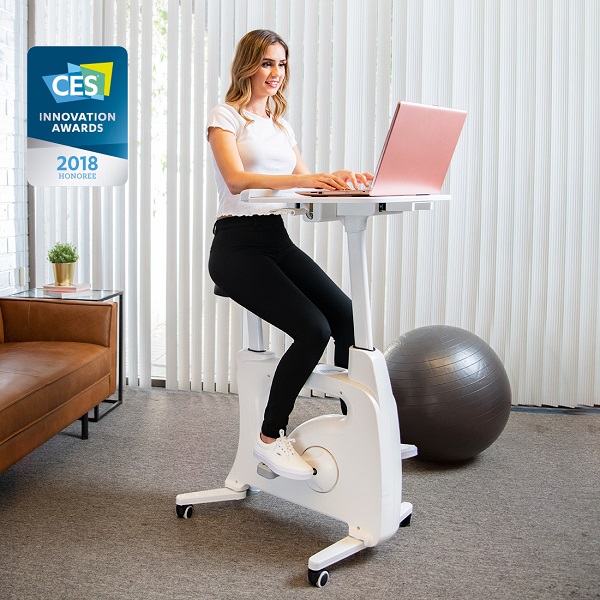 simplehuman 58L Dual Compartment Step Can Recycler with Liner Pocket
As you all know, I just moved into a new house and am expecting a baby any minute now! I knew right away I needed to upgrade to a large trash can with a recycling option. I was thrilled to discover simplehuman's 58L Dual Compartment Step Can Recycler with Liner Pocket. It is seriously the most stylish trash can and recycling unit I have ever seen!
The dual compartment stainless steel rectangular step makes it so easy to neatly sort your trash and recyclables in one convenient, space-efficient space. On one side, it features an innovative 'liner pocket' that stores and dispenses liners from inside the can for a faster liner change. The other side has a conveniently handled bucket for easy lifting and disposal of all your recyclables.
The stainless steel liner rim grips the liner and keeps it hidden. A strong wide steel pedal is designed to last, and the patented lid shox technology ensures a smooth, silent close every time. Plus you can choose between rose gold, stainless steel and black stainless steel options.
I had a friend over today who was so blown away by it he compared it to a car!

Sengled Element Color Plus Smart LED Light Bulbs
Looking to have some fun with lighting? Then you will love Sengled Element Color Plus Smart LED Light Bulbs
Enjoy smart lighting by turning lights on and off, dimming or brightening, and set schedules using the Sengled Element Home app (iOS and Android). Use with IFTTT to trigger lights based on time of day, location, weather and more.
Use voice Control to connect the Element kit to Alexa or Google Assistant and control your lights via voice commands to turn on/off, adjust brightness and more
Choose between 16 Million Colors to find the perfect shade in the app. Enjoy festive colors in the living and dining rooms then relax to calming colors in the bed and bathroom. Lights will automatically return to the last setting when turned on after being off. Now the question is, what colors will you choose?
simplehuman Sensor Lighted Makeup Vanity Mirror Pro
This is THE makeup mirror you need!! I have bought so many makeup mirrors in my lifetime, but none of them compare to the simplehuman sensor mirror pro 8" round with 5x magnification + 10x detail mirror.

The tru-lux light system simulates natural sunlight allowing you to see subtle variations in your makeup color so you'll always know when your makeup is color-correct and flawless. No more doing your makeup at home only to walk outside and go yikes!!
It automatically lights up as your face approaches, then turns off after you walk away.
Use the 5x wide-view mirror to view your entire face at once in exceptional detail and the magnetically attached 10x detail mirror for close-up work like tweezing and applying eye makeup.
And you can access smart features with the simplehuman app. Then you can choose presets or capture light settings from the environment around you and recreate them on the mirror plus other features.
XOXO – Stuart
You might also enjoy my baby registry checklist must-haves for first-time parents.