I recently received the Zoe Report Spring Box of Style to try and it was honestly one of my favorite unboxing experiences ever! Lately it feels like every week there is a new subscription box service popping up, but the Box of Style truly sets itself apart from the rest thanks to the incredible talents of Rachel Zoe and The Zoe Report's editorial team. The have tapped into their exclusive network to bring their members the season's biggest fashion and beauty finds. It honestly feels like the next best thing to being styled by Rachel Zoe (a Red Carpet Reporter's dream!!!). So what's in this season's Box of Style? Here's my The Zoe Report Spring Box of Style review:
ITEMS IN SPRING BOX:
Over $400 worth of this season's fashion and beauty obsessions for only $99.99
Each brand featured is female founded and inspired
Exclusive Collab: Tribe Alive Custom Carryall​,​ ​retail value: $200
Adornmonde Ivo Convertible Earrings, ​retail value: $50
These handcrafted collab items provided jobs and skills to hundreds of female artisans in India
Tatcha Polished Rice Enzyme Powder, retail value: $65
Symbology Scarf, retail value: $50
Butter London Piece of Cake Nail Polish, retail value: $18
As a busy boss babe who is constantly on the go, I love that the Box of Style introduces me to brands and products I might not know about or simply have time to discover. I'm all about versatility and going from day to night and the Spring Box of Style truly satisfies all of my needs. I'm particularly crazy for the Adornemode Ivo Convertible Earrings. 💞 You can style them as hoops, just the bars, or wear the bar on one ear and the hoop on the other. 💜
And you can't go wrong with the Tribe Alive Custom Carryall. Handmade of foot-loomed black and white fabric by artisans in India, this striking handbag is detailed with cognac brown leather handles. You can take it everywhere from your morning coffee to a work meeting or even to Coachella. I styled it with the Symbology Scarf to add an extra pop of color to my happy hour meeting.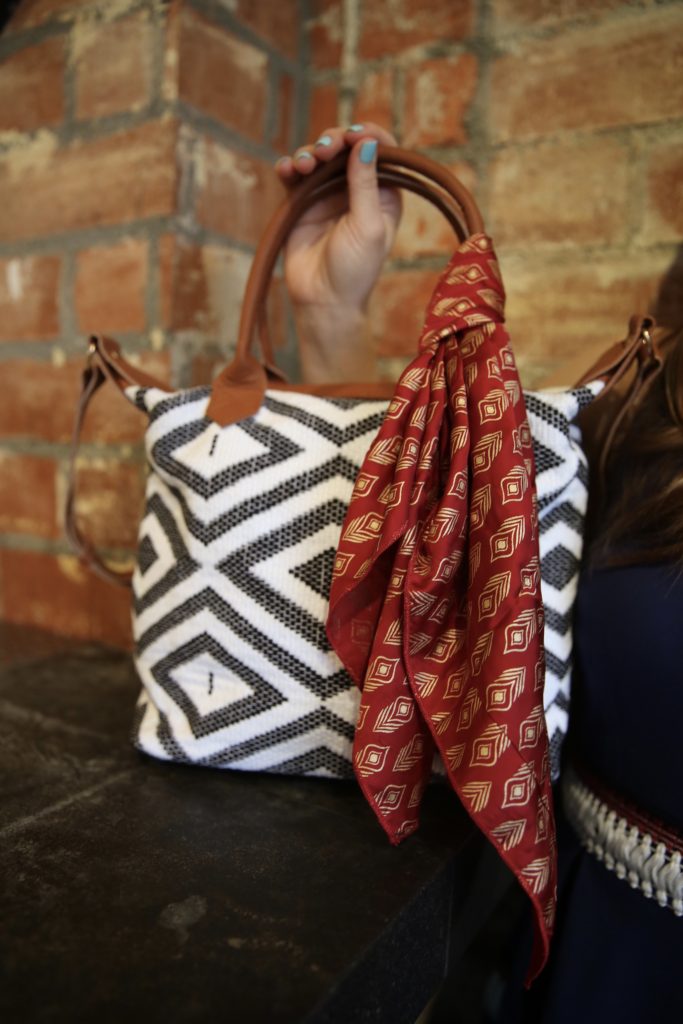 With Mother's Day coming up the Box of Style will make a wonderful gift for your favorite style savvy mom. And great news, use my code STUART20 to get $20 off all seasonal or annual boxes! Click here to sign up!
XOXO – Stuart Brazell