What's cooler than spending Thursday night with Grey's Anatomy star Ellen Pompeo?! Last night I was invited to join Ellen Pompeo and philosophy skincare to celebrate #coolagers and to launch philosophy's new Uplifting Miracle Worker. I'm a big fan of philosophy products and of Ellen Pompeo, so this was quite the night!
Pompeo and philosophy have partnered on the #CoolAger Campaign to initiate positive conversations about aging. I love that Ellen is so open and honest about aging in Hollywood and shares her opinion on the best way to age gracefully and take care of your skin. I'm also super excited to try my new Uplifting Miracle Worker!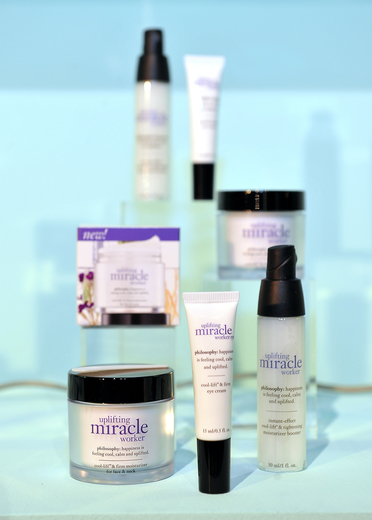 The event was tons of fun and decorated so cute with the #coolager theme! I especially loved the photo booth … it's been a while since I've been on anything with just 2 wheels …. especially in a sequin Adrianna Papell dress 🙂
I also appreciate that at the event, philosophy's Hope and Grace Initiative donated $10,000 to Pompeo's organization of choice: the LA based Aviva Family and Children's Services, which supports at-risk youth through therapy and other services. Giving back is so important!
Other familiar faces included Christina Milian, Garcelle Beauvais, Mario Lopez and Morgan Stewart who all seemed to be having a wonderful time!
Have a great weekend everybody! XOXO – Stuart