#Croctober is here and Lyle, Lyle, Crocodile will open in-theaters this Friday! I had the pleasure of visiting the Sony lot in August and getting a sneak peek of the film. I even had the opportunity to interview the filmmakers during an in-person roundtable.
Meeting the Co-Directors, Will Speck and Josh Gordon
Here are my major takeaways from the discussion.
Finding Shawn Mendes to play Lyle was a huge get and an exciting call to have. He said 'I'm in and I really relate to this character!' Shawn was forced to grow up at a very young age and is so similar to Lyle.
Javier Bardem as Hector P. Valenti was their absolute dream casting. He was thrilled to be a part of a film the whole family can enjoy. He actually started as more of a comedian and then landed these major dramatic characters, some quite frightening in the thrillers, as his career developed. I had the pleasure of watching a big musical number and I had no idea Javier Bardem is such an incredible singer and dancer!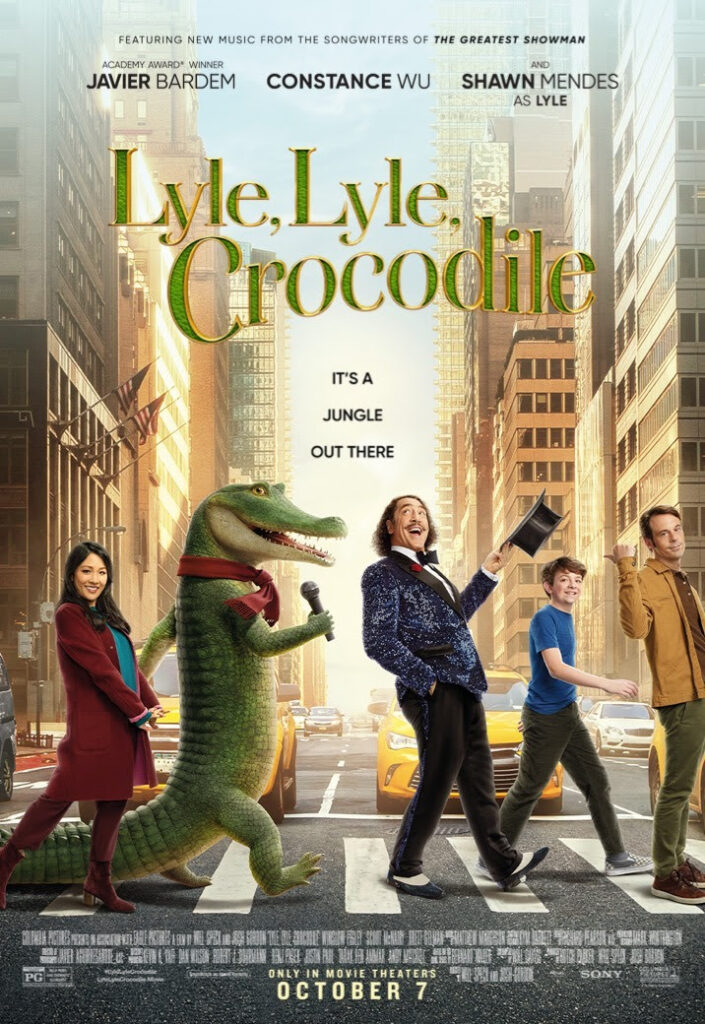 An actual actor portrayed Lyle on set, so the fellow actors had a real person to interact with. Shawn Mendes recorded his singing seperately.
Will and Josh created this film using key takeaways and lessons from the Lyle Lyle Crocodile books.
They didn't want Lyle to talk, they wanted him to express himself through music.
Working with songwriting duo and composing team Benj Pasek and Justin Paul was incredible! If you're not familiar, they are the powerhouse duo behind La La Land, The Greatest Showman and Dear Evan Hansen.
About Lyle, Lyle, Crocodile
Based on the best-selling book series by Bernard Waber, Lyle, Lyle, Crocodile is a live-action/CGI
musical comedy that brings this beloved character to a new, global audience. When the Primm family (Constance Wu, Scoot McNairy, Winslow Fegley) moves to New York City, their young son Josh struggles to adapt to his new school and new friends. All of that changes when he discovers Lyle – a singing crocodile (Shawn Mendes) who loves baths, caviar and great music-living in the attic of his new home. The two become fast friends, but when Lyle's existence is threatened by evil neighbor Mr. Grumps (Brett Gelman), the Primms must band together with Lyle's charismatic owner, Hector P. Valenti (Javier Bardem), to show the world that family can come from the most unexpected places and there's nothing wrong with a big singing crocodile with an even bigger personality.
LYLE, LYLE, CROCODILE opens in-theaters only this Friday October 7th.
Watch the trailer here:
You can purchase tickets to see Lyle, Lyle, Crocodile this Friday HERE.
Here are some fun Printable Activities