This article is sponsored by Day Owl Rosé and is for 21+.
I had the extreme pleasure of joining one of my absolute favorite wines, Day Owl Rosé, for a fabulous Friendsgiving. The afternoon was filled with wonderful wine, delicious food, great conversation and design inspiration galore. I even got to host a live video from the event and bring all of you directly into the fun times! I left this incredible event with so many ideas on how to up my Friendsgiving this year that I, of course, will share with you. Please enjoy my Friendsgiving inspiration and tips with Day Owl Rosé:
Serve a Themed Cocktail
Greeting your guests with a themed cocktail is a wonderful way to kick off the festivities! Wine-based cocktails are definitely trending and you can create some fantastic recipes using bright, citrusy and crisp Day Owl California Rosé as a base. I've always been a gin lover, so I adored the Day Owl Rosé Ruby Rosè served at Friendsgiving. It is a refreshing blend of Day Owl Rosé, gin and grapefruit juice with a hint of rosemary.
Another great idea is to make a batch of Sangria the night before. That way you don't have to play bartender and your friends can serve themselves. I could not get enough of the Day Owl Rosé Apple Sangria. It is a seasonal blend of apple cider, cinnamon, Day Owl Rosé and Brandy. Can I get a #YesPlease!? Here you can see me and my babe Hunter Collector enjoying both cocktails.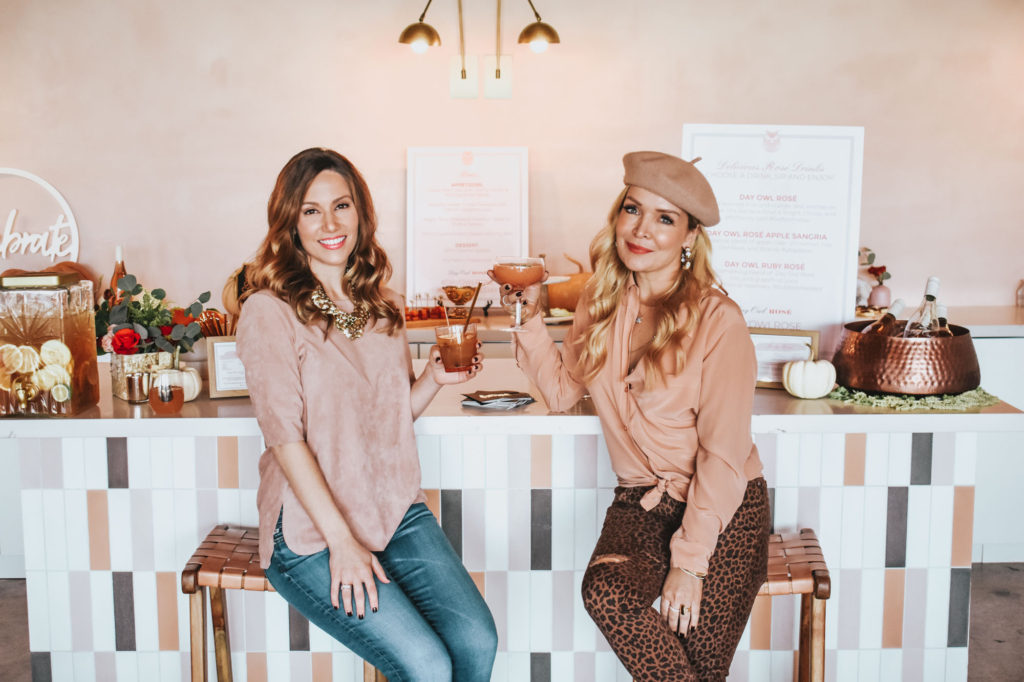 Create a Color Theme
The entire Friendsgiving was inspired by Day Owl's beautiful packaging, label and presentation. We all wore different shades of pink and gold and I had so much fun putting together my outfit. Between the decorations and tablescape, I gasped when I walked in and saw how beautiful everything looked! Aren't you crazy for this pumpkin succulent centerpiece and sparkly gold table runner? This entire event was an Instagram dream!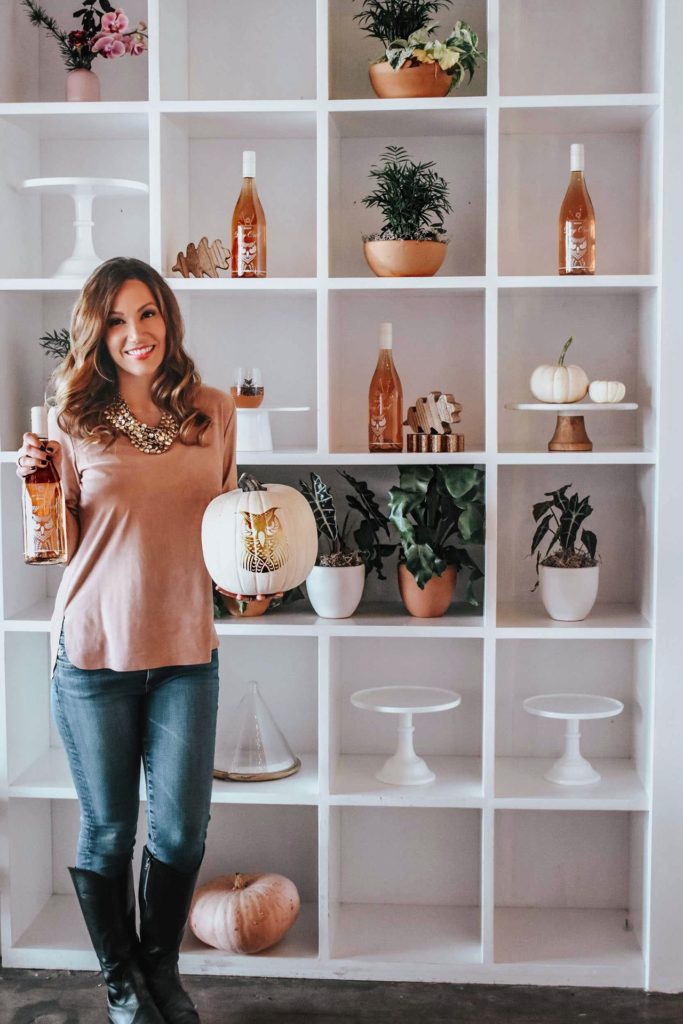 Have Fun Activities
It is always a great idea to have some fun activities for your guests to participate in. Day Owl set up a stunning Friendsgiving wall and a place for us to share what we are thankful for. I thoroughly enjoyed sharing and reading what everyone wrote.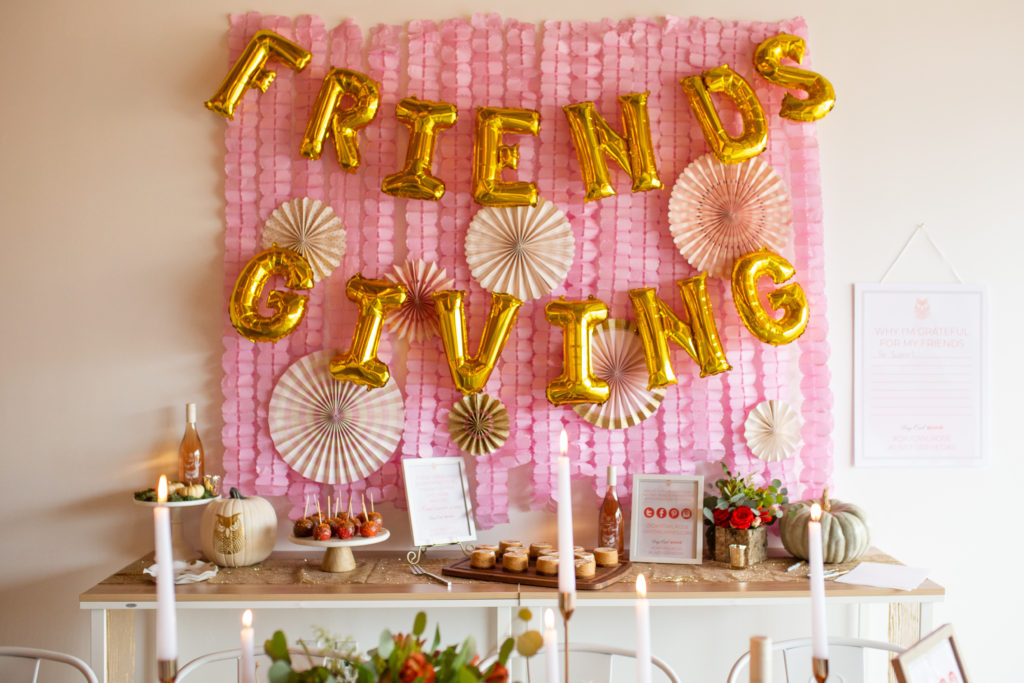 There was also a super fun make-your-own succulent station with the cutest white pumpkins. This was a great way to bond and then we all left with a party favor!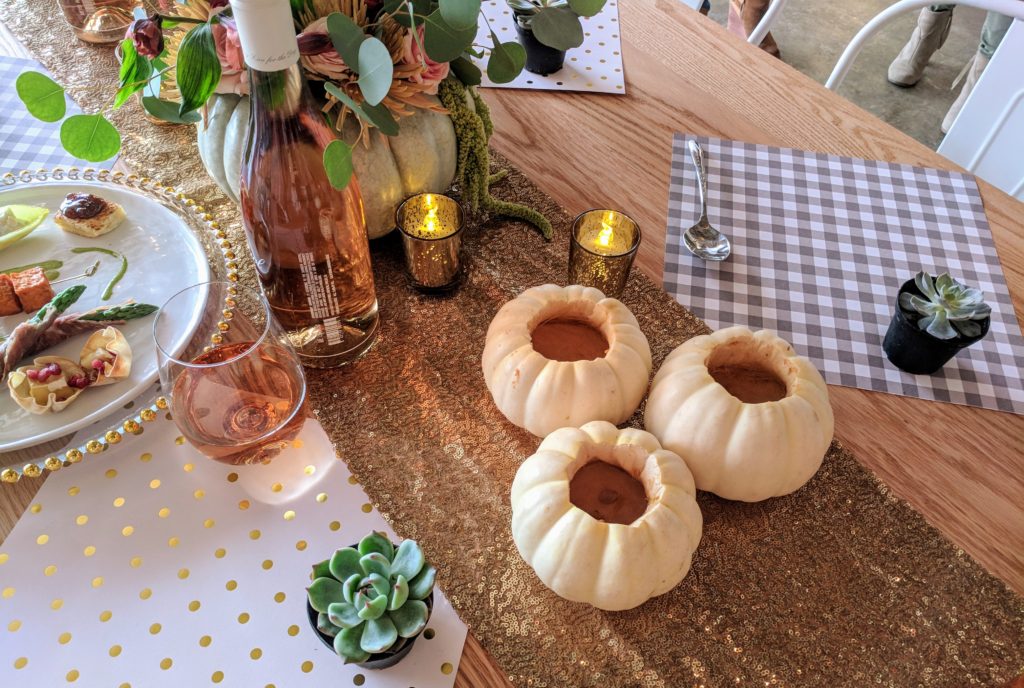 Keep the Day Owl Rosé Flowing
Keep your guests happy and live life to the fullest by serving Day Owl Rosé! Anyone who thinks Rosé is just for summer will quickly learn how amazing Day Owl Rosé pairs with your Friendsgiving feast! Day Owl Rosé is fruit forward and made from an Italian grape (Barbera) that's meant to be enjoyed now, so no buying a bottle and waiting for it to hit its prime. If you are attending someone else's Friendsgiving, you can confidently pick up a bottle of Day Owl Rosé, which is a premium Rosé, for between $14-$18, and be the star of the day.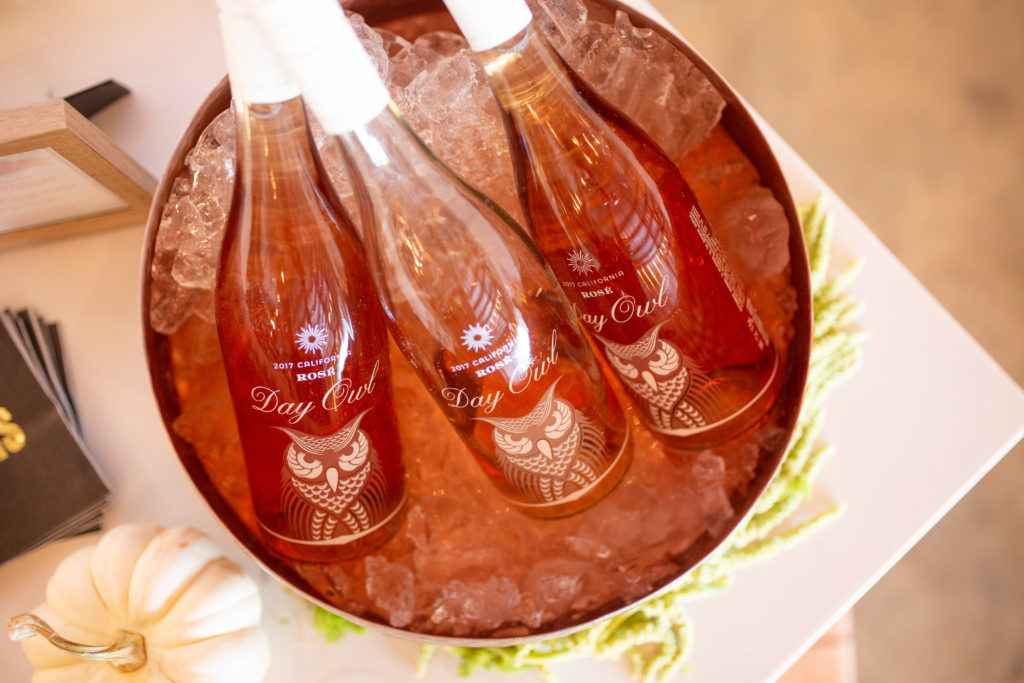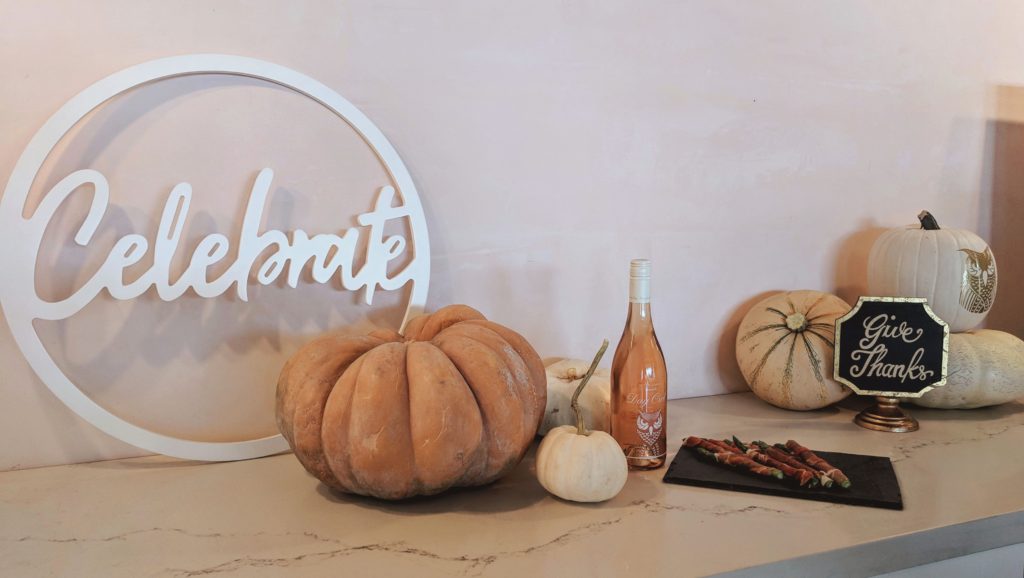 Serve Bite-Size Food Options
I loved how bite-size all of the food options were at Day Owl's Friendsgiving. It made it so easy to have my wine in one hand to enjoy with all the tasty treats. Plus, you can easily talk with the other guests without having your mouth overly-full. I also didn't feel guilty trying at least one of everything and then going back for more. And yes, that includes dessert!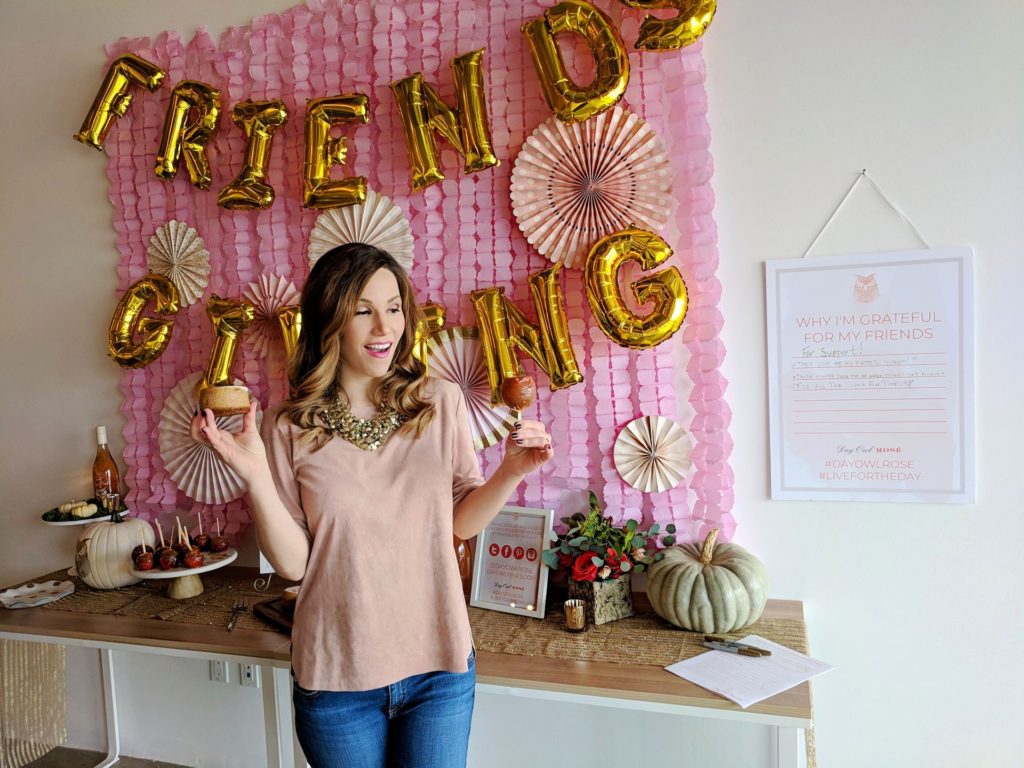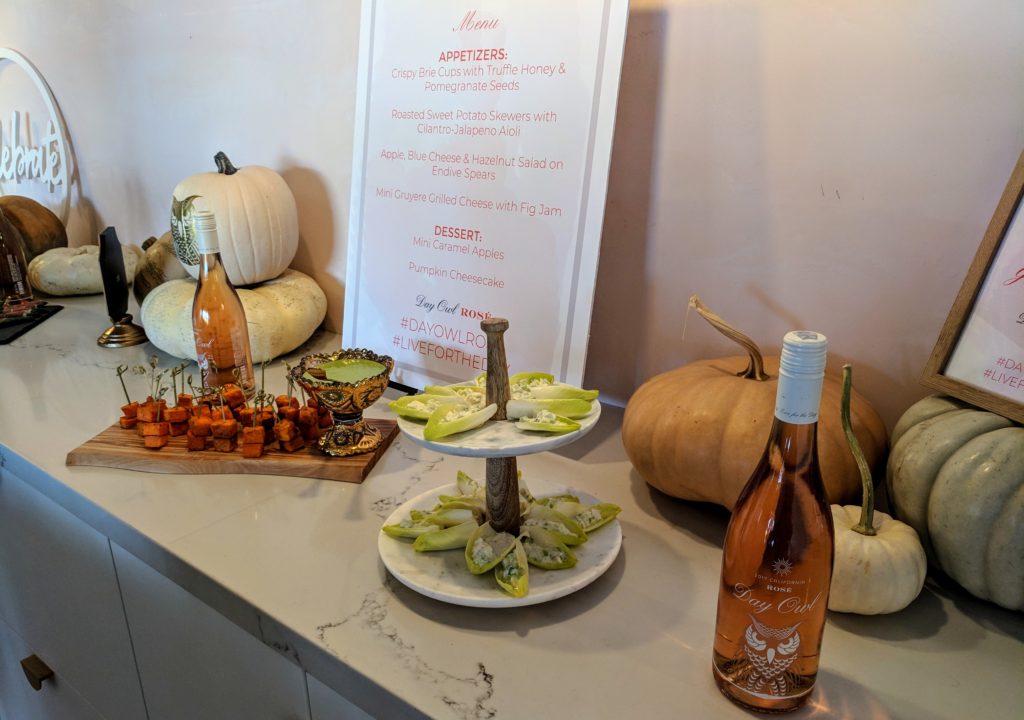 I hope you have enjoyed my Friendsgiving Inspiration and Tips with Day Owl Rosé! Here's to living life to the fullest every day, so grab a glass of Day Owl and live your best life. Don't be a night owl, be a day owl!
XOXO – Stuart
This article is sponsored by Day Owl Rosé and is for 21+.