Boo! Halloween is officially here, so of course, we've been thinking about all things scary! If you're a parent and especially a new parent like me, pretty much every day is a little scary right? ESPECIALLY when you've got a little one in diapers! The first diaper I ever changed was my sweet Baby Asher's and oh boy was I nervous and terribly frightened. Of course, I put it on backwards, way too loose and ended up with a friendly tinkle spray to the face (which he of course thought was hilarious). Let's be real, even if you are a diaper changing pro, babies in diapers can lead to all sorts of scary experiences. Have you experienced a diaper blowout yet or an empty diaper bag?? OH BOY! So in the spirit of Halloween to avoid those scary situations, here are my diaper changing tips for new parents of baby boys.
Diaper Changing Tips for New Parents of Baby Boys
Choose Your Diaper Wisely
Your choice of diaper is absolutely the most critical decision. I've been using Pampers Swaddlers since day one with Asher and I highly recommend them! Swaddlers are the #1 choice of Hospitals, Nurses & Parents. They are now 2x softer with the adorable Heart Quilts liner that provides breathability and comfort while pulling wetness and mess away from the skin. Air Channels help distribute moisture evenly, providing up to 12 hours of protection. This is especially important when your little one starts sleeping through the night (yes new parents, I said through the night ….. it will eventually happen!).
The Wetness Indicator is a cute little line that turns from yellow to blue and tells you when your baby might need a change. This is one of my favorite features that will make your life so much easier. I just unsnap his little onesie and take a peek. I'm also crazy for the super cute little designs with the size easily displayed. Asher just started wearing his size 3s … time is flying too fast!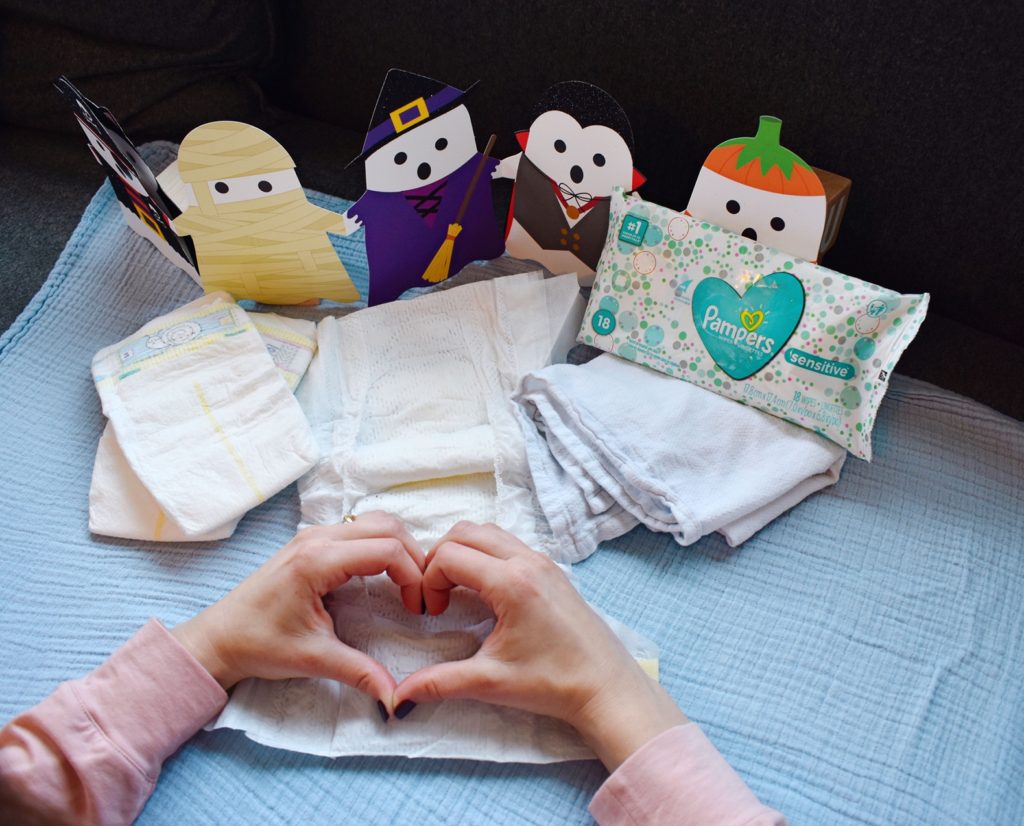 Use Sensitive Wipes
All babies have very delicate skin, so I highly recommend using Pampers® Sensitive™ baby wipes. They are clinically proven mild, dermatologist-tested, hypoallergenic, and perfume-free. Their unique Softgrip Texture™ offers gentle cleaning for your baby's sensitive skin and also really clean up a mess!
At Asher's first pediatrician appointment, he took a massive number 2 the second I took off his diaper for his examination. I was already so stressed with leaving the house for the first time with the baby that I immediately started freaking out. Luckily, I had my Pampers® Sensitive™ baby wipes in my diaper bag and was able to quickly clean up Asher, myself and the examination room before my pediatrician returned.
Make Diaper Changing Time Fun
There is no reason diaper changing time has to be something you dread. You can easily make it fun by incorporating fun games and singing songs. I personally love to make up songs on the go and create all kinds of funny voices. Now when it is time to change Asher's diaper, he instantly starts smiling. He doesn't squirm or kick, he just sits there and stares at me with the sweetest smile!
I also like to do some stretches once he has his new diaper on. I stretch out his arms and loosen his fists and move his legs around. This is also a great way to release gas.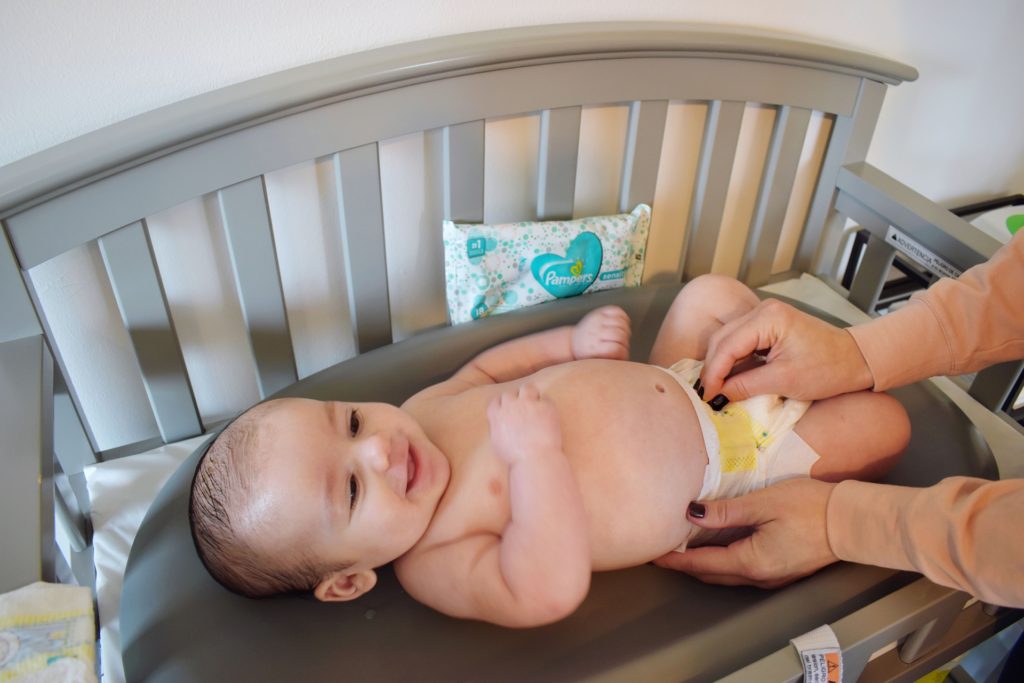 Stock Up on Your Supplies
The last thing you want is an empty diaper bag, so make sure you are stocked up on all of your diaper changing essentials! I shop at Sam's Club and through November 25th, members can get $3 off each box of Pampers diapers and wipes in-club and on samsclub.com. They also offer free shipping! All you have to do is shop online or on the Sam's Club app and have diapers delivered right to your door. Because let's be real, these first couple of months it is hard to even get outside the house let alone go shopping.
The offer is valid on NEW 2x softer Pampers Swaddlers, NEW best-fitting Cruisers with 3-way fit and other Pampers products. This holiday season I'm telling everyone this is at the top of my wishlist!
Avoid Getting Wet
All of my friends, especially the future parents, keep asking what I do when he starts tinkling mid-diaper change. My answer, immediately cup your hand over the stream. Your instant reaction will be to back up but trust me, you don't want to spend the next 30 minutes cleaning up the walls and his diaper changing station. Use your ninja-like reflexes and avoid a much bigger cleanup situation!
I hope you enjoyed these diaper changing tips. You are doing a fantastic job new parents! Remember to keep it fun and keep your sense of humor. No matter what happens this holiday season, you've got this!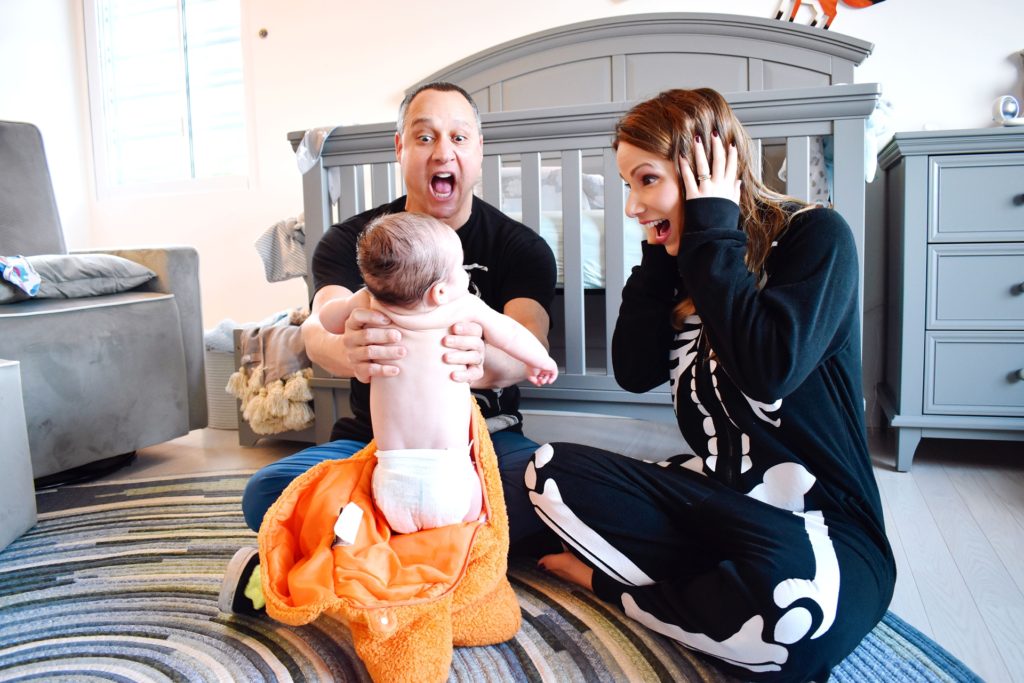 XOXO – Stuart
This is a sponsored conversation written by me on behalf of Pampers at Sam's Club. The opinions and text are all mine.