Of all the baby gifts I've received since we found out Asher was on the way, the most meaningful ones are not the ones I registered for. Personalized Baby Gifts are a great way to show a mother-to-be or new parents how excited you are for them and that little bit of extra thought will not go unnoticed. Have your gift customized with the baby's name, monogram, or birth date if he or she has already arrived. A personal touch like this can turn even seemingly generic gifts like receiving blankets and onesies into one-of-a-kind favorites.
Be sure to respect the expectant mother's wishes by buying within her preferred style. You can get a good idea of that by checking out her registry and asking about her ideas for the nursery. Remember–you're purchasing this to make her (and the baby) happy, so it needs to be something she will actually want to use! Don't know where to start? Here are five of my favorite customizable baby gift ideas that babies and their new or pregnant mothers are both sure to fall in love with!
These award-winning children's books by I See Me, with a personalized child's name on the cover and/or throughout the story, promote early literacy through vivid illustrations and exciting storylines. Even the youngest babies love to snuggle close and hear the sound of a soothing voice, so books like these are a perfect gift for baby to grow with, and expectant mothers will appreciate the special detail of the name they've chosen on nearly every page of the book. There are so many customizable stories that it should be easy to find the perfect one for any family. My favorite is pirate themed, with a story that teaches a child how to spell his or her own name! I love a fun gift that can also be educational down the road.
Just because a gift is thoughtful doesn't mean you have to put a ton of thought into it. Rock a Box Baby is the simplest and least stressful way to send a completely customized baby gift, and their selections include only products from the very best brand names. I received one of these and was blown away by the quality of the muslin swaddles, monkey rattle, and bandana bibs. The best part? They are all super cute! And the presentation is unbelievable. It all comes stylishly packed in a lacquer box. This box is no joke, by the way! No flimsy cardboard here; it is a gift in and of itself, with a sturdy construction and elegant finish that will outlast the baby stage. It makes for great storage (which we all know is key for a nursery) and looks incredibly upscale on a changing table or dresser. There are several monogram and type styles and colors to choose from, and the products that go into your box are available in boy, girl, and gender-neutral color schemes. You can even customize gift wrap options! I can't say enough good things about this company. I love my box so much and I know the mamas-to-be in your life will too, which is why I've partnered with Rock a Box Baby to give my followers 15% off your order with the promo code STUART15!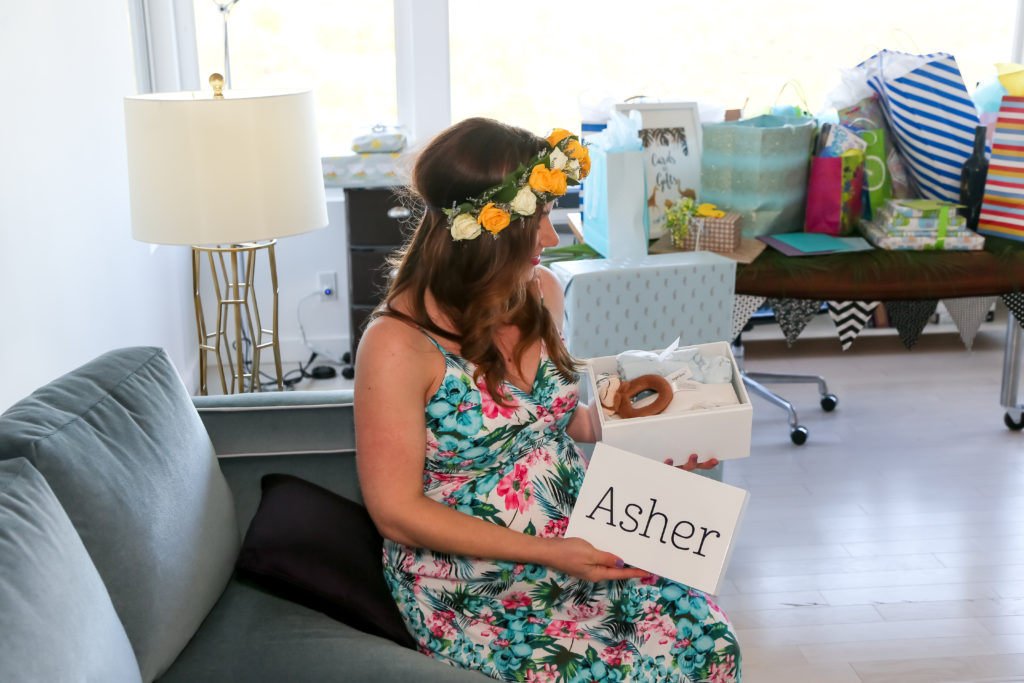 Looking for a shower gift for someone who gives you warm fuzzies? Give their baby a warm fuzzy, too! These blankets are so soft, and they're not too heavy. For that first year, it's an ideal floor mat for tummy time (or for getting sweet monthly milestone pics for your Instagram!) It also makes for a super lap blanket during those middle-of-the-night feedings! And they really show you're thinking about someone because they're personalized with the baby's full name and initials. There are several different color schemes, each one cuter than the next. It's another gift that will be useful past the baby stages…can't you just see a toddler snuggled up under one of these with a board book or a kindergartener pointing out the letters and learning to spell his name?

Sometimes only a classic will do, and no one is better known for adorable but hardy wooden toys than Melissa and Doug. They make high-quality playthings designed to develop little brains and hone those extra important motor skills, and most people don't even know that they also personalize their products! This colorful train could brighten up a nursery as decoration until little hands are ready to arrange its pieces and scoot it around. With all of the different combinations, it's destined for hours of play! There are a host of developmental benefits associated with stacking and nesting toys, so this geometric stacker is another fantastic option, and the personalization adds a little sophistication and personality that sets it apart from similar toys.
Originally a series of personal gifts for the friends and family of creators Charlotte and Marek Birchley, the Valabi brand has grown into a full-scale endeavor that now collaborates with gifted illustrators across the globe. These engaging and trendy prints feature star signs, a variety of adorable animal characters, and imagery inspired by indie cinema, along with baby's name. Below the name, you can also choose to include a birth date or a specific phrase, depending on which style of print you choose. These come in multiple sizes and there are plenty of options for both gendered and gender-neutral nursery themes. These prints are particularly great because, while babies do find them captivating as their vision develops, they are equally appropriate as a toddler, preschooler, and school-aged décor. Who doesn't love a beautiful sentimental gift that will bring enjoyment for years to come? Proceeds from every sale benefit the Robert Connor Dawes Foundation, funding efforts to eradicate childhood brain cancer. While an unthinkable tragedy like childhood brain cancer is the last thing on our minds during happy preparations for a new arrival, it's a reality for many families every year. I love knowing that something as simple as buying a beautiful print can benefit such a worthy cause. It makes a gift like this one that much more meaningful!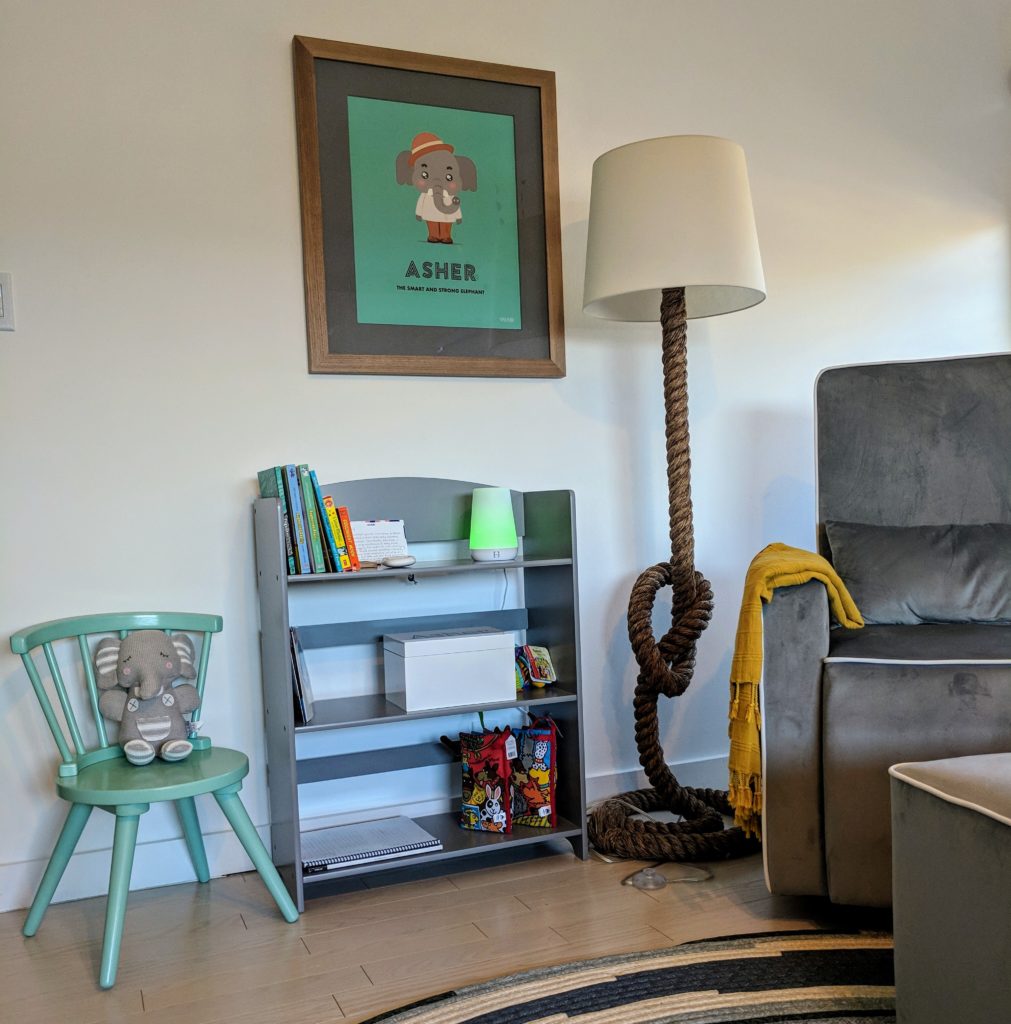 I hope one of these ideas works for you as you search for a stand-out shower gift or welcome to the world present! You can't go wrong with any of them. Be sure to tell me what you chose in the comments! I know the new mother or mother-to-be you're shopping for will be as thrilled as I was to receive a thoughtful gift with a personal touch!
You might also enjoy these four baby nursery essentials!
XOXO,
Stuart