Nothing gives you that "it's really happening" feeling like walking into a fully furnished nursery. You might already have your car seat, stroller, and layette, but when you see the crib assembled and ready for action it really drives it home that a living breathing baby is about to be in your life. A fresh coat of paint and a few personal touches go a long way, but the furniture is what really pulls a room together. Take a look at these products I chose for my own nursery and put your baby's room together in a snap with these four baby nursery essentials you're going to love!
Four Baby Nursery Essentials You're Going to Love:
CRIB
Let me tell you, the Brooklyn 4-in-1 Convertible Crib by Kolcraft ticks all of my boxes. Stylish and welcoming but also sturdy and safe, I would sleep in it if I could! The molded detail and chic gray color give it a little bit of sophistication that I just love. This crib will last from babyhood through the toddler years and beyond, with three height settings and the ability to convert into a toddler bed, daybed, and even a full-sized bed down the road. We'll start our sweet boy on the highest mattress setting at first so that he's easier to reach, but remember that as babies become mobile and start pulling up, it's time to move the setting down for safety. What really sets this crib apart, though, is its super easy assembly. All hardware comes pre-installed, so you don't even need a screwdriver; simply align and tighten. That means less time assembling furniture and more time decorating!
CRIB MATTRESS
When you're planning your nursery the crib mattress tends to be an afterthought, but it's actually the most important thing in the whole room! After all, the nursery is a place for your baby to sleep. It's important to choose a mattress that will promote safe sleeping practices while still allowing for comfort, so of course I went with a name I trusted. The Sealy BabyPedic Posture Supreme meets or even exceeds any safety standard you can throw at it, with lock-stitched binding, hypoallergenic layers, and a breathable PVC-free surface. It also has a waterproof barrier that prevents seeping and a steel frame to support the sides the same way an adult mattress would. There is a firm side for infants and a softer side for the toddler years, with two coil systems so that each side comes with the comfort and support that is right for that stage.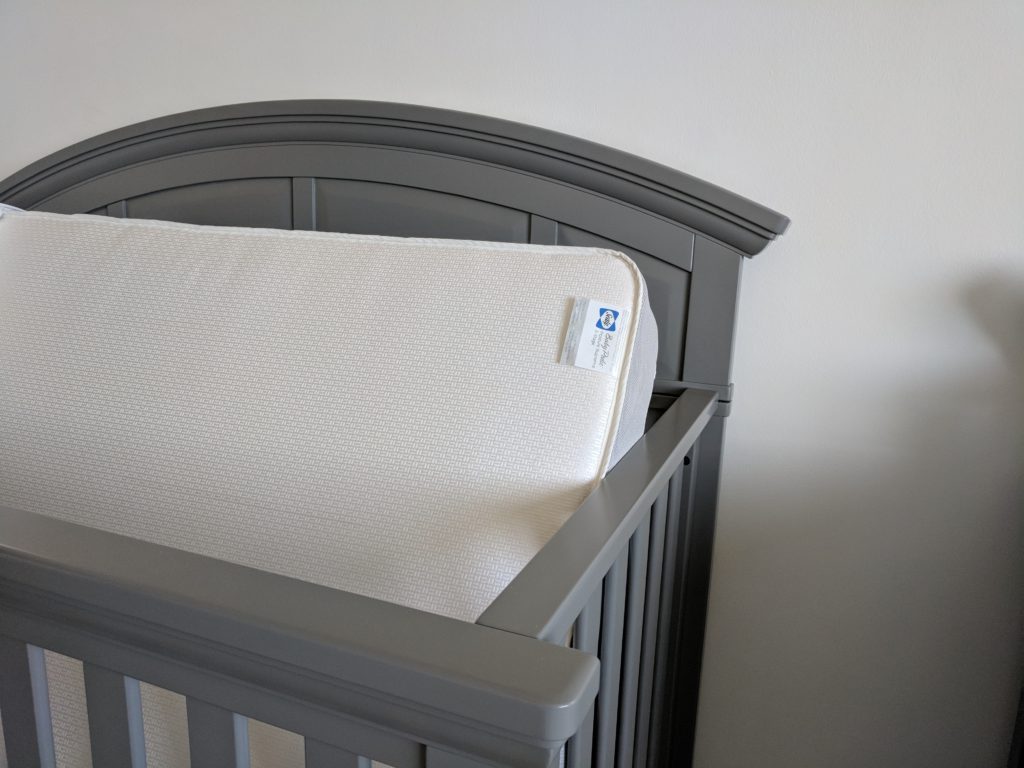 MATTRESS PAD
To keep baby even cooler and drier, I went with the Sealy Cool Comfort Fitted Crib Mattress Pad. I love that it is machine washable and dryer friendly, without a bulky top that could interfere with safe sleeping during that crucial first year. Just like the mattress itself, this cover is lock-stitched (so no unraveling!) and has a waterproof barrier that protects against those unavoidable leaks that come with baby territory. The SecureStay skirt also fits securely around the mattress to avoid shifting or bunching up when the baby moves. It's the perfect choice to protect the mattress and the baby!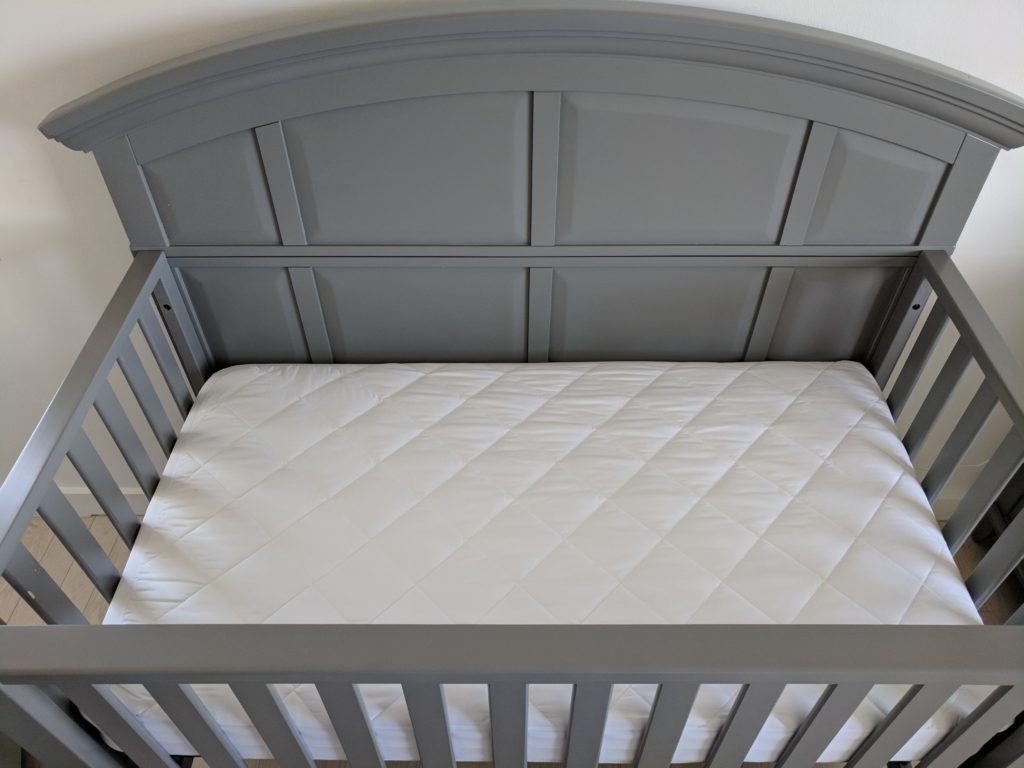 DRESSER
When it comes to style and safety, the crib is not a new mother's only consideration. As baby grows and develops into a toddler tipping becomes a concern, which is why I decided on this beautiful Brooklyn 3 Drawer Dresser by Kolcraft. With three large drawers accented with sculpted wooden knobs, this dresser will hold everything I need it to hold. With an included anti-tip kit, I don't have to worry that a little climber will flip it over in a few months. It exceeds the voluntary ASTM safety standards, passing the fifty-pound tip-over test, which means that even without the anti-tip kit it is one of the safest choices out there. It doesn't hurt that this dresser also comes in the same Nursery Gray as my Brooklyn crib and just like the crib, it is a breeze to put together. Using Kolcraft's unique QuickBlock system, it is a completely tool-free assembly. Sold! Not to mention it's the perfect height to use as a changing table with a contour changing pad.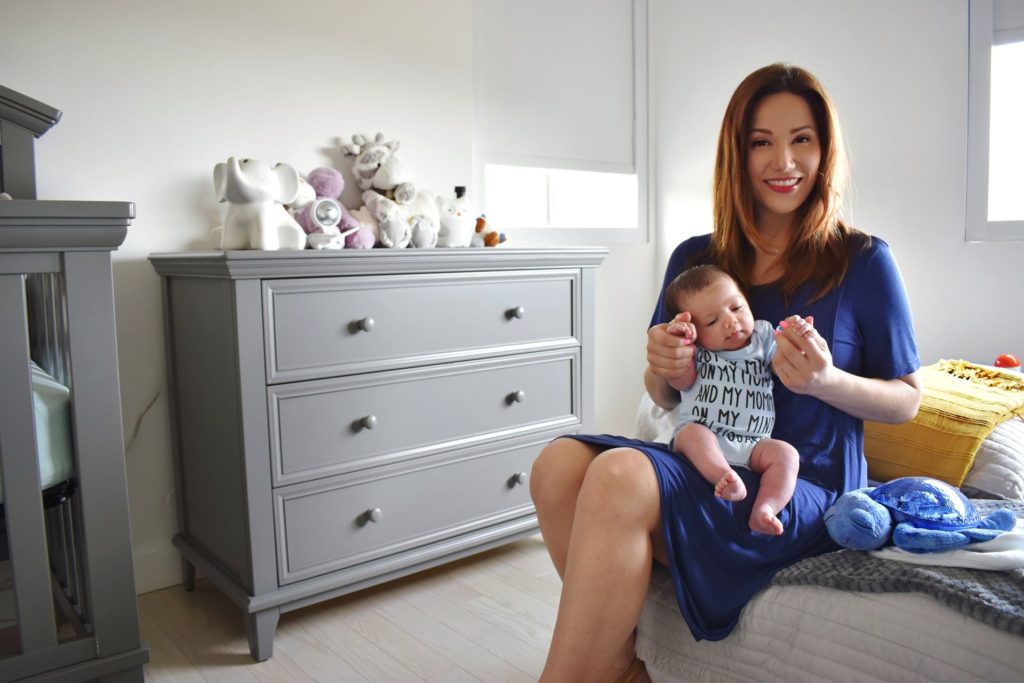 When putting together your nursery, there are a lot of safety precautions to keep in mind. Though a drop side crib (the ones with the side that lifts and lowers to help you reach the baby) seems convenient and practical, these cribs no longer meet current safety standards and were actually banned in 2011. To keep the crib you choose safe for your little one, be sure to lower the mattress as your child grows to prevent falls. It is also recommended that baby sleeps alone in the crib (meaning no stuffed animals, blankets, or pillows) for the first year. Keep cribs away from window blinds that use cords and put baby to sleep on his back until he can roll himself over unless your pediatrician advises you otherwise.
I hope these ideas were helpful to moms-to-be out there looking for safe and adorable furnishings for their babies' rooms! Now excuse me, I'm going to go love on my new baby boy in his fully furnished nursery. Happy decorating!
You might also enjoy my top picks for your baby registry!
XOXO – Stuart