Many of us have been in the situation when we simply need to get away for a bit but none of our friends are free at that moment. So, the choice becomes to either travel alone or postpone everything until somebody becomes available; but, if you keep waiting for other people in order to make your dreams come true, they never will. However, solo traveling does come with many doubts. You might be worried about your safety, and you might keep asking yourself whether you're ready to take on the world on your own. So, to ease your worries, here are a few things you should know about solo female traveling.
Plan things in advance
If it's your first time traveling alone, make sure to have all the important details taken care of; you should know where you'll be sleeping and eating every day of your trip. Once you get more experienced, you'll be able to take care of these things on the fly. However, considering all the stress that accompanies solo traveling the first few times, it's better to have one less thing to worry about. You won't have to search for accommodation in an unknown place and settle for the first affordable thing you can find, and you'll know that even if you do get nervous, you'll always have your hotel room as a safe place where you can recharge. Plus, knowing where you'll be staying will calm your family and friends as well.
Face your fears
An essential part of traveling alone is facing your fears, since the trip itself is a fear that you're conquering. So, don't be intimidated by the world – it is huge and challenging, but it's also fascinating. Traveling alone is a lot about getting out of your comfort zone and improving your self-confidence. That being said, you should also know your strengths and weaknesses. If you are a sociable person who wants to meet a lot of people, go somewhere where you either know the language or where most of the locals know English. On the other hand, if you're an introvert who is more interested in sights and attractions than in other people, choose vibrant places where you can sit in a café and enjoy people watching without drawing attention to yourself.
Don't overpack
Let's face it, most of the things we ladies usually pack never see the light of day. So, do your research about the weather, and don't pack more than you absolutely need. You don't need a heavy suitcase slowing you down, and you don't need high heels if you don't plan on partying in a club. However, you do need some nice one piece swimwear, even if you're not traveling to the seaside. You never know when you can run into a nice pool or relaxing hot tub. So, make a checklist of all the things you'll actually need, choose clothing items that you can mix and match, and don't take more than two or three pairs of good and comfortable shoes.
Take care of your health and mood
Being cramped up for hours in a plane or bus with blasting air conditioning can ruin your health. So, try to pack some refreshing items like a hairbrush, deodorant, breath mints or chewing gums, wet tissues, and similar. Also, pack some things that can keep you entertained, like an interesting book. Of course, you can always listen to music or watch a movie on your phone or laptop, but it's good to have a backup plan in case your battery dies. Finally, stay hydrated, and bring some healthy snacks as well. This way, you're more likely to stay in a good mood throughout the journey.
Solo does not mean alone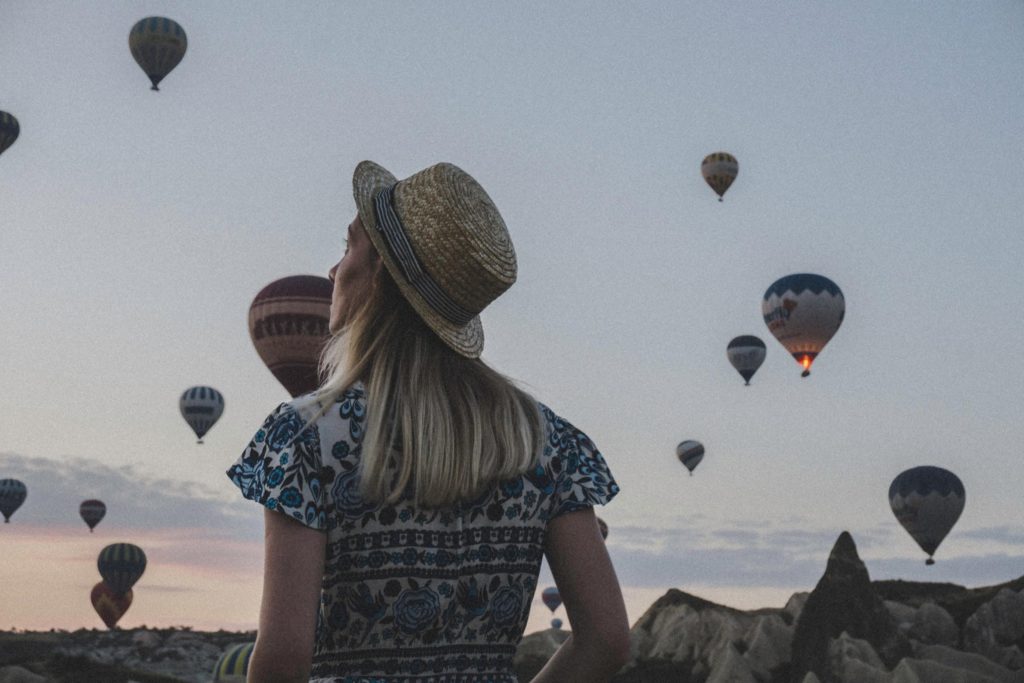 Just because you're traveling solo, it doesn't mean you'll be alone. On the contrary, it's almost impossible not to meet other people, no matter where you're going and what you'll be doing. The thing is, being alone makes you approachable – and it also forces you to approach others as well, whether it is just to ask for directions or to ask whether they can keep a watch on your stuff while you use the bathroom. If you're still worried, you can also go on tours with smaller groups, so you'd always have company, but you'd still experience the charms of being your own boss.
When traveling solo, make sure to be informed, smart, and confident. Plan in advance, and take care of your valuables, but do let yourself have fun. Don't be afraid to open up and get to know other people, and have no doubt that it will be an experience of a lifetime.
Guest blog by Mia Taylor.
Mia Taylor is a fashion and beauty enthusiast from Sydney and writer for www.highstylife.com. She loves writing about her life experiences. Traveling and enjoying other cultures and their food with her husband is a big part of her life. She is always on the lookout for new trends in fashion and beauty and considers herself an expert when it comes to lifestyle tips.
Twitter | Facebook