This shop has been compensated by Collective Bias, Inc. and its advertiser. All opinions are mine alone. #GetJohnsonsBaby #ChooseGentle #CollectiveBias
As a first-time mom to a newborn baby boy, bath time is quickly becoming my favorite time! Dad and I are now in a great routine where we bathe our sweet Asher nightly before bed. That being said, it can also be quite stressful the first few times you bathe your baby, so I'm sharing my 5 tips for bathing your newborn baby.
5 Tips for Bathing Your Newborn Baby
1. Set everything up before you bathe your baby
When bathing your newborn, you need to keep your eyes and hands on your baby at all times. It is extremely important to set everything up prior to beginning the bath. My baby is currently six weeks old, so I bathe him in the sink in a small foam tub. I start in the bathroom by placing my 2-in-1 elephant spout cover and bubble bath maker from my JOHNSON'S® Bath Discovery Gift Set over the spout to prevent my baby from banging his head on the hard spout during his bath. Then I place a foam tub in the sink and set out JOHNSON'S® Head-To-Toe® baby wash and shampoo, a soft baby washcloth and a cute animal towel. Next, I place a sleeping gown, socks, diaper, JOHNSON'S® Pink Lotion and DESITIN® Maximum Strength Original Paste next to the changing table in his nursery. Now I'm bath-time ready!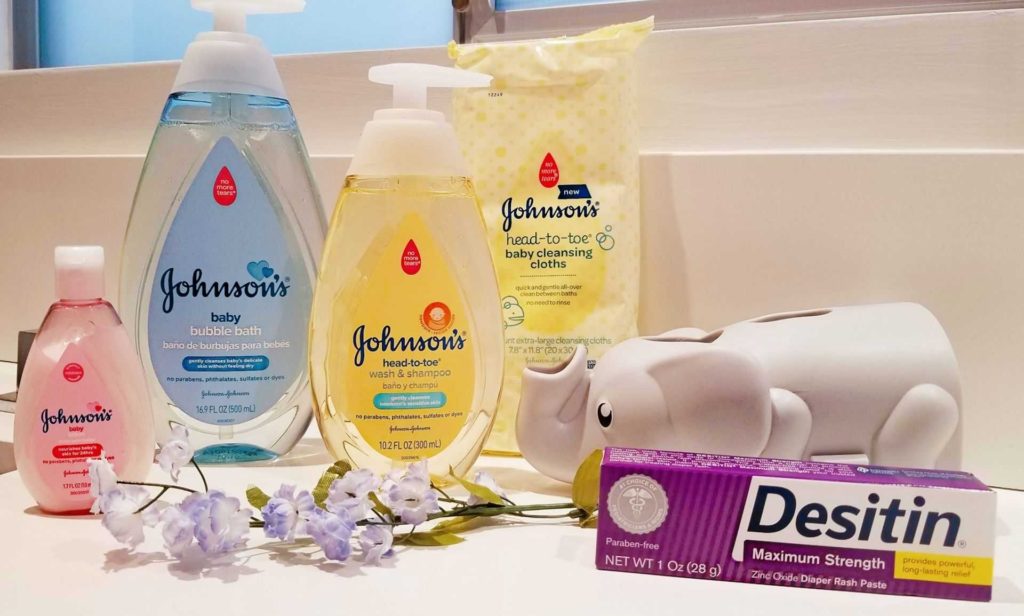 2. Choose Gentle Products
Newborns have such delicate skin, so it is very important to choose gentle products that won't irritate your baby. I learned how to bathe my baby in the hospital and the nurses used JOHNSON'S®, so I felt confident in my choice to use JOHNSON'S® too! I like and respect that JOHNSON'S® listened to parents from around the world and reformulated their products, inside and out, to set their new standard for gentle. Now JOHNSON'S® products are hypoallergenic, contain no parabens, no phthalates, are more naturally derived, have 50% fewer ingredients and are free of dyes, and sulfates. They've also added more easy-to-use pumps, so you can always keep a hand placed on your baby for safety.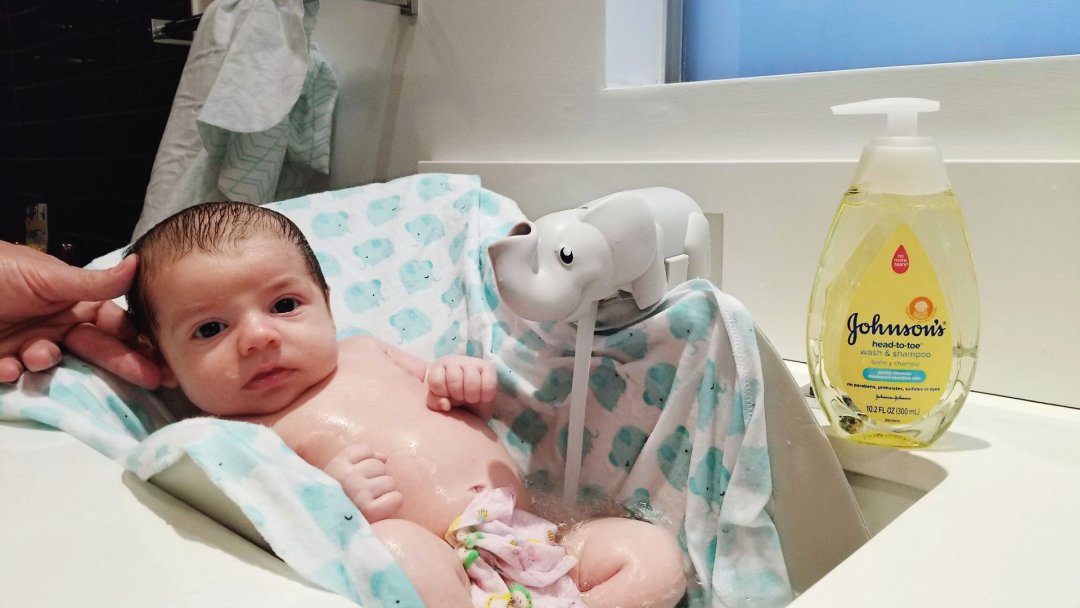 3. Create a Spa Experience
Bath time should be a relaxing experience for your baby, so try to let go of anything negative from your day and enjoy this time together. I play soothing music, talk to Asher and let him know what I'm doing (yes it's fun to say 'time to clean between your toes') and I make sure to use a delicate hand. You should continually check to make sure the water isn't too hot or cold, that your baby is propped up and their head is safely above the water. Be careful not to get water directly on your baby's face or in their ears. For example, when I was Asher's hair, I am very careful to lean him back when rinsing. Dry your baby by wrapping them in a towel and gently patting their skin. Finally, finish with an infant massage, they love it! Asher's face while I gently massage JOHNSON'S® Pink Lotion into his skin is priceless!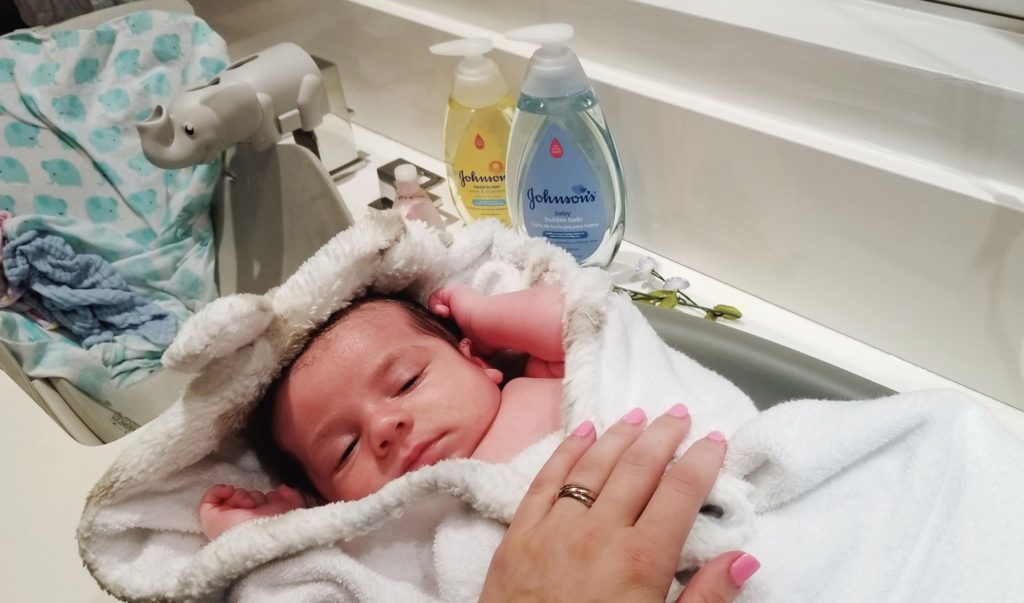 4. Don't Forget the Cheese
If your baby is still on the way, you be might be reading this and thinking what in the world is she talking about? If you are already a parent then you KNOW what I'm talking about. Cheese neck is the accumulation of breast milk or formula that gets mixed with other fun things like perspiration and spit up that gets caught in the neck creases of an infant and creates a powerful odor of stinky cheese. Make sure you target these areas during bath time and really clean out the cheese!!! I'd check the armpits too 🙂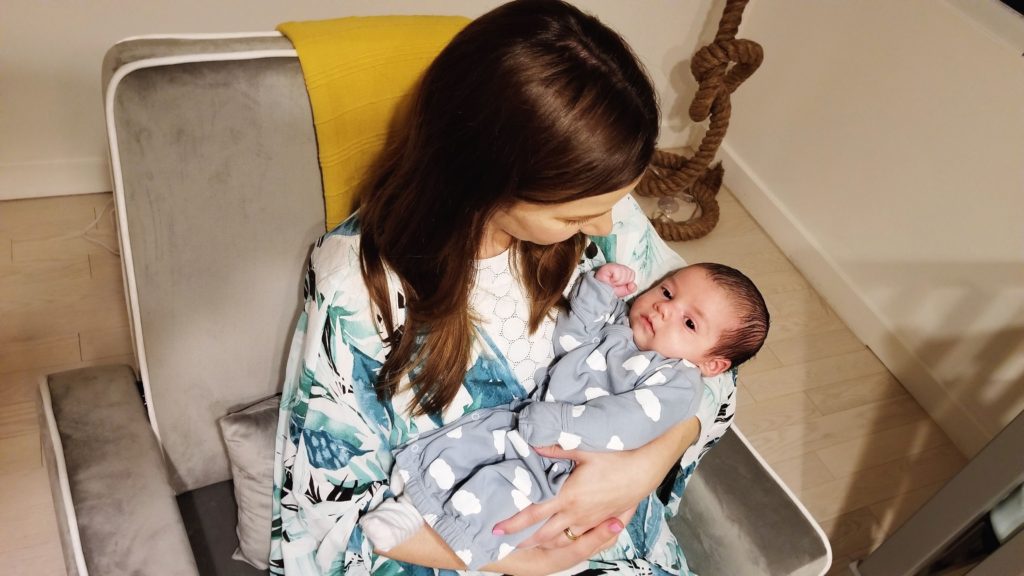 5. Shop at Target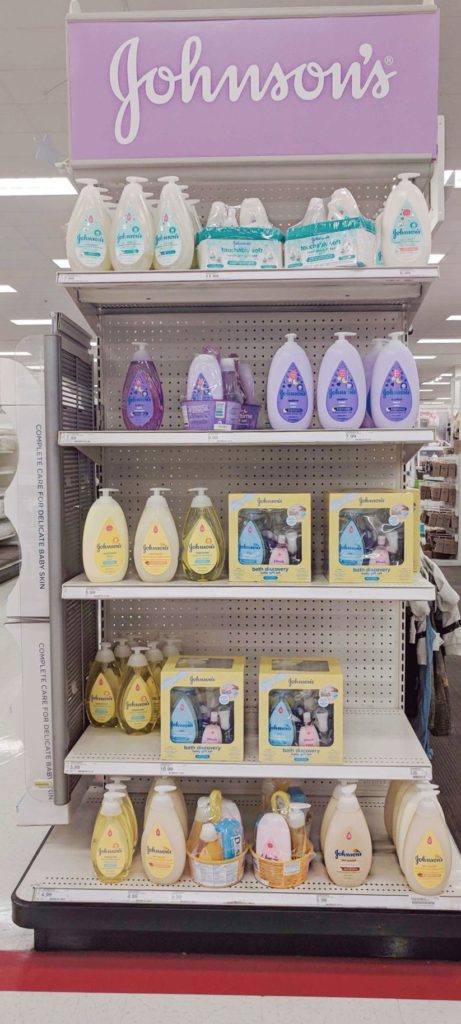 Target is seriously one of my favorite places and they have everything you need for your baby! I've discovered so many wonderful things at Target and it is where I found my JOHNSON'S® Bath Discovery Gift Set. They have an incredible selection of JOHNSON'S® products and some super cute displays!
I find the store so easy to navigate and the employees are so helpful. And right now through 9/1 when you buy 3 of these products you get a $5 gift card instantly redeemable in-store and on Target.com
I hope you have enjoyed my 5 tips for bathing your newborn baby and that you treasure this time together!