Excessive spaces and unused rooms is not a luxury that most people can usually afford, more so while you have your children living in the same house as you. However, when the children grow up and move out to attend college or when they get their own houses, you suddenly find yourself with loads of empty spaces and a few unused rooms that you never knew existed.
Guest rooms without many guests
Let's consider another scenario. You may have plenty of friends, relatives, and guests visiting you throughout the year. However, not many of them stay overnight at your house. But, you have already maintained a spare guest room for such occasions, complete with a large comfortable bed and a fake bonsai tree to make the room comfortable and attractive. However, you have gone through all this pain to have loads of space unnecessarily occupied. So, it is time to free up that space and put it to better use to make your life better.
What to do with a spare room?
With a fresh coat of paint, a couple of new furniture items, check out the thrift shops and for my UK readers, you could even go to furniture sale UK, so nobody needs to spend a fortune. Add a few decorative pieces and artificial aspen trees, you can transform a spare room into a great place to enjoy your life better. There are loads of transformation ideas and plenty of room choices that you can utilize to convert your spare bedroom into a room to serve any purpose you want. All you need to do is declutter the space and redecorate the room to make it into the room you want.
Some useful ideas to transform a spare bedroom to fit your current lifestyle
Here are some exciting and useful ideas that you can use in order to transform a spare bedroom in your house into a room better suited to your lifestyle.
Transform it into a Home Office
If you work from home or carry your office work to your house, you might want to consider getting a separate room for you to work in. This will allow you to work in peace and in a setting, which is better suited for your work. After all, it is important to have an office-like environment at home in order to work better. In order to set up a home office, you need to remove the existing furniture, get on a work table and some cupboards. This will create a suitable environment for you to work efficiently. You could also consider a beanbag tablet stand for your iPad or tablet you need to work on as an added piece of furniture. Then, if you feel drowsy, you could use it as a pillow instead to have a nap!
You can also get a few fake aspen trees in a couple of corners in the room to create a serene and green environment in the office space. This will also create a peaceful setting for you and ensure that you are able to focus on your work with increased productivity.
If you have a passion for reading different kinds of books and novels, you can transform the spare bedroom into a mini-library to indulge in your passion. Get in a few book racks along the walls and stack them up with your favorite collections. Place a faux tree along the sides of the book-rack to add a little greenery to the decoration of the room. It will create you feel like you are reading your favorite books out in the open.
If you have a spare room with loads of space, why not transform it into a room for your entertainment. After all, how long will you enjoy your favorite movies, TV shows and sports sitting on a small couch in your living room? Why not set aside a separate room altogether for the purpose? Get a huge couch and some bean-bags to get comfy while you watch your favorite sports and movies on a large screen. In order to improve the décor of the room, you can use fake forest trees around the room. You will feel like you are watching the movies or games out in the wild.
Your personal theatre room will also help you avoid the sticky floors as well as the usually dirty and partly-comfortable seats found in movie theatres. You can enjoy the feel of a theatre within the comfort of your very home. You can also use some artificial pampas grass on the floor to form a mat-like surface, where you can lie down while you entertain yourself on that large screen.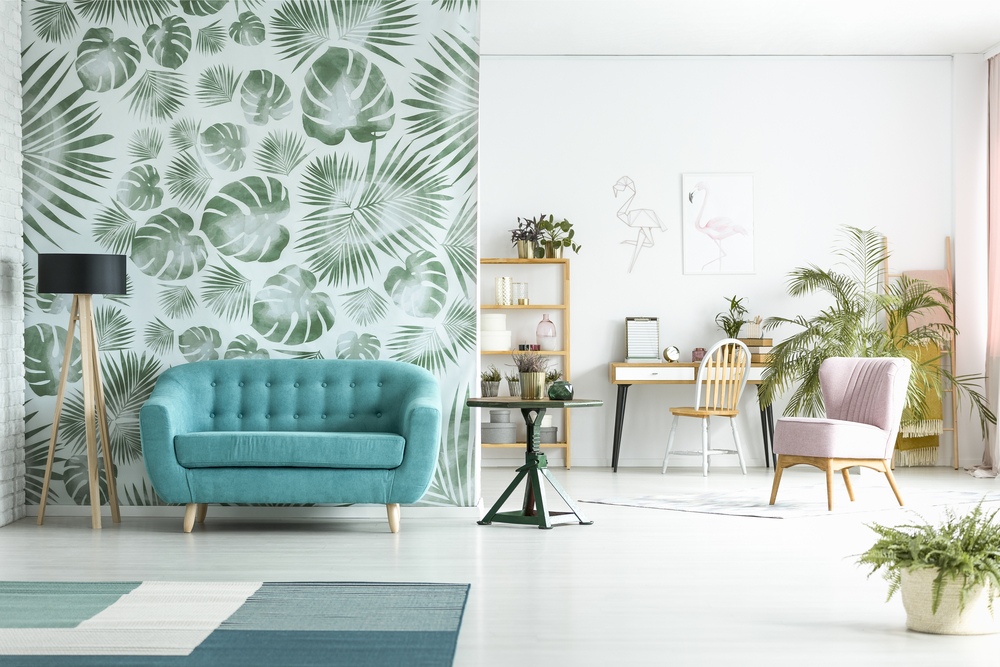 Everybody needs a space in their home where they can resort to for some much needed quiet and peace at times. This is their space of serenity, where they can reflect in peace without any distraction. Why not use the extra space of a spare bedroom for the purpose? Adding some big fake trees to the décor of the room will certainly help in obtaining that green and peaceful environment. You can also add some artificial outdoor trees on the lawn near the windows of the room to add extra greenery to the room.
This will be your spot in the whole house for the times when you need to spend some quality time all by yourself. You can also utilize this room for your yoga or meditation sessions.
If you are a fitness freak and indulge in loads of exercising, you can transform a sparsely-used spare bedroom into a gym in the house. Get in all the machinery and gym instruments that you need and set up your very own gym in the house. A personal gym will also allow you the liberty to invite your partner, friends or relatives to spend some quality time while getting in shape.
There are plenty of ways in which you can transform a spare bedroom to make your life better. The availability of the extra space will allow you the freedom to indulge in activities that were not possible when the room was occupied. You can also indulge in your favorite activities and pastimes without causing interference in the lives of other people in the house.
All you need is some exciting transformation ideas, the necessary furniture, some decoration items like artificial bark and other artificial landscaping products. Set them up according to your requirements and choices, and enjoy your life better with extra excitement and comfort. And to make sure all of this fits into your budget why not make sure you have the right energy provider? My friend recommended I compare energy services to save some extra money to help fund whatever I want to do with my spare room.