If you are a regular visitor of my blog and follow me on social media, you probably know me pretty well. You know I love life and try to live it to the fullest everyday! Recently, I hosted a twitter party with
The Collective
and they sent over 10 questions to get to know me better. Surprisingly I found these questions took quite a while to answer. They really made me think! I hope you will enjoy it too so I'm going to share them with you. Here are 10 Questions with Stuart Brazell:
1. Describe yourself and what you do.
I always take a deep breath when someone asks me this question because these days it is such a loaded question with quite a back story! In short, I'm a TV + Digital Host, Content Creator and Social Media Influencer. In just one week I can be live on television hosting a red carpet show and interviewing celebrities at a major awards presentation all glammed up and then the very next day I'm hanging out in my yoga clothes editing travel pieces for my blog and never even make it outside. My life has become anything but unpredictable these days and I like it that way!
Ok, so here's the long version…. When I first moved to Los Angeles with my degree in Broadcast Journalism, the entertainment industry was very different and the digital world was just taking off! At that time I had to go the very traditional route, and try my hardest to get an agent to send me out on auditions in hopes of even getting a chance at paid work. I noticed right away there were WAY more girls with perfect hair and make-up from all over the world vying for entertainment reporter jobs than there were celebrities to interview, so I knew I had to pave my own way.
When opportunities started arising in the digital space, I jumped on board taking jobs others looked down upon because there were 'on-line' instead of on television. Boy am I glad I did! Now 80% of what I do is on-line and more and more I'm creating opportunities for myself based on my passions! I'm still a total pop culture junkie and work as On-Air Talent for quite a few TV and digital outlets, but a few years ago I really started focusing on building my OWN brand and creating content I love for my website and social media channels. I realized how important it is to build a digital footprint for yourself, so I just started writing and tweeting about all the things I'm into. And there are a lot! So now whether I'm shooting pictures for a branded fashion deal on my Instagram, traveling on a press trip eating and drinking my way around filming and editing vlogs for my youtube channel, trying out the latest beauty must-haves or connecting with like-minded entrepreneurs for inspiration, I live each day to the fullest and charge full steam ahead with a smile on my face.
2. What are your 3 favorite things about your career?
1. Having the opportunity to create and entertain – I'm a born performer (seriously, my first job was as a professional ballerina at the age of 12). With every tweet, blog and Instagram picture I post I have a platform to do what I love and hopefully bring joy to others.
2. The people I meet! Whether I'm on a press trip with fellow bloggers or interviewing one of the stars of my favorite TV show, I get to meet some pretty incredible individuals #blessed
3. Learning and experiencing new things – everyday there is new product, app, restaurant, wine (the list can go on) to try. I've discovered many of my go-to brands, favorite things and places through social media. How cool is that!
3. Where is your favorite place to just escape reality?
My favorite place to escape reality has to be a really good yoga class! My mind is always going a mile a minute, but yoga is one of the few places I slow down and seriously just chill (while also getting in a good workout). I'm also trying to add a daily meditation practice into my schedule, but that is definitely still a work in progress. Oh and a good spa day never hurt no one 🙂
4. What is your favorite holiday drink?
Champagne … when in doubt, always champagne.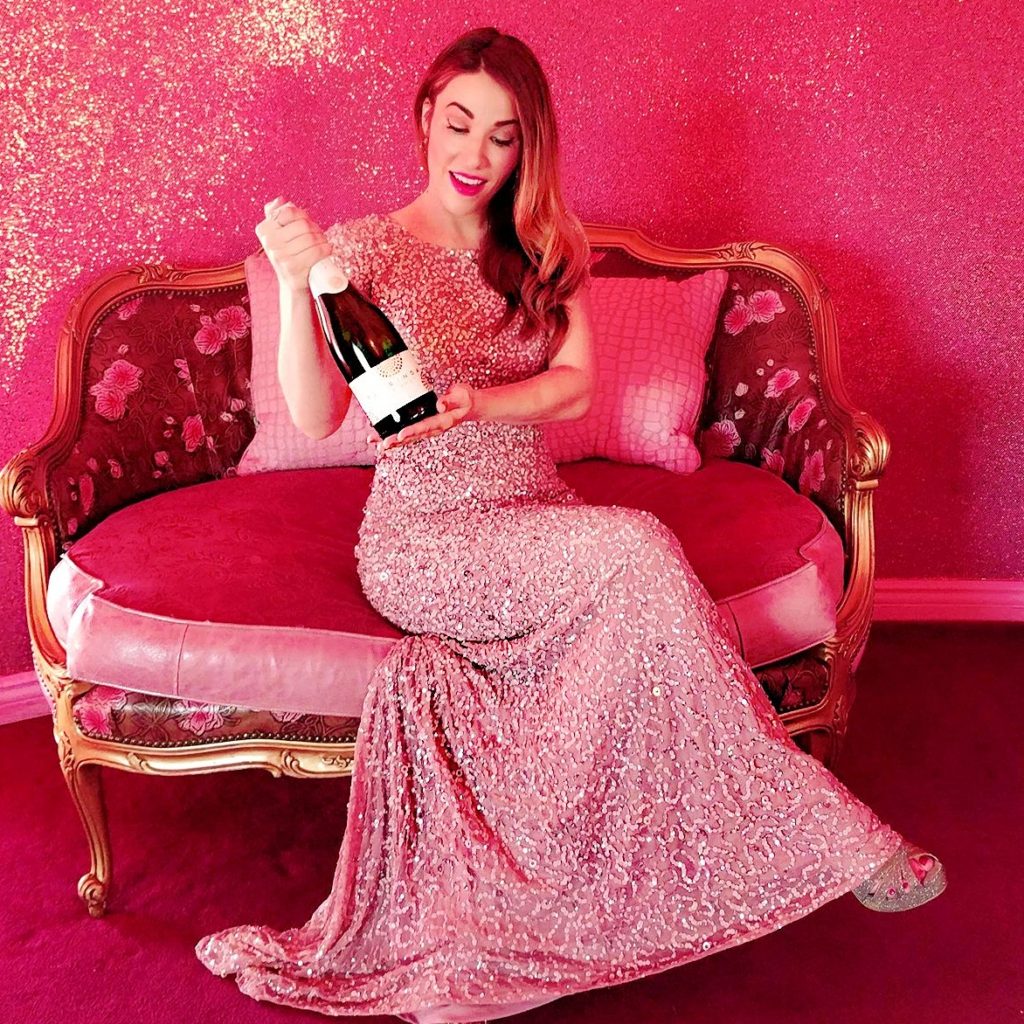 5. The best gift you ever got?
Hands down my trip to Southeast Asia! Last year around this time my husband took me to Vietnam, Cambodia and Thailand for the holidays and it was truly life-changing. My whole perspective on life and what is truly important shifted. And my case of wanderlust obviously got worse. This year I'm dreaming of cherry blossoms in Tokyo in the spring! (hint hint hubby)
6. The number one thing you learned this year?
Trust the process and be in the moment. It is so important to live in the now, let go of the past, and let go of expectation. Be happy now!
7. Who are you most thankful for this season?
My mom!! I'm pretty much always most thankful for my mom. She rules! She lives in South Carolina (where I was grew up), but we've been blessed to take some really amazing Mother-Daughter trips together. We seriously have the best time! And I always take advantage of the opportunity try to get as much family history out of her as I can.
8. Your best advice to those who want to do what you do?
My best advice also happens to be my life motto, SHINE BRIGHT AND DO YOU! Don't compare yourself to others, if you stay true to your passions and work hard it will happen for you! And don't be obsessed with numbers. Instead of spending time beating yourself up about your google analytics or why your Instagram isn't growing at the rate you think it should, spend that time engaging with other accounts you are a fan of. Or better yet, read a really good book!
9. What is the one trend you hope DOESN'T go into 2017?
Girls posting about skinny fit tea and waist training on Instagram. MAKE IT STOP!
10. What is your life motto?
Shine bright and do you! There is only one you, so smile and own it!
Thanks again to The Collective for putting me to the test! It is good to self reflect. You can read the original article
here
.
And I hope you will join me this Saturday in Pasadena. I'm hosting the Marvallure Flagship Pasadena Store Launch. Find all of the details here:
XOXO – Stuart Brazell