I have been traveling and working a lot, so my skin was in need of some serious love! Between long days wearing heavy make-up and sleeping in 6 different cities in 1 month, my skin looked tired and thirsty. Luckily, the lovely Nurse Nataly invited me to her incredible iGlow Med Spa for a Facial.
From the moment I walked in the door, I knew I was in good hands. The staff is so friendly and helpful and there is a wonderful, peaceful vibe. After consulting with Nurse Nataly, we decided the Oxygen Facial was perfect for my needs! Here is more information about my facial that I received from the amazing Renata:
Oxygen Facial- 90 min $400 each treatment
The Oxygen Facial is perfect to plump the skin and look refreshed and radiant. It is recommended every 3 weeks or before a special night out! Unlike Microdermabrasion and other methods of smoothing out the skin for a more even tone, the oxygen facial does not usually cause any side effects, such as stinging, itching, or burning. The method of delivery used in order to pump oxygen into the skin is gentle, which makes the treatment a viable option for people like me with sensitive skin, and who have difficulties with injections or other harsh treatments to get rid of wrinkles.
There is no downtime after this facial, so you can resume normal activities right away and even apply makeup or lotion without worrying about how the skin will react. The infusion of oxygen and vitamins is good for the skin because it encourages the growth of new cells as well as collagen. This treatment may also rejuvenate skin that has been exposed to pollutants, such as tobacco smoke and other toxins that starve cells of their oxygen. In addition, while some treatments can cost hundreds of dollars, the oxygen facial is still less expensive than Botox injections or other chemical facial fillers. This treatment has been used to diminish acne scars, as it is believed that the infusion of oxygen helps the skin to create new cells at a faster rate and reduce the appearance of blemishes. You wear the oxygen mask for about 15 minutes, so that's plenty of time to take some pretty entertaining selfies for your snapchat story!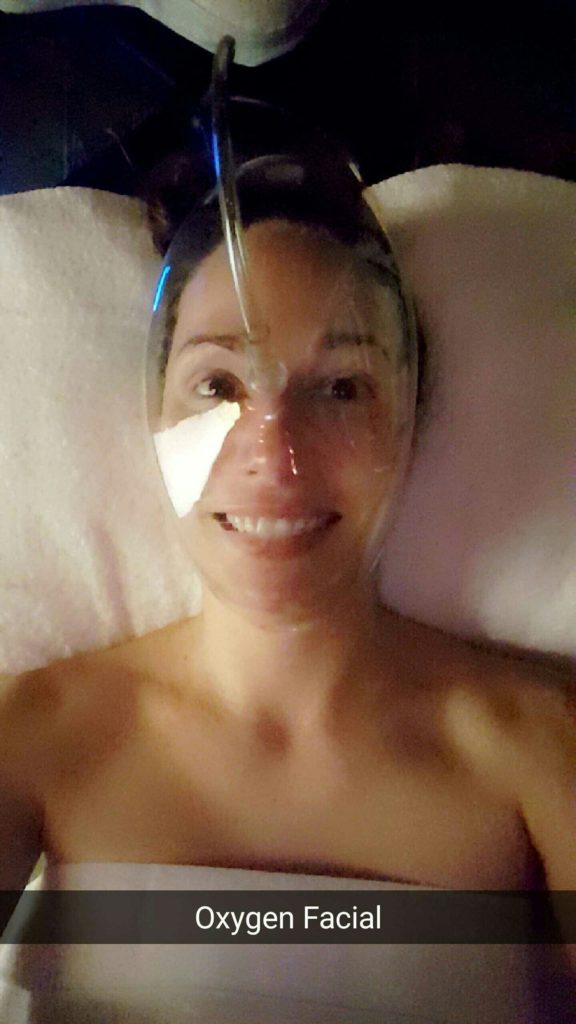 I left iGlow Med Spa simply glowing!!! And one week later my skin looked so healthy and moisturized! Nurse Nataly also shared with me some other wonderful facials that are ideal for maintaining vibrant, picture perfect skin.
Glam Ready Facial- 120 Minutes, $700
The Glam Ready facial is infused with LED Light Therapy and IV Therapy combined with the 24Karat Gold Carat Mask. This is the perfect blend to give you a glow from the inside out. Their Signature Glam Ready facial gives you the Red Carpet glow that all celebrities have.
This facial includes their smoothing diamond-tip Microdermabrasion and an oxygen infusion of a proprietary blend of essential vitamins and minerals, lifting high frequency, detoxifying galvanic current, massage, steam, extractions, their "Liquid Ice" that kills bacteria, and then finished with their signature brightening mask from Spain. After the facial your skin will look luminous, lifted and smooth.
Infused LED Light Therapy is based on important research by NASA showing that certain frequencies of light significantly increase new tissue growth, stimulate collagen production and reduce fine lines and wrinkles. This breakthrough technology does not use heat or any kind of "invasive" process, but triggers the body to convert light energy into cell energy without thermal heat. LED light therapy is non-invasive, causes no inflammation, and requires no special post-treatment procedures. It is proving to be an effective treatment for aging skin as well as particular conditions such as Rosacea and other skin conditions.
Benefits of Red LED Light Therapy include: Reduction in fine lines and wrinkles, reduction of age spots and sun damage, increase in collagen, reduction of overall redness, flushing and dilated capillaries. Results are often immediate. The Blue LED Light attacks PP-9, producing singlet oxygen. This form of oxygen is very toxic to the bacteria that cause acne therefore decreasing acne drastically with absolutely no downtime.
Vampire Facial
Duration: Will depend on how many vials are needed, as people may vary depending on their skin condition. $1000 per vial and it is recommended to do the vampire facial at least 3 times, one every 4-6 weeks In this facial Nurse Nataly uses the latest technology for skin rejuvenation that involves regenerative medicine. "It includes the use of platelet-rich plasma which is taken from the patient's own blood. It is a combination treatment of the MicroPen and your own stem cells. The MicroPen itself is an innovative micro needling instrument that creates micro channels into the skin, which stimulates your immune response to help it rebuild collagen and elastin. This technique strengthens, retextures, smoothes fine lines, wrinkles, acne scars, greatly reduces pore size, and lightens hyper pigmentation."
Nurse Nataly uses a patient's own stem cells and growth factors from their blood and distributes them throughout the area(s) it is needed. The MicroPen and stem cell treatment is named as the "fountain of youth," because week by week, the skin rebuilds itself from the inside out—resulting in smooth, firm, brighter and glowing skin! This fountain of youth treatment is perfect for all skin types because it does not involve heat, and there is no chance of rejection or of an allergic reaction, because it is only your own blood. There is minimal to no downtime associated with the Vampire facial.
This procedure is highly Beneficial for:
• Acne Scars
• Fine lines and wrinkles
• Enlarged pores
• Skin elasticity
• Hyperpigmentation
• Melasma
• Any type of scarring (except for keloids)
• Hair restoration
• Stretch marks
And since we are right smack dab in the middle of summer, I know we are all still working on those bikini bodies! Nurse Nataly recommends CoolSculpting!
Coolscuplting
If you want to stay summer ready, this is the treatment of choice! Coolsculpting truly MELTS away fat and any stubborn areas of fat that don't go away. It costs between $600-$1400 per application. Nurse Nataly recommends 1-2 times depending on each individual. The FDA approved CoolSculpting™ by ZELTIQ is a non-surgical body contouring procedure that uses controlled cooling to reduce fat deposits. This procedure targets stubborn fat that won't budge with diet and exercise. This procedure is non-invasive and does not have any downtime. Because who has time for downtime??
I do hope you visit Nurse Nataly aka the "Aesthetic Queen of Beverly Hills" at iGlow Med Spa in Beverly Hills, CA. She is quite the force to be reckoned with and you know I love a strong #GirlBoss
Have a great weekend everybody!