Fall is in the air. The crisp cool weather, sweaters, boots, and all things pumpkin. The best part of fall, though? That would be the changing of the leaves! Such beautiful reds, yellows, oranges, and so many more fall colors just bursting forth. If you live in a state that doesn't experience the beauty that is fall, there are plenty of beautiful places to visit to get your yearly fall foliage views in. I chose eight different places that are absolutely brilliant this time of year to give you great examples of places to visit to take in the sights. Here are 8 amazing states to see the best fall foliage:
1. Colorado
Aspen, Colorado. The peak time to find the best fall leaves is mid-to late September. Named after the Aspen tree, which has leaves that turn a bright yellow, the leaves are absolutely stunning when the sun shines through them in just the right way. Take a break from driving to take some great photos for your collection, and to show your friends and family.
2. New York
The Adirondack Mountains in Lake Placid, New York are known for their maples with red and silver leaves, birch, aspens, and oaks, as well as beech trees for an amazing feast for your eyes as you drive through town. The Olympic Trail scenic byway that runs through Lake Placid, provides the best and most colorful journey that will take you through 170 miles of beautiful trees. There is also a Fall Foliage Train tour on the Adirondack Scenic Railroad. Peak viewing time is in early to mid-October so mark your calendars!
3. Virginia
Skyline Drive is located in the Shenandoah National Park, Virginia. Skyline Drive spans 105 miles in the Blue Ridge Mountains in Shenandoah National Park. There are milestones along the routes to give you points of interest to stop and look at if you're interested. The speed limit 35 which gives you ample time to take in all of the pretty colors without holding up traffic. This road is the only public road in the Shenandoah National Park.
4. Maryland
Oakland, Maryland is rated number one for seeing the best sights in the fall thanks to the brilliant colors that pop every single year. You can find the best fall colors nine miles south of town at Swallow Falls State Park. You can stop by the Autumn Glory Festival from October 11 to the 15 this year. It features 2 parades, concerts, as well as some band competitions. With Halloween not long after, you can even find a hayride along the lake with some zombies and ghosts.
5. Massachusetts
Massachusetts has an amazing town full of great colors in the fall. The Berkshires has winding roads that you can drive down that connect you to mountains full of yellows, reds, and every other color you can think of. The Berkshires is also a beautiful escape from the dull gray of the city, as well. You can shop hop, do some antiquing, or relax in one of their spas while taking in the view of the fall colors. The best viewing times to experience the autumn foliage is in mid-September, and usually, peaks around Columbus Day in mid-October.
6. Tennessee
If the south is where you want to spend your fall vacation, then look no further than the Great Smoky Mountains in North Carolina and Tennessee. The National Park there is visited the most for this reason. With more than 100 species of trees that are native to this section of the United States, you'll be in awe of the sweet gums, maples, scarlet oaks, and more. The pop of orange, crimson, purple and so many others, your eyes won't know where to look next. There are hundreds of miles that you can hike, and roads to travel to take it all in. The best time to catch the best colors is from early October until early November.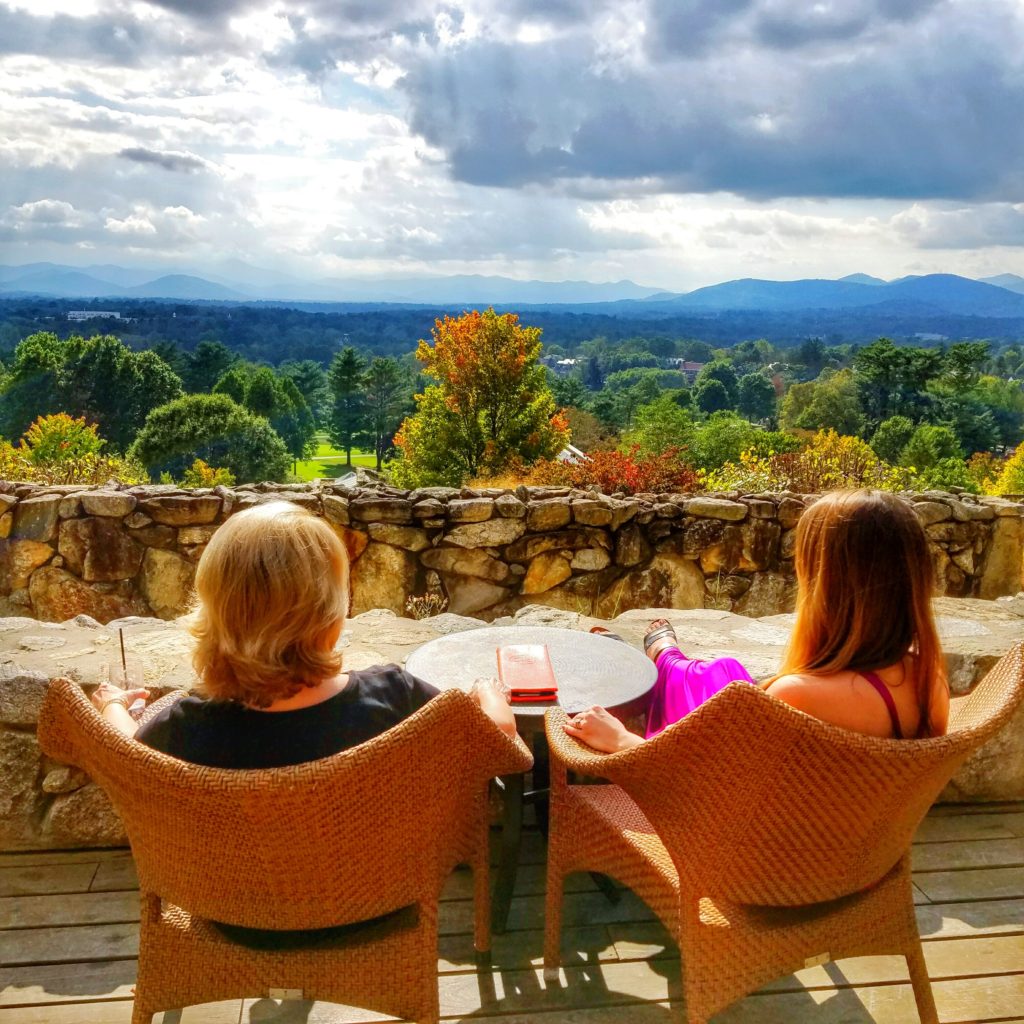 7. North Carolina
North Carolina is also home to the Blue Ridge Mountains. I was fortunate to visit Asheville, North Carolina last October and enjoyed some beautiful foliage, great food, culture and fun! Read all about my adventure in depth and enjoy my Asheville, North Carolina travel guide right here.
8. Vermont
Ludlow Vermont is usually a place you find all the great skiers, but if you head up there and get there before the snow falls, you'll find yourself in fall color heaven. The Okemo Mountain, as well as its ski resort, features a breathtaking view. The Mountain itself is 3,334 feet to the peak and features a 360-degree view that includes the Green Mountains as well as the Okemo Valley. You can take a drive to the top and find your way to the fire tower by foot. If you're afraid of heights, there are other options. The nearby Scenic Route 100 byway will take you to the Calvin Coolidge State Historic Site, as well as the Calvin Coolidge State Park. Both of these places will afford you the great view without causing you vertigo.
There are so many great places in the United States to witness nature's staggering beauty in the fall, that I couldn't name them all if I tried. If you're a fan of the changing colors of fall and want to take a drive in your hometown or take a trip to a breathtaking view in a different state, please let me know where your dream trip would be to. If you have already taken that dream trip, please let me know where you went in the comments!
XOXO – Stuart