This shop has been compensated by Inmar Intelligence and its advertiser. All opinions are mine alone. #ConsumerDrugTakeBackCalifornia
When it comes to caring for our families, finding ways to keep them safe and healthy should be top priority. As a mom of two, expecting a third, I know firsthand how important it is to protect myself, my husband and my children — especially from the danger of unused or expired medications. Recent statistics indicate that more than 70 percent of people who use prescription drugs are misunderstanding proper disposal instructions, posing a serious risk not only to our families, but to our communities. Thankfully, LifeInCheck Consumer Drug Take-Back ™​ has created an invaluable tool to help us safely dispose of unused or expired medications so that our children are safe, our homes are protected, and our community is healthier.
What is LifeInCheck Consumer Drug Take-Back ™ Program?
LifeInCheck Consumer Drug Take-Back ™​ program is an innovative plan aimed to both protect the environment and combat drug diversion and abuse. This program offers consumers a reliable way to securely and responsibly dispose of unused medications by providing secure kiosks located across the US.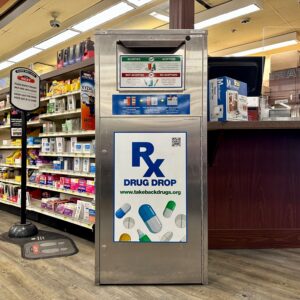 Every 7 minutes an American dies from an overdose
51% of misused prescription pain relievers are given by, bought from or taken from a friend or relative
18 million people in the U.S. over the age of 12 have misused medications at least once in the past year
46 million Americans are exposed to trace amounts of narcotics in their drinking water
With addiction to opioid medications steadily on the rise, the need for an effective and secure drug disposal solution has become more pressing than ever. I admit I have flushed expired prescriptions down the toilet before only to later discover this contaminates our water supply. Find your local secure kiosk here to dispose of drugs safely. Simply enter your zip code and they will provide a list of safe drug take-back kiosks in your area. Remember to remove the labels before disposing of them. If you have any Sharps to dispose of please find a local LifeInCheck Consumer Drug Take-Back ™​ Kiosk or call 1-888-371-0717​ to request a free pre-addressed and prepaid sharps container.
To help prevent accidental poisoning and the misuse of prescription medications, the Centers for Disease Control and Prevention recommends the following:
1. Take medications only as prescribed and never share them with others
2. Dispose of unused, expired, or unwanted medications properly through a drug take-back program or by following the U.S. Food and Drug Administration's guidelines for disposal
3. Keep track of all medications in your home and securely store them out of sight and reach of children
4. Read and follow the directions on the label carefully and never take more than the recommended dose
5. Talk to your healthcare provider and pharmacist about any questions or concerns you have about your medications.
I am so happy I discovered LifeInCheck Consumer Drug Take-Back ™ program It not only encouraged me to securely dispose of a number of expired medications, but I also reorganized my medicine cabinets for my children's safety. National Prescription Drug Take Back Day is (4/22/23) and I hope you will join me in this important movement. Together we can all do better for ourselves and for others!