St. Patrick's Day is just around the corner and with it comes lots of green, beer, and rich foods! Whether you decide to have a dry St. Patrick's Day or party hard and need to detox after, these green non-alcoholic drinks for St. Patrick's Day are perfect for the occasion!
Alkamind Green Mint Detox Smoothie
The luck of the Irish and a recipe from celebrity nutritionist Dr. Daryl Gioffre's book, GET OFF YOUR ACID, is the perfect way to detox and carry on the green celebration. This smoothie is a delicious green blend that focuses on the flavors of mint and ginger, which are very healing for the gut, as they fight nausea, soothe upset stomachs, and are powerful anti-inflammatories. The lime also adds a touch of acid (that is actually alkaline-forming once consumed!) for a balanced and satisfying taste. With delicious smoothies like this, getting enough servings of greens is a breeze!
Ingredients [Serves 1 to 2]:
1 cucumber, peeled
6-8 leaves romaine (or large bunch spinach)
1 cup coconut water (or filtered water)
1 lime, freshly squeezed
1-inch ginger, fresh
1 bunch fresh mint leaves
Optional: organic liquid stevia or 1 date
Optional: a handful of ice
Directions
Blend all ingredients and enjoy!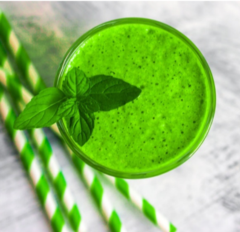 Peppermint Patty Green Monster
For all my health nuts, this smoothie by Oh She Glows is the perfect minty treat and a beautiful shade of green for St. Patrick's Day! Packed with spinach, bananas, protein and even dark chocolate, this will satisfy your sweet tooth and keep you full!
Ingredients [Serves 1]:
1-1.5 large frozen banana (peel before freezing) (I used 1.5 bananas)
1-1.25 cup non-dairy milk (almond, soy, hemp, rice, etc)
A handful of fresh mint leaves, stems removed
1-2 handfuls spinach
1/8-1/4 tsp peppermint extract (optional)
1-2 tbsp chopped dark chocolate, for garnish
Directions:
Add in all of the ingredients except the chocolate into a blender and blend until smooth. Adjust to taste and serve with a garnish of chopped dark chocolate and mint leaves. Enjoy with a spoon.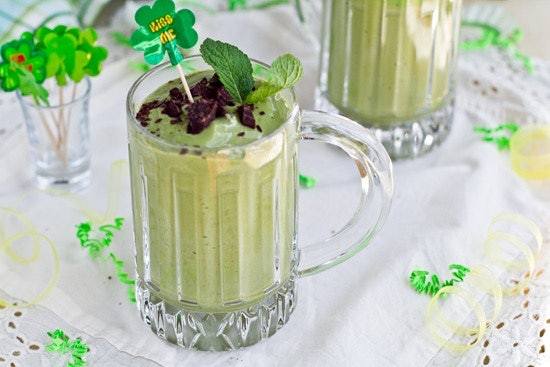 Fresh Mint and Jalapeno DIY Infused Water
We've all heard the health benefits of proper hydration – increased energy levels, improved metabolism, glowing skin, boosts in immunity, and even better digestion – but who wants to drink bland water all day? Why not add some pops of green and stay hydrated with infused water on St. Patrick's Day!
Ingredients [Serves 1]:
Wide mouth bottle
Fresh Mint (add to your taste)
1 small jalapeno pepper sliced in tiny pieces (add to your taste)
Water
Ice
Directions
The trick to an infused water is to add your fruit FIRST then ice, then water and then ice. This helps to better infuse your water by keeping the fruit in the middle or bottom of your bottle. Since these infused waters are made with fresh fruit, you need to keep them cold or drink them right away.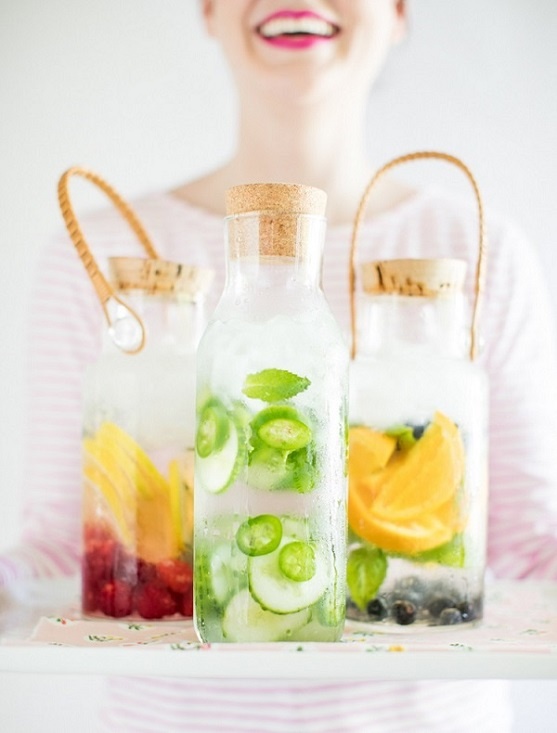 And if you are going to be indulging too on St. Patrick's Day, here's how to make green beer.
Have a great time everyone!
XOXO – Stuart