This is a sponsored post written by me on behalf of UPPAbaby. All opinions are 100% mine.
My UPPAbaby system has been a lifesaver after having my second little boy, Xander, this year! I knew when I found out I was pregnant again that I was going to need to upgrade my stroller and infant car seat—and I'm so glad I did.
Going from one to two means I need my hands free more than ever, and it also means I need a system that is flexible and extra portable. Most importantly, it needs to be SAFE! UPPAbaby products are a leader in all of those categories, so I knew they would meet my needs…and I was right!
For all you moms and about-to-be-moms of two or more, I'm going to share my UPPAbaby choices with you today—including the accessories I just can't live without. Oh, and moms of one? Don't click away! There's plenty for you here, as well.
I knew I wanted the MESA for Xander's infant car seat because of its advanced safety features, easy installation, and the way it works with UPPAbaby's strollers to create a Performance Travel System. All that was left was to choose a look.
We went with the HENRY because I'm in love with that blue marl. The Merino wool is naturally fire-resistant, passing federal safety standards without the need to add fire retardant chemicals. What I didn't know was how great the material would be for temperature control! Xander stays comfy, whether it's hot or cold out.
My top priority (besides safety, of course) was an easy car seat. I knew I'd be juggling two as I loaded and unloaded the car, so anything complicated was OUT. My UPPAbaby MESA base is not only super easy to install—the LATCH connectors tighten automatically and there's a special indicator window that turns green, so I know for sure when it's in correctly—it's a cinch to insert and remove the infant seat, too. It would be perfect for first-time moms!
Anyone who has ever had to rethread a five-point harness will know what a big deal this is: the MESA's harness is adjusted through the headrest! No rethreading the whole seat every time baby has a growth spurt.
HENRY MESA Accessories I can't live without:
An extra base was an absolute must for me. Even though installation is ridiculously easy with this seat, I like to have one base that is always installed. That extra base gives our family a lot of flexibility without always having to remove the base we use for everyday outings.
We're a family that loves to travel, and where our babies go, their car seats go! The MESA travel bag will protect our car seat during air travel. We made sure to register it so that when we do fly, any damage that might happen during our trip will be fully covered by UPPAbaby's TravelSafe Program.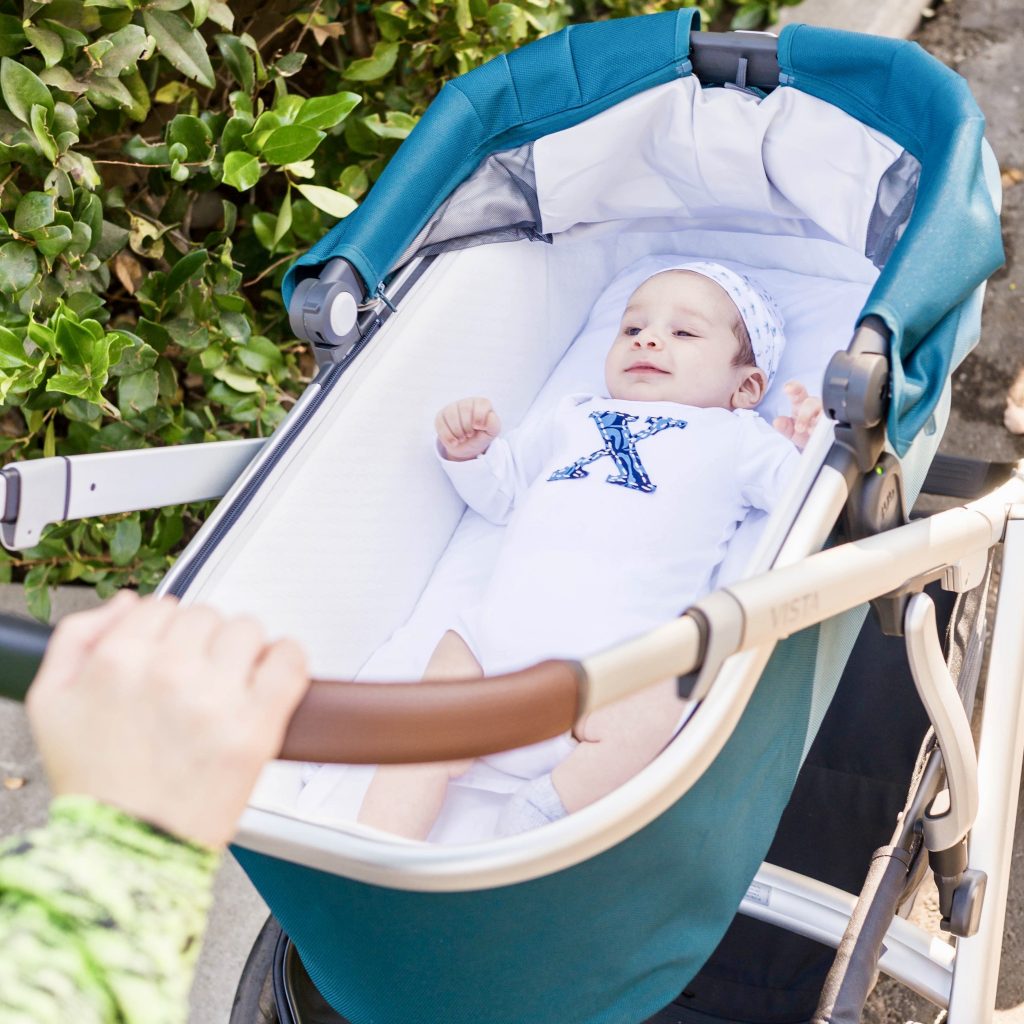 Along with our brand new MESA, I wanted a flexible stroller that worked effortlessly with the car seat. The VISTA can be configured pretty much any way we want and we can add to or change our system as Asher and Xander grow!
We went with the FINN VISTA because the deep sea color, silver finish, and chestnut leather handles have such a premium look. But looks aside, this is the best stroller I've ever used. It has a smooth ride, a large cargo area for our giant diaper bag, and a single-step fold—which is a lifesaver when your hands are already full!
It's heavily customizable, from the extendable canopy to the many different ways to recline. But we really made it ours with the accessories we chose.
FINN VISTA Accessories I can't live without:
With Asher hovering between toddler and preschooler, we knew our baby stroller would need to accommodate him. Long walks and day trips are still too much for his little legs sometimes! We got him a RumbleSeat so he has a place to sit (or recline) when he starts to feel tired.
This extra seat can either face me as I'm pushing the stroller or face out so Asher can see everything around him. It's been great for checking out Christmas light displays this year!
We wanted lots of space and flexibility for our double seat setup, so we made sure to grab a set of upper adapters! These gave us a little more room between the two seats.
We also got some lower adapters to get the best fit for our MESA car seat. These can be used to attach a bassinet!
Sippy cups love to go missing in our family, so I was NOT going to pass on the cup holder attachment! It also holds Mommy's travel mug (yes, even my favorite one with the handles) from time to time.
Carry-All Parent Organizer ($34.99)
One of my pet stroller peeves is having to dig out the whole diaper bag from the cargo area, just to grab something quick like a snack or wipe. I decided that this time around, I was going to get UPPAbaby's Carry-All Parent Organizer to hold our little odds and ends and keep them within easy reach. It's all about easy with the second baby!
Asher is at that age where he changes his mind a lot. Sometimes he thinks he's done walking…until two seconds later, when he's begging to be let down again. The PiggyBack is a little stand we attached to the back of our VISTA. He can hop on for a few seconds to catch his breath, then jump back off again when he's ready.
I'm in love with our new UPPAbaby Performance Travel System! It's so easy to take Asher and Xander out, even at the last minute. I love that we were able to customize our system to make it perfect for our family, and that we're not locked into this combination forever; if our family's needs change, the stroller can change with them!
Most of all, I feel good about using this system for our most precious cargo because it is SO SAFE. I can be 100% sure that our base is installed correctly, and I know that my baby is protected in an impact.
If you're a mom-to-be or just a mom looking to upgrade, definitely take a look at the UPPAbaby system! And don't forget to schedule your free Virtual Car Seat Check! You can get all your car seat installation questions answered live during a dedicated thirty-minute appointment.
What are your top must-haves for strollers and car seats? Let's talk about them in the comments!