Nestled at the foot of Camelback Mountain, just outside Scottsdale, Arizona is a piece of American history. Mountain Shadows resort has offered those looking to get away into the Arizona sun a wonderful place to relax since it first opened nearly 60 years ago. It recently reopened, capturing the spirit of Hollywood and glamor while attracting a whole new generation. I was thrilled to be invited for a three-night stay at this gorgeous property. I can absolutely confirm that whatever your interests you'll find something to love at Mountain Shadows. I hope you enjoy my Mountain Shadows review and my thoughts on why this is the perfect Arizona getaway!
Mountain Shadows Review: The Perfect Arizona Getaway
History
Mountain Shadows originally opened in 1959, taking its name from the shadows of Camelback Mountain and Mummy Mountain which shade the resort in the afternoon. It quickly found success with international travelers and Hollywood stars. Not long after opening Mountain Shadows got its 15 minutes of fame as the primary backdrop for detective drama "The Brothers Brannagan." It got another chance in the limelight in an episode of The Monkees' television series. After exchanging hands several times the resort closed for good in 2004. In 2014 Westroc Hospitality and Woodbine Development Corp. teamed up to completely rebuild Mountain Shadows from the ground up. In 2017 the doors to this local icon opened once again and I must say the decor is to die for! Every inch of this property is total design and decor inspiration. I left wanting to totally redo my home!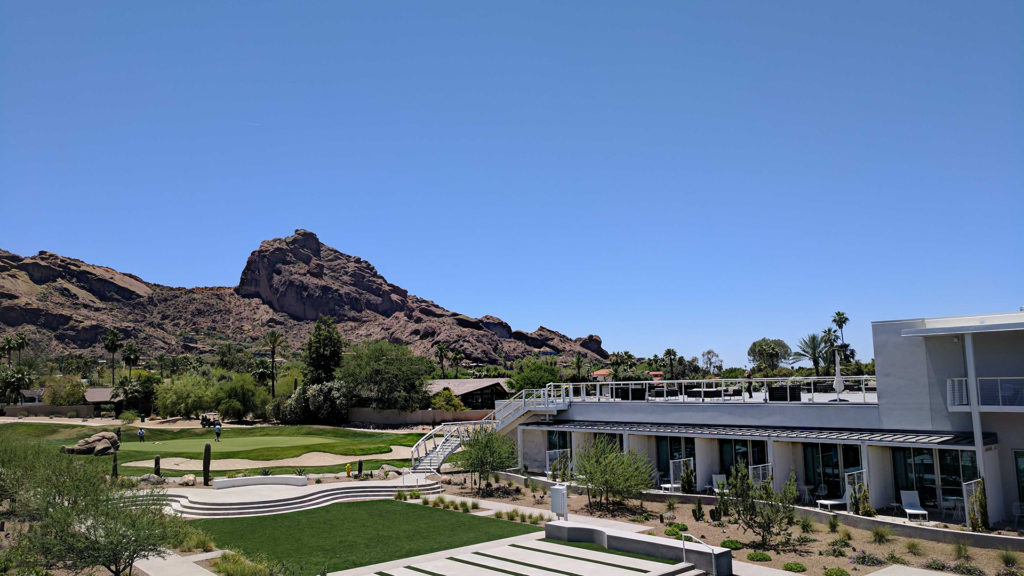 Food and Drinks
Ever since it first opened in 1959 Mountain Shadows has been known for its amazing food. This tradition is still going strong today with their restaurant Hearth '61. The kitchen is run by Executive Chef Charles Wiley who has been in the kitchen for over 40 years. He has also been named one of the best hotel chefs in America and was named one of the ten best new chefs in America. Hearth '61 serves delicious American cuisine using local and seasonal ingredients presented so beautifully you almost feel bad for eating a work of art that gorgeous. This place is definitely foodie-friendly!
Hearth '61 also has a wonderfully atmospheric bar that cannot be missed. From coffee in the mornings to late night drinks, the bar at Hearth '61 has it all. But the best drinks are the amazing cocktails. From their Grapsil Martini, made using local grapefruit to the Root of All Evil you can find a variety of drinks to suit your tastes.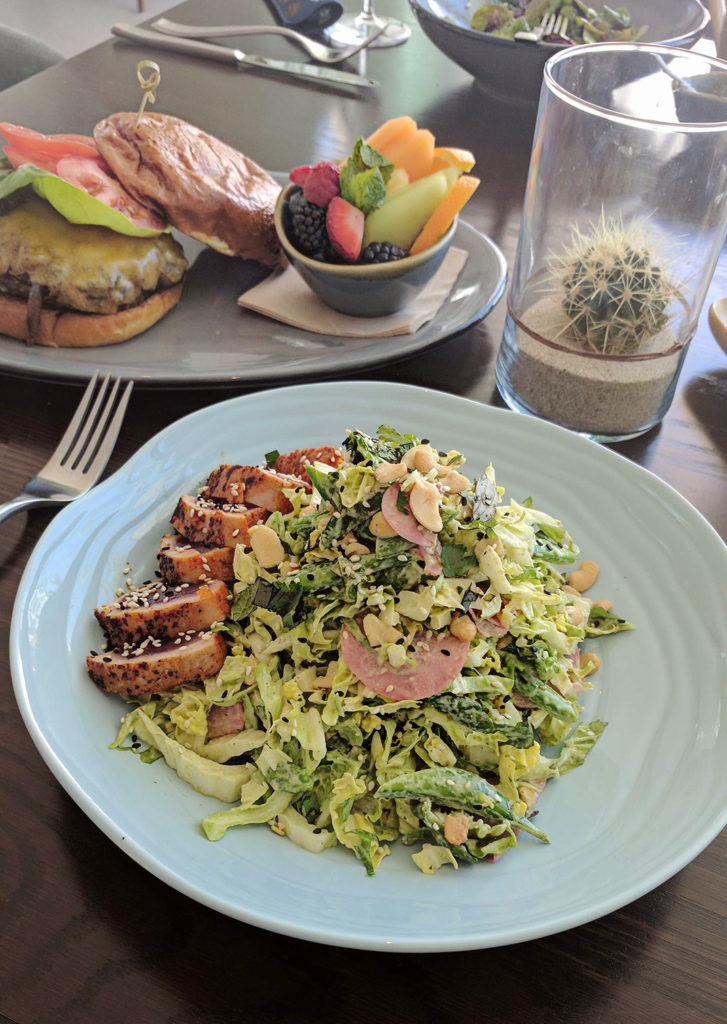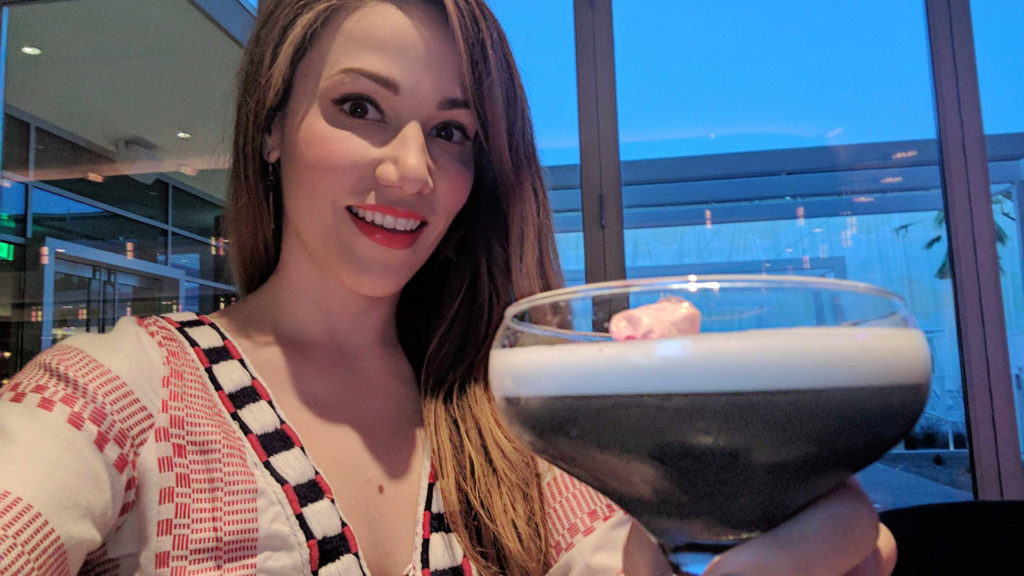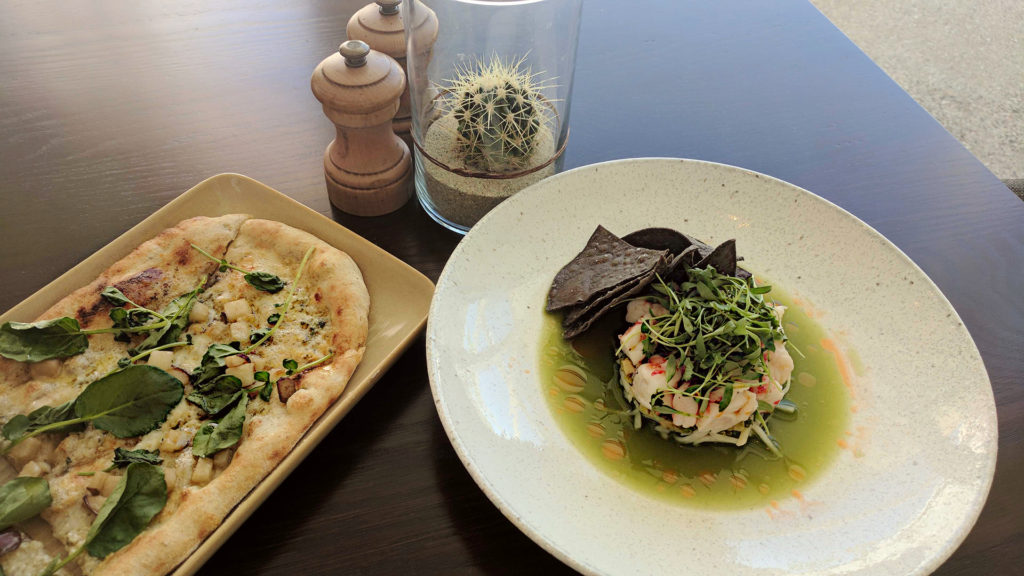 Golfing at Mountain Shadows
The first golf course at Mountain Shadows was constructed in 1960 and ever since the resort has been known as one of the best golf resorts in Arizona. Today that tradition is kept alive with a 34 acre, 18 hole course which was designed by Forrest Richardson, who had worked with the original course architect Jack Snyder for many years. The golf course has a very special Hole 17.5 which is affectionately called the Forrest Wager. The object of this hole is to play in a way similar to popular golf game Bingo Bango Bongo. It's ideal for breaking ties or just having a little more fun before you reach the final hole.
After you've enjoyed your golf you can head into Rusty's to lick your wounds, celebrate your wins, and grab yourself a bite to eat and something to drink. Mountain Shadows also hosts a number of special events throughout the year from couples golfing to business lunch offers.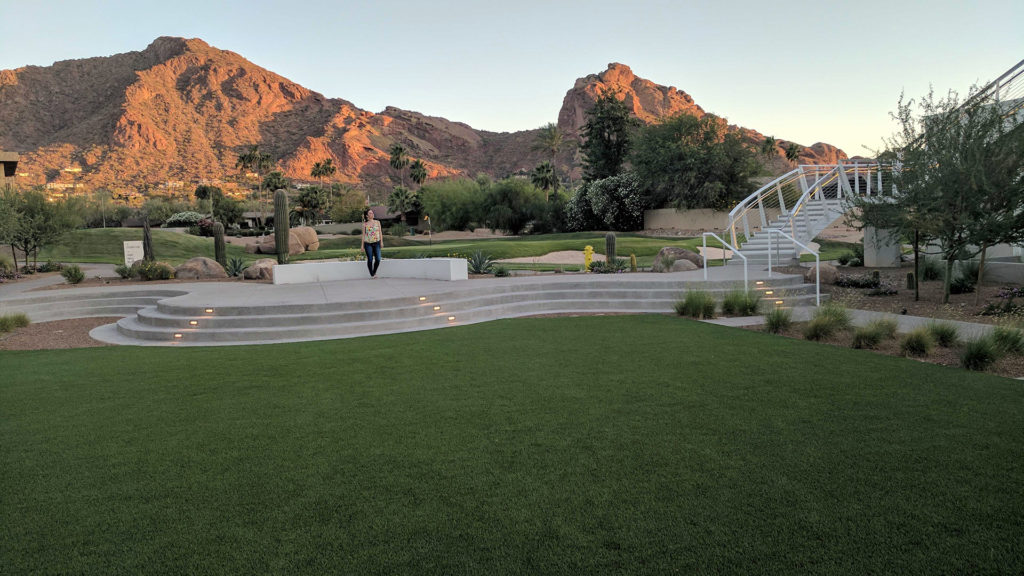 Spa, Swimming, and Fitness
Of course, golf isn't the only way to have fun at Mountain Shadows. They offer personal trainers who will help you achieve your fitness goals and a variety of classes from yoga to TRX. The gym offers gorgeous views of the surrounding mountains so you can enjoy the natural beauty of the area without suffering in the heat. I took an incredible yoga class that was the perfect start to my day!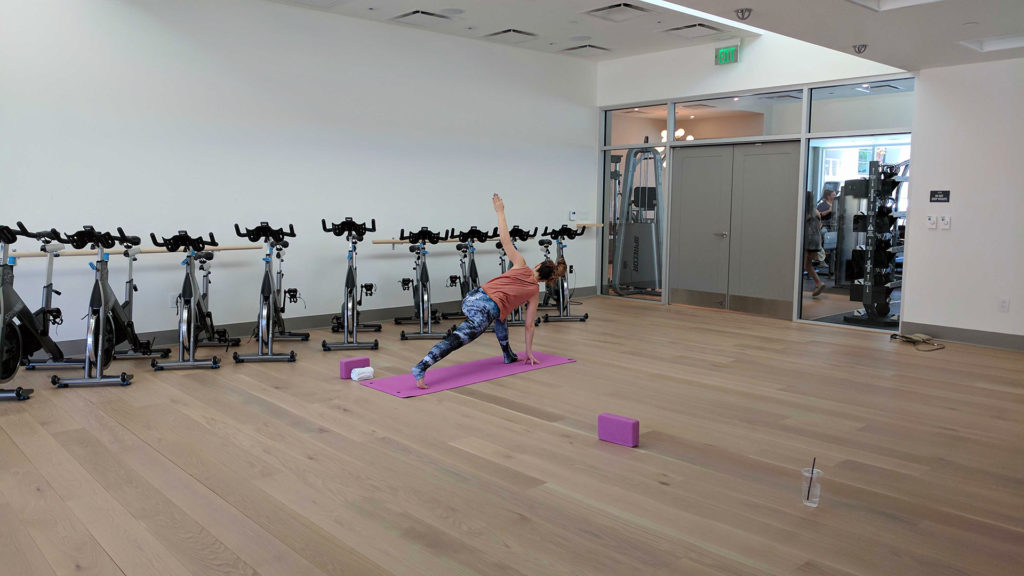 The resort has two 75-foot pools and poolside furniture that will make you think you've stepped back in time to the early 60s. During the cooler months, the pools are heated so you don't have to miss out on swimming just because it's cold. But the most fun to be had is poolside lounging in the cabanas. They come with a fruit platter, bottled water, beer, or a bottle of wine. In them, you and 7 of your friends can relax in style and comfort.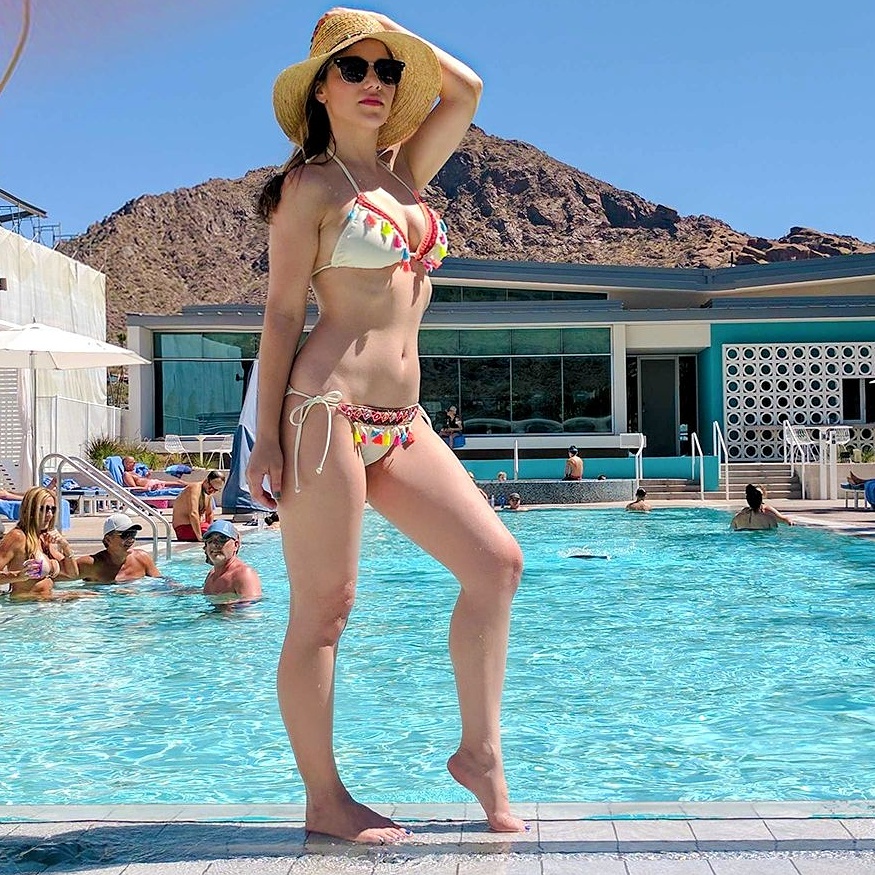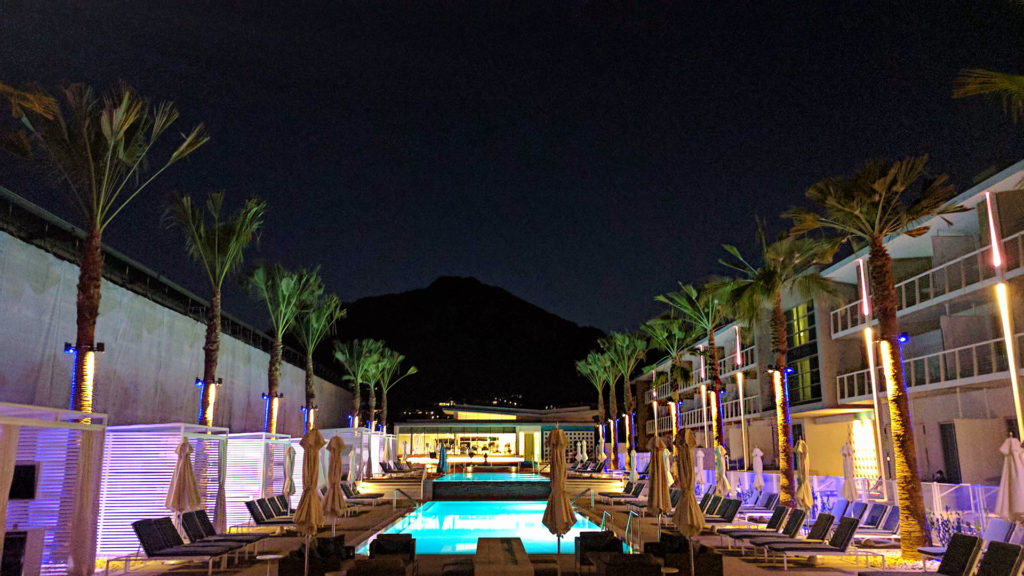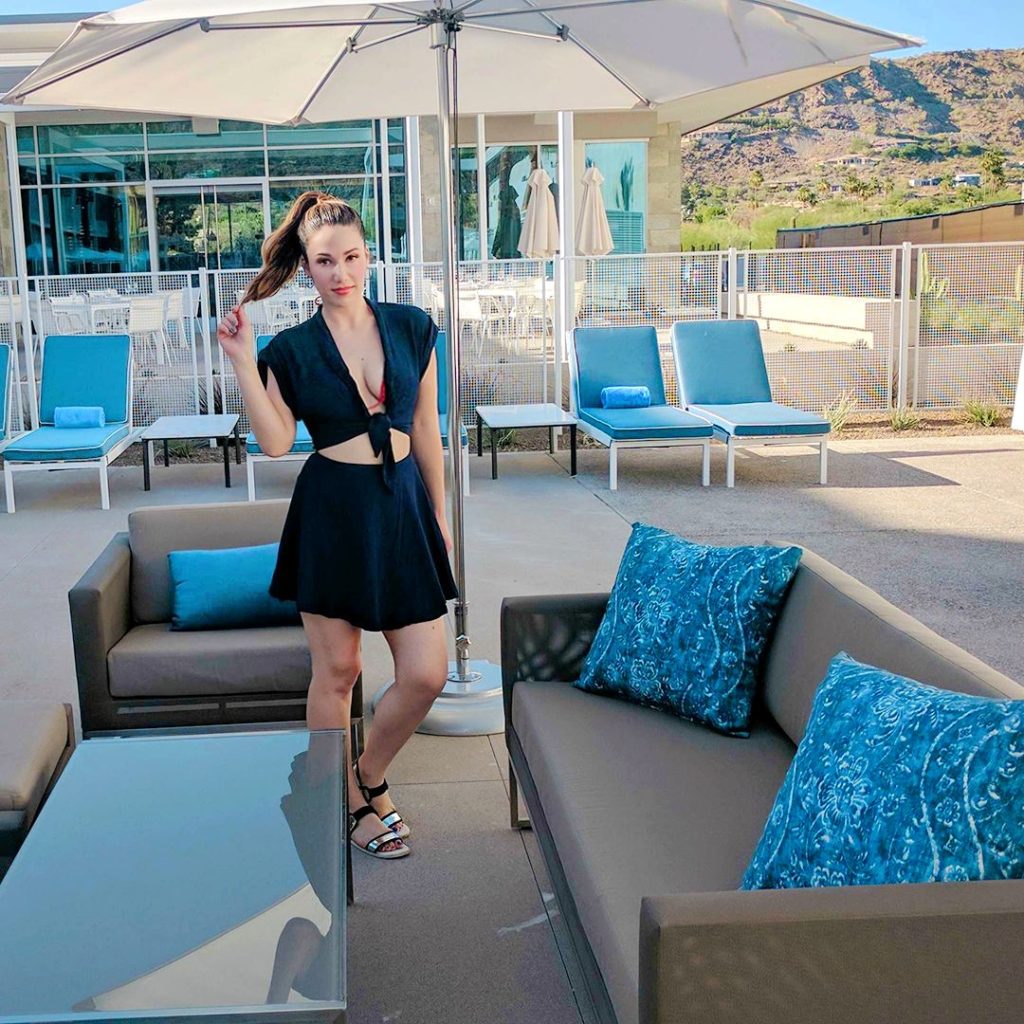 While you're relaxing do take advantage of the jacuzzi which will help you unwind even more in their top-notch facilities. Mountain Shadows takes healthy living quite seriously, which is why they have an easy to access juice bar to help you keep cool and fit. I was there during the summer, so I loved cooling down with this fresh Watermelon juice!

Sanctuary Resort Spa
Another benefit I'd like to mention in my Mountain Shadows review is the major perk of also having access to the world-class Sanctuary Resort Spa. Mountain Shadows house cars, which are Teslas, will run you back and forth between the two properties. I got one of the best massages of my life here and the views of Camelback Mountain are stunning to take in after a treatment. You can also use the pool and dine in the restaurants, so you truly get to experience two top-notch resorts!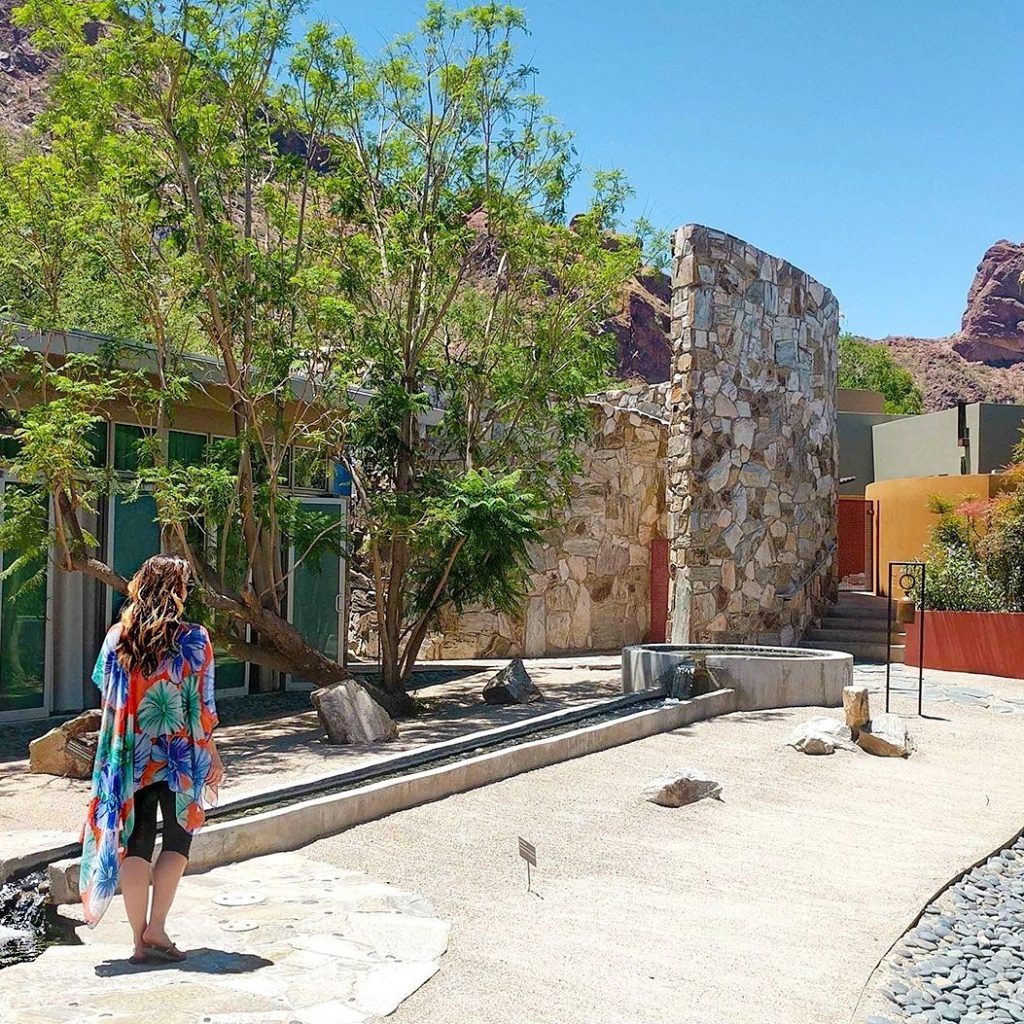 There is so much history and so many things on offer, it's easy to see why Mountain Shadows is the best place to stay in Scottsdale, Arizona. I hope you've enjoyed my Mountain Shadows review. With beautiful scenery, delicious food, and a modern yet retro feel, you'll feel like you've found paradise. The staff at Mountain Shadows are amazing and if there's anything you need during your stay they're only a text away. Seriously, you can text the front desk and they will take care of whatever you need! I loved staying here and I know you will too. Right now is a great time to book and take advantage of their GRAND OPENING PACKAGE: Save 20% off prevailing rate and receive a welcome amenity, a one-time $100 resort credit, and daily breakfast for two.
I even created a video tour for you:
XOXO – Stuart